News
Welcome to Weather Underground. Deccan Chronicle - Latest Indian News & World news. Urdu News, English News, Islamic News, Latest India News, Hyderabad News - Siasat Daily.
Times Of India. CNN.com International - Breaking, World, Business, Sports, Entertainment and Video News. BBC - Homepage. The Palestine Chronicle: A Leading Online Newspaper on Palestine, Israel and the Middle East. The Star Online: Nation. Filter by MH370 search: Ahmad Shabery confirms co-pilot did not make call 13 April 2014 KEMAMAN: Communication and Multimedia Minister Datuk Seri Ahmad Shabery Cheek confirmed that the co-pilot of Flight MH370 did not make a phone call from the cockpit of the aircraft on March 8.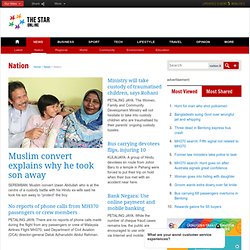 Three bodies recovered from lake in Batu Caves PETALING JAYA: The bodies of three men, all believed to be drug addicts, were fished out of a lake near the Batu Caves roundabout Sunday evening.
---