School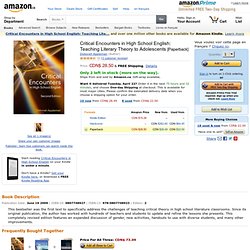 I'm going to be a first year teacher and ordered the paperback version of this book because I've heard Appleman talk about how useful literary "lenses" are to helping students interpret a text in many different ways. Like Eagleton says, every teacher does "theory", it's just a matter if they want to come clean about it or not. Having the students think about narrating the story from another perspective is what Appleman is all about.
Critical Encounters in High School English: Teaching Literary Theory to Adolescents: Amazon.ca: Deborah Appleman
Beyond the Five-Paragraph Essay - Stenhouse Publishers
Product Details Author: Kimberly Hill Campbell and Kristi LatimerISBN: 978-157110-852-4Year: 2012Media: 232 pp/paperGrade Range: 6-12Item No: WEB-0852 Love it or hate it, the five-paragraph essay is perhaps the most frequently taught form of writing in classrooms of yesterday and today. But have you ever actually seen five-paragraph essays outside of school walls?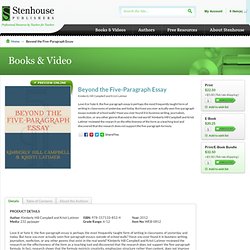 unnamed pearl
Course: Creative Writing- Frederick, S
hills like white elephants
State University - Writing at Montclair State
First-Year Writing Program English Department Dickson Hall 468 Director: Dr. Jessica Restaino Assistant Director: Bonnie Dowd First-Year Writing Faculty Secretary: Phyllis Brooks Office hours by appointment, Monday thru Thursday.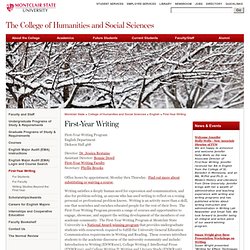 Pecha Kucha Training Bite
Forum Homework blog
Mr. Nelson's Website
Analyzing Film - Word Choices - AP English Literature - Blog
After reading the article "Reading Film: A Rubric for Analysis," I realized that Mr. Heidkamp has turned movies into essays. The rubric for film analysis practically mirrors a rubric for essay analysis in the following ways. 1.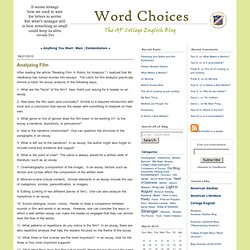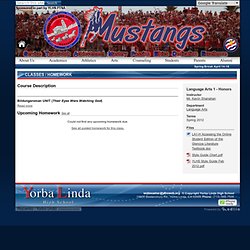 Bildungsroman UNIT (Their Eyes Were Watching God) May 15, Tuesday: Discuss Zora Neale Hurston Biography, Read Ch.1 HW: Complete Anticipation/Reaction Guide (What I Think, What I Know, & Questions) May 16, Wednesday: Anticipation Guide discussion, work on ch.1 questions & dialect ws HW: Finish dialect ws and ch.1 questions (periods 4&5)(period 2 has until 5/18 to finish ?s) May 17, Thursday: Stamp/correct dialect and ch.1 questions, read ch.2, Figurative language ws, ch.2 questions HW: Figurative language ws and ch.2 questions May 18, Friday: Stamp/correct figurative language and ch.2 questions, read ch.3, Characterization ws, ch.3 questions HW: see below for due dates depending on period
Yorba Linda High School
It is effective use of time to have student respond in class to the writing of their peers. Here's a structure that works well for a 50-60 minute class meeting. Keep in mind, it may take three tries doing it before students feel comfortable with the process.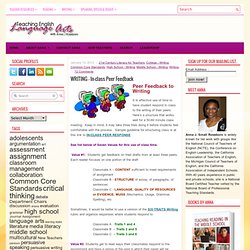 WRITING – In-class Peer Feedback | teachingenglishlanguagearts.com
verbs-gerund-infinitive1.pdf (application/pdf Object)
Phrasal and Latinate verbs in vocabulary practice
Collocations  exercises & worksheetsfor ESL teachers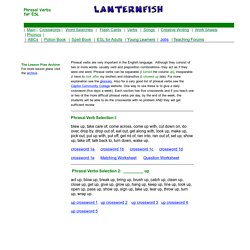 Phrasal Verb ESL Worksheets
Phrasal verbs are very important in the English language. Although they consist of two or more words- usually verb and preposition combinations- they act as if they were one word. Phrasal verbs can be separable (I turned the volume up), inseparable (I have to look after my brother) and intransitive (I showed up late). For more explanation see the glossary.
For teachers - Funky Phrasals Funky Phrasals is a series of 10 conversational programmes in which a selection of phrasal verbs are explored and practised in context. We've created a bank of free downloadable worksheets to give you more scope for using the programmes in class. This unit kicks off the series with phrasal verbs in the context of 'childhood'. Go to webpage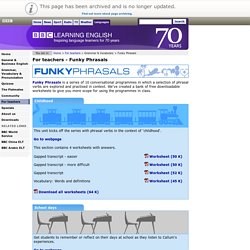 BBC Learning English | For Teachers | Funky Phrasals
English Project Radio Play The Veldt
Ms. Shaffer's English Class / Pages & Files
Emily D. Smackdown - Bernstein English
Learning Resource Center at Leeward Community College
poetry_analysis_essay.pdf (application/pdf Object)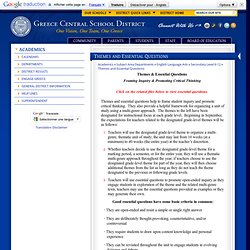 Themes & Essential Questions Framing Inquiry & Promoting Critical Thinking Click on the related files below to view essential questions.
District
lyric
Fu Jen English Literature Databank ENGLISH DEPARTMENT, FU JEN¡@ Bibliographies & Wild Associations Bibliographies Introduction to Literature:Textbook for the course in 1997: An Introduction to Literature 11th ed. Ed. Sylvan Barnet, et al.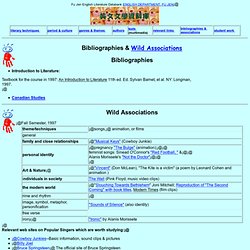 Poetry In-class essay
So I no longer have to talk out of both sides of my mouth here on this blog. I'm talking strictly to my students here, particularly in English 1080. Anyone else can go to my other blog at http://gerardcollinsblog.blogspot.com/. The poetry in-class essays are due on Friday, and I'm not getting the sense that too many people are fretting over it, which I hope is a good sign. I've talked a lot in class about how to go about writing them, but I'll go over the basic idea once more and maybe toss in the occasional hint about how to proceed. First, this is not a research essay.
ENGLISH 9: A Kite is a Victim
A Kite is a Victim ~ Leonard Cohen b. 1934 A kite is a victim you are sure of. You love it because it pulls gentle enough to call you master, strong enough to call you fool; because it lives like a desperate trained falcon in the high sweet air, and you can always haul it down to tame it in your drawer.
Mr. Brame's Blog: Leonard Cohen, Poet
Today is the birthday of Leonard Cohen. You may know Leonard Cohen as the cantankerous folk-singer from Canada who wrote "Suzanne" and "So Long, Marianne." However, Cohen was a poet and novelist years before his recording career began. His career in poetry has spanned fifty years, from the release of his first book, Let Us Compare Mythologies, in 1956, to the release of his latest, Book of Longing, in 2006. He also wrote two novels, The Favorite Game, in 1963, and Beautiful Losers, in 1966.
Open and Closed Form
Past Simple ESL Grammar Game - Jeopardy Betting Game
Simple Past Activities by Chris Elvin
Using a Fill-in-the-Blank Activity | Pongo Teen Writing
Iambic Pentameter PPT - Ms. Kim's English 8
EasyWriter
ESL oral exam evaluation grading guide
ESLOralRatingForm.pdf (application/pdf Object)
Oral Presentations: Detailed Evaluation
Soph. Documents
English Language Entertainment Handouts
activité web de Chenelière Éducation
Overview of my courses
WELCOME & Introductory Post
Peggy's Homework and Preparation Blog
Scope
Coba.Net
Cégep de Jonquière