Economia - Finanças
Get flash to fully experience Pearltrees
It's easy to sit around and lecture people to cut back on spending, pay off debt, and get control of their finances. That's what so many financial advisers and writers do — yet they never stop to ask themselves why so few of their readers actually follow through. So today, I want to introduce you to Carl Richards, one of my favorite financial advisers on the planet. You might be familiar with his sketches, which have been seen on the New York Times .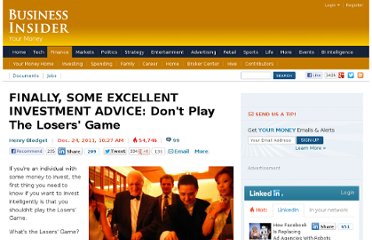 If you're an individual with some money to invest, the first thing you need to know if you want to invest intelligently is that you shouldn't play the Losers' Game. What's the Losers' Game? The game that 99.9% of the people who talk about investing appear to be playing: Namely, following global economics and markets and investment advice and trying to make smart decisions along the way. If you play that investment game, you're almost certain to lose. And the sooner you understand that, the sooner you'll be on your way to investing intelligently. In other words, if you want to invest intelligently, the first thing you should do is ignore 99.9% of what you hear in the financial media.
More Services Events Information on conferences, seminars, and workshops sponsered by the Research Division. Page One Economics Offers the data behind the economics, including a newsletter and a data "starter set" from our popular FRED database.