Delicious Food!
Pão de Queijo. Our tour of Brazil continues.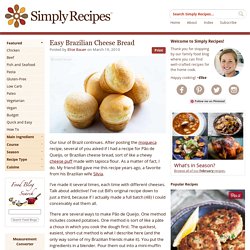 After posting the moqueca recipe, several of you asked if I had a recipe for Pão de Queijo, or Brazilian cheese bread, sort of like a chewy cheese puff made with tapioca flour. As a matter of fact, I do. My friend Bill gave me this recipe years ago, a favorite from his Brazilian wife Silvia. Mozzarella stuffed garlic roll recipe - Norfolk Cooking. There is nothing better than eating a fresh garlic knot straight from the oven.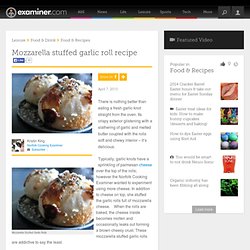 Its crispy exterior glistening with a slathering of garlic and melted butter coupled with the rolls soft and chewy interior – it's delicious. Typically, garlic knots have a sprinkling of parmesan cheese over the top of the rolls; however the Norfolk Cooking Examiner wanted to experiment using more cheese. In addition to cheese on top, she stuffed the garlic rolls full of mozzarella cheese. When the rolls are baked, the cheese inside becomes molten and occasionally leaks out forming a brown cheesy crust. Garlic Knots. When I was in High School, I thought garlic knots were the best things on earth.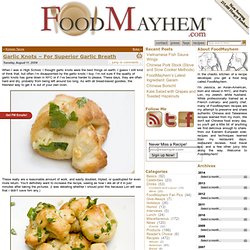 I guess I still kind of think that, but often I'm disappointed by the garlic knots I buy. I'm not sure if the quality of garlic knots has gone down in NYC or if I've become harder to please. These days, they are often hard and dry, probably from being left around too long. As with all bread-based goodies, the freshest way to get it is out of your own oven. Pan-Roasted Shrimp with Wisconsin Aged Parmesan with Chef Michael Symon. Servings: 4-6 Ingredients: 2 shallots, minced (about 2 tablespoons)1 clove garlic, mincedKosher salt and ground black pepperJuice of 2 lemons1/2 cup (4 ounces) extra virgin olive oil plus 1 tablespoon for shrimp1/2 cup grape tomatoes, halved1 cup freshly cooked or canned white beans, such as cannellini1 cup (about 4 ounces) Wisconsin Parmesan Cheese, cut in small dice1/4 cup fresh dill, chopped1 pound large shrimp, peeled and deveined Cooking Directions: Place shallots and garlic in mixing bowl.
Liquor Recipes
Recipe site: foodgawker. Mozzarella Sticks. When I told my friends I was planning on making homemade mozzarella sticks for a guy's weekend out of town the idea was met with a profound lack of enthusiasm.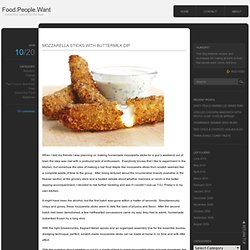 Everybody knows that I like to experiment in the kitchen, but somehow the idea of making a bar food staple like mozzarella sticks from scratch seemed like a complete waste of time to the group. After being lectured about the innumerable brands available in the freezer section at the grocery store and a heated debate about whether marinara or ranch is the better dipping accompaniment, I decided to risk further heckling and see if I couldn't one-up T.G.I.
Friday's in my own kitchen. It might have been the alcohol, but the first batch was gone within a matter of seconds. Soft Wrap Bread. I blindly made this bread for a dinner that I had been looking forward to for a long time.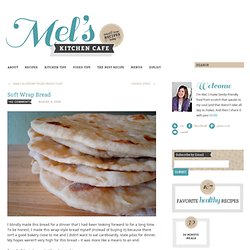 To be honest, I made this wrap-style bread myself (instead of buying it) because there isn't a good bakery close to me and I didn't want to eat cardboardy, stale pitas for dinner. My hopes weren't very high for this bread – it was more like a means to an end. But all of that changed. When I tasted it. PESTO PIZZA WITH ROASTED GARLIC &POTATOES. Mention potatoes on pizza and you'll get one of two responses.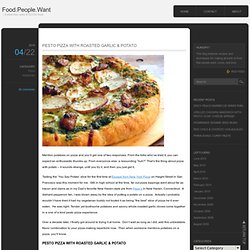 From the folks who've tried it, you can expect an enthusiastic thumbs up. From everyonce else: a resounding "huh?" Soups & Stews.
Chicken Parmingana. This is one of the go-to dishes I make for my family of six.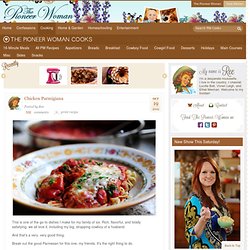 Rich, flavorful, and totally satisfying, we all love it, including my big, strapping cowboy of a husband. And that's a very, very good thing. Break out the good Parmesan for this one, my friends.
---