Museum
Museums in Barcelona, Spain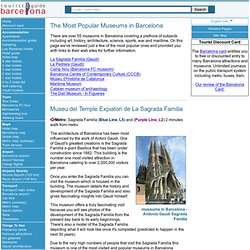 There are over 55 museums in Barcelona covering a plethora of subjects including art, history, architecture, science, sports, war and maritime. On this page we've reviewed just a few of the most popular ones and provided you with links to their web sites for further information. La Sagrada Familia (Gaudí)La Pedrera (Gaudí)Camp Nou (Barcelona FC museum) Barcelona Centre of Contemporary Culture (CCCB)Museu d'Història de CatalunyaMaritime MuseumCatalan museum of archaeologyThe Dalí Museum - In Figueres Museu del Temple Expiatori de La Sagrada Familia Metro: Sagrada Familia (Blue Line, L5) and (Purple Line, L2) 2 minutes walk from metro. The architecture of Barcelona has been most influenced by the work of Antoni Gaudí.
You are exploring the mobile version of the FC Barcelona website. This version is not yet accessibility-certified and you may encounter certain difficulties when using it. Try viewing the site from a computer or, if you are already doing so, maximise the window to load the desktop version, which is certified, and refresh the page.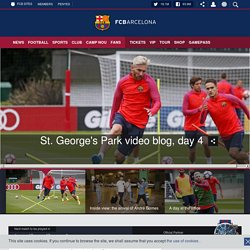 Museo Picasso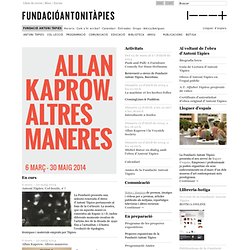 6 març – 30 maig 2014 Antoni Tàpies. Col·lecció, # 7 La Fundació presenta una selecció renovada d'obres d'Antoni Tàpies pertanyents al fons de la Col·lecció. La mostra, que en aquesta ocasió es concentra als Espais A i D, inclou diferents moments creatius de l'artista des de la dècada de 1940 fins a l'actualitat, i il·lustra l'evolució de tipologies, tècniques i materials emprats per Tàpies.
Parc Güell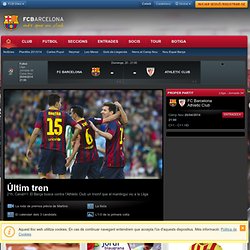 Estàs navegant per la versió mòbil de la web del FC Barcelona. Aquesta versió encara no compta amb el certificat d'accessibilitat, pot ser que et trobis alguna barrera en navegar-hi. Prova a entrar-hi des d'un ordinador o, si ja ho fas, maximitza la finestra per carregar la versió d'escriptori, que sí que està certificada, i actualitza la pàgina.
The Sagrada Família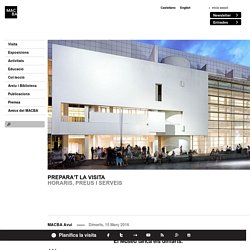 MÀQUINA DE SOMNIS Amb motiu de l'exposició "Just davant nostre", Javier Calvo i Víctor Nubla proposen una peça inspirada en la Dream Machine de Brion Gysin. FONS ÀUDIO #25. Eulàlia Valldosera Eulàlia Valldosera parla sobre els seus usos de la llum, la seva condició de dona, els seus processos creatius i les seves obres presents a la Col·lecció MACBA. SON[I]A #187. Diedrich Diederichsen.