Information
Our Favourite Books on Writing and the Book Industry « CDLA. The Book Industry Get savvy.
It's not enough to write well. You also need to learn as much as you can about the book industry — commis­sioning, editing, production, sales, distri­bution, publicity, trans­lation etc. The Bookseller magazine is invaluable, but here are some helpful books: PPA : New PPA. Publishing Perspectives - International publishing news & opinion. Book Reviews, Bestselling Books & Publishing Business News | Publishers Weekly. PW has integrated its print and digital subscriptions, offering exciting new benefits to subscribers, who are now entitled to both the print edition and the digital editions of PW (online or via our app).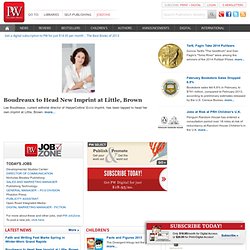 For instructions on how to set up your accout for digital access, click here. For more information, click here. The part of the site you are trying to access is now available to subscribers only. Subscribers: to set up your digital subscription with the new system (if you have not done so already), click here. To subscribe, click here. Top 10 Books | Top Selling Books. Bookshop. Home.
---