Great wastes of time
If I come to your place of business, let's say a restaraunt and you are my server, it is not ok for you to touch my child. Ever. I understand babies are exciting, cute, and tempting to look at, talk to, and hold, but that blanket strategically placed over the carrier? Ya, not there for you to remove. It is a sublimnal message of, "Back up bitch." If my child has a binky or toy, do not touch it, or take it away.
The Peevery: Peevery Auditions
Cake Wrecks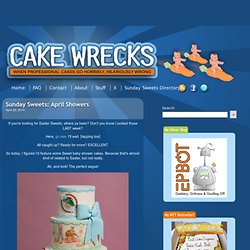 If you're looking for Easter Sweets, where ya been? Don't you know I posted those LAST week? Here, go see. I'll wait. [tapping toe]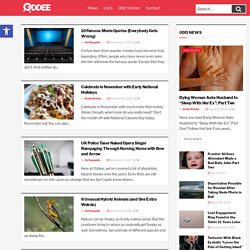 Topics Hot: Facebook NSFW Tattoo Photoshop Categories: Art Ads Signs Names Places People Objects Gifts Science Stories Medicine Tech Home Design Misc Random Today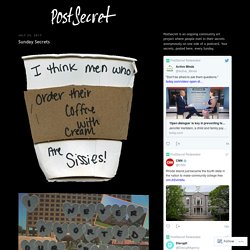 —–Email—– People do care… and you're not the only one who has had that thought. I owe my life to my Duke friends and my therapist at Duke's counseling center… —–Email—– I live in the next town over (Chapel Hill), and I care very much about how much you're hurting.
A wife of noble character…does all the dishes? April 16th, 2014 · 73 comments Writes Julia, a student at an evangelical university in Indiana: "In our graduate student offices, there are more crusty dishes and microbial communities to be found than in the labs next door. After four weeks of mugs, oatmeal bowls and lunch containers had built up, one lad took the most effective course of action and posted this encouraging note for us single ladies to know what it takes to catch ourselves a guy just like him." related: Life at a Christian college