Health
By Steven T. Dennis Roll Call Staff March 26, 2012, 2:06 p.m. Chris Maddaloni/CQ Roll Call Kevin Mooneyhan, from Jacksonville, Fla., joins a protest outside the Supreme Court on Monday, His iPad reads, "The Constitution is My Safety Net." At the start of historic arguments on attempts to overturn President Barack Obama's signature health care law, both sides at least agreed on one thing: They want the case tried now. And the justices seemed inclined to agree.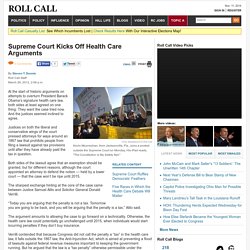 Supreme Court Kicks Off Health Care Arguments
By Joshua Miller Roll Call Staff March 26, 2012, Midnight Chris Maddaloni/CQ Roll Call Demonstrators hold a rally at the Health and Human Services building Friday to protest the HHS mandates under the new health care law. The Supreme Court will hear a case on the law's constitutionality today. In the more than 2,400 pages of President Barack Obama's landmark health care law, there are a lot of lists: nutrition labeling requirements, members of various councils and funding for this or that program by a certain fiscal year. An important list you won't find buried in the reams of legalese under review by the Supreme Court today: Members of Congress whose vote for the Patient Protection and Affordable Care Act cost them their job.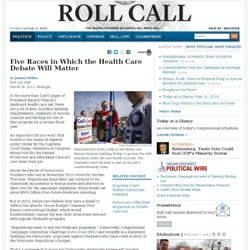 Five Races in Which the Health Care Debate Will Matter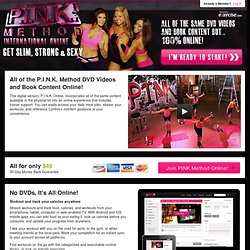 P.I.N.K. Method | Home
No DVDs, It's All Online! Workout and track your calories anywhere Stream workouts and track food, calories, and workouts from your smartphone, tablet, computer or web-enabled TV.
The cost of shopping for health insurance
(Jud Burkett - The Spectrum via Associated Press) When I wrote a story last week about Congress quietly closing health reform's Consumer Assistance Program, Wonkblog readers and health-care economists alike quickly seized on one crucial detail: the program's price tag. Thirty-five states received a total of $30 million to help consumers find affordable coverage, answer health insurance queries and appeal denied claims. I led the story with Texas, which received a $2.8 million grant and, with it, hired nine employees who have handled about 6,000 phone calls. Do the math, and the federal government has spent $466 on each call that the Texas Consumer Health Assistance Program has handled. A number of Wonkblog readers, like Mazzi455, were none too impressed: