Pbg
paola bloem ghisalberti
green, yellow, blue + red industrial designer living in milan since 1989
CrowdFunding/CrowdSourcing
NEW MATH by Craig Damrauer
this is hillarious!!!!!!lol baci pbg by pbg Jan 25
very witty, sums it up like 2 2=4! by pbg Jan 21
ballbag | reusable bag
Serralunga icona dell'innovazione al Salone del Mobile 2010 | ME
All'appuntamento più importante di sempre per il mondo del design, il marchio italiano Serralunga si presenta rinnovato nella sua immagine con una mission più definita."Ho preferito investire sul DNA della mia azienda per arrivare preparato al futuro. Dobbiamo andare oltre il prodotto e la produzione, e migliorare la capacità di progettare anche la comunicazione"- dichiara Marco Serralunga.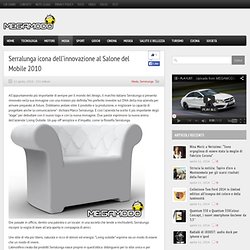 elmoto HR-2 electric bike
first image elmoto is a light electric vehicle with a comfort of a small scooter. its strong aluminum structure weighs only 45kg. it consists of a 2kW electronic brushless, gearless drive which is attached to the rear wheel and is powered by a state-of-the-art battery technology, able to last about 70km. it can reach a top speed of 45km per hour and takes 2-4 hours to recharge the battery. elmoto has been shown at the 2009 EICMA motorbike show in milan.
latest projects by michael young
'city speed' for giant by michael young michael young has recently launched some new projects. the british designer who has practices in iceland, the UK and asia works on a range of projects, from interior spaces, transportation, electronics, bar ware to architecture. cityspeed is an urban bike designed by michael young, for taiwanese bicycle manufacturer giant. for the project, city speed, giant designers and engineers wanted to create a bike that encompassed both speed and simplicity. the bicycle features LED headlights and tail lights which are integrated into the streamlined frame. the purpose for embedding the lights into the frame was to free up the handle bar space, eliminating any excess wiring.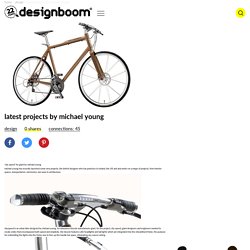 kengo kuma: tamagawa takashimaya, tokyo
[-] Benvenuti in Capo D'Opera [-]
Thinkmap Visual Thesaurus - An online thesaurus and dictionary o
Michael Lydon, a well-known writer on popular music since the 1960s, has for many years also been writing about writing. Lydon's essays, written with a colloquial clarity, shed fresh light on familiar and not so familiar aspects of the writing art. Here Lydon explores how metaphors have the power to "fuse fact and fancy."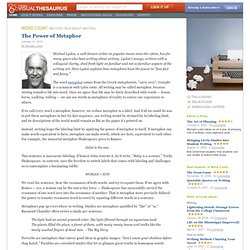 The Power of Metaphor : Word Count
Praise for the Visual Thesaurus
Graphics plus Fractals and Animations
In underground home designs, this unusual house plan is the collaboration between the Netherlands architects at SeARCH and Christian Muller Architects. This underground home, located in the Swiss village of Vals, is set amidst a cluster of mountain houses and if you don't look carefully you might miss it! The most striking thing about this stone house is the majestic Alpine view through a wide, elliptical opening in the hillside, revealing spacious outdoor entertaining areas that lead to the home's main entrance. Another entrance from a nearby barn leads residents and guests through an underground pathway, providing an alternate entryway into the home. The circular opening in the mountainside allows for lots of windows, which flood interiors with natural light while framing the stunning mountain views.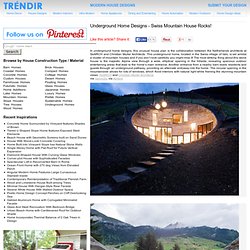 Underground Home Designs - Swiss Mountain House Rocks! | Modern
alwaysspain - Google News