Pbg
paola bloem ghisalberti
green, yellow, blue + red industrial designer living in milan since 1989
Yonaguni. CrowdFunding/CrowdSourcing. Spirit Science. Micheleskordas. NEW MATH by Craig Damrauer. Functionnal design. Products & technologies. Reactable. Augmented Reality. Social Web services. Design / déco. Industrial design courses ? designboom. Ballbag | reusable bag.
Serralunga icona dell'innovazione al Salone del Mobile 2010 | ME. All'appuntamento più importante di sempre per il mondo del design, il marchio italiano Serralunga si presenta rinnovato nella sua immagine con una mission più definita.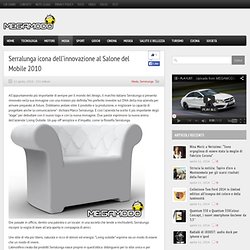 "Ho preferito investire sul DNA della mia azienda per arrivare preparato al futuro. Dobbiamo andare oltre il prodotto e la produzione, e migliorare la capacità di progettare anche la comunicazione"- dichiara Marco Serralunga. Latest projects by michael young. 'city speed' for giant by michael young michael young has recently launched some new projects.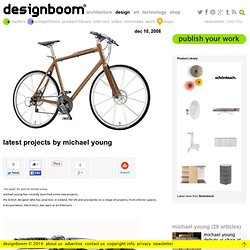 The british designer who has practices in iceland, the UK and asia works on a range of projects, from interior spaces, transportation, electronics, bar ware to architecture. [-] Benvenuti in Capo D'Opera [-] Thinkmap Visual Thesaurus - An online thesaurus and dictionary o. The Power of Metaphor : Word Count. Michael Lydon, a well-known writer on popular music since the 1960s, has for many years also been writing about writing.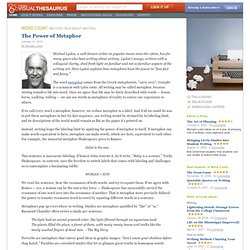 Lydon's essays, written with a colloquial clarity, shed fresh light on familiar and not so familiar aspects of the writing art. Here Lydon explores how metaphors have the power to "fuse fact and fancy. " Praise for the Visual Thesaurus.
Arthur de Pins Online. Wave. Graphics plus Fractals and Animations. SOMusViJk. cOOLENERGY. Underground Home Designs - Swiss Mountain House Rocks! | Modern. Like this article?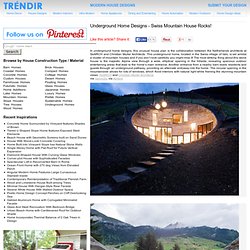 Share it: In underground home designs, this unusual house plan is the collaboration between the Netherlands architects at SeARCH and Christian Muller Architects. This underground home, located in the Swiss village of Vals, is set amidst a cluster of mountain houses and if you don't look carefully you might miss it! The most striking thing about this stone house is the majestic Alpine view through a wide, elliptical opening in the hillside, revealing spacious outdoor entertaining areas that lead to the home's main entrance.
Alwaysspain - Google News.
---
pbg Jan 26 2010

our connection speed varies w traffic! and my mouse keyboard etc, is all the leftover pieces of other macs at home office, from Imac thru G4's! that might just be 'why'?

pbg Jan 26 2010

ALoAlo! tks for the tips!! so... Im using MacOS10.4.11, browser firefox3.0.17/Mozilla5.0, speedFirewire upto 400Mb/sec. my doubt: adsl fastweb/provider (but have an internal modem:spring, com.apple.driver soc serial(v1.3.0)=

Francois Jan 26 2010

Can you tell me more about your internet speed, the computer and browser you are using on participation@pearltrees.com

Francois Jan 26 2010

And there is no mistake in your account, just some tips to get things better. One of them is to create some "new pearltrees" named after your interests and fill them with the pearls related to this interest. For exemple you create a pearltree "cooking" and put in it all the recipe you find on the web.

Francois Jan 26 2010

It is not normal at all that the mouse response was slow.

pbg Jan 20 2010

bonjour! thks again for yr precious feedback. I didnt dothis voluntarily... what happned was, while dragging the video pearl, it glued in the wrong place!! yr pearl too! i didnt want to put it where it is. The mouse response was really slow and in the end, it was really late + i left it at that. i think im doing lots of mistakes, but thats how i usually learn, besides being a bit slow too! ill get there, with a little help from special patient people like YOU ;D baci

Francois Jan 20 2010

I think I understand you. It is really beautifull like this. However, you will not be able to maximize the benefit you could have from Pearltrees if you do not organize your account by organizing your pearls by interests into new pearltrees. See you soon.

pbg Jan 19 2010

j'aime le marais! ça cest tout en français que eu sei dizer!beh! un petit plus de chose... but je prefer commes ça, little by little

pbg Jan 19 2010

thanks francois, and for the encouragement!

Francois Jan 17 2010

Your account is really impressive. You should try "new pearltrees" button. It creates a Pearltree, you will name them after one of your interestes. Then put the pearls related to this specific interest into your new pearltree. This how you can create the world of your interests. F
---