To Read
IN DEEP, the skiing experience DVD - DVDs. For 2009, MSP Films takes an original look at the sport of skiing.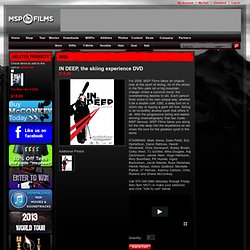 All of the skiers in the film--park rat or big mountain charger--share a common bond: the overwhelming desires to ski. Each person finds stoke in his own unique way, whether it be a double cork 1260, a deep turn on a storm day or ripping a giant AK line. Skiing is an incredibly diverse sport that offers it all. Social Media for Marketers Training Class Workshop in Cincinnati Ohio and Northern Kentucky : Boot Camp Digital – Internet and Social Media Marketing Training and Consulting.
Boot Camp Digital specializes in working with ad agencies to increase organizational knowledge and keep your organization at the cutting edge.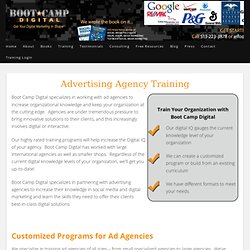 Agencies are under tremendous pressure to bring innovative solutions to their clients, and this increasingly involves digital or interactive. Our highly rated training programs will help increase the Digital IQ of your agency. Boot Camp Digital has worked with large international agencies as well as smaller shops. Regardless of the current digital knowledge levels of your organization, we'll get you up-to-date! Boot Camp Digital specializes in partnering with advertising agencies to increase their knowledge in social media and digital marketing and learn the skills they need to offer their clients best-in-class digital solutions.
Boot Camp Digital helps small and large companies dive into Web 2.0. Boot Camp Digital founder Krista Neher came to Cincinnati from Toronto in 2005 after being transferred here by Procter & Gamble for her finance and marketing job.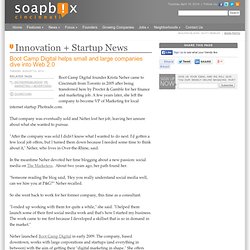 A few years later, she left the company to become VP of Marketing for local internet startup Photrade.com. That company was eventually sold and Neher lost her job, leaving her unsure about what she wanted to pursue. "After the company was sold I didn't know what I wanted to do next. I'd gotten a few local job offers, but I turned them down because I needed some time to think about it," Neher, who lives in Over-the-Rhine, said. In the meantime Neher devoted her time blogging about a new passion: social media on The Marketess. Required reading - a definitive guide to new media and marketing blogs - Syndicating Brian Solis. Mushroom Shelf Tutorial! I'm ever so sorry for putting this tutorial off for so long!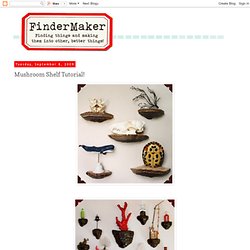 Alas, I was nudged into action by a reader who had been patiently waiting for this since my first mushroom shelf post back in December (yikes! I'm so sorry!) Please accept my most sincere apologies and lets do just jump right into this! One's active participation in this tutorial is rather dependent on access to suitable mushroom specimens, and while I regret that I'm unable to offer any specific advice on where to go looking, do just keep a keen eye in the trees (up and down the trunks, specifically) the next time you are out on a ramble through a forested area, and your diligence may well be rewarded.
The correct sort of mushroom (there are actually a handful of different varieties that work) is typically espied growing from the trunks of trees that appear ill of health, or perhaps even dead, however there are never any guarantees of finding the mushrooms. How Manhattan Nightlife Has Become Synonymous With Its Hotels. With or without an official nightclub, the experience that these hotels offer is essentially about human contact.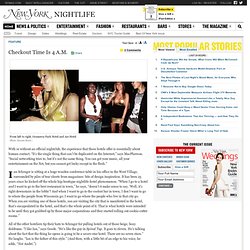 "It's the single thing that can't be duplicated on the Internet," says MacPherson. "Social networking tries to, but it's not the same thing. What's Really Going on in the VC Industry? What Does it Mean for Startups? Lots of discussion these days about the changes in the VC industry.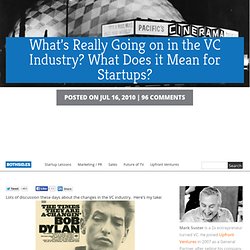 Here's my take: 1. The VC industry grew dramatically as a result of the Internet bubble - Before the Internet bubble the people who invested in VC funds (called LPs or Limited Partners) put about $50 billion into the industry and by 2001 this had grown precipitously to around $250 billion. 2. But VC is an "illiquid asset" so funds didn't disappear quickly - In 2000/01 the stock market quickly adjusted punishing investors in the NASDAQ and in individual public technology stocks.
Strobist - Best Blogs of 2010. Everyone has a good digital camera these days.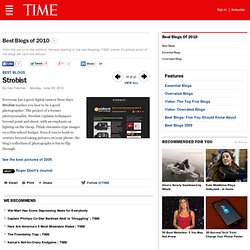 Strobist teaches you how to be a good photographer. The project of a former photojournalist, Strobist explains techniques beyond point and shoot, with an emphasis on lighting on the cheap. New Media Business Models. [Updated] The Coming Super-Seed Crash. Unnoticed by almost no-one, the startup financing landscape has been transformed: a combination of ease of entry, lower capital requirements, failing incumbent venture capital (VC) firms, and general fervor has driven the emergence of a host of new "super-seed" firms.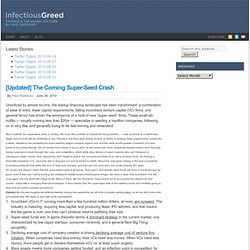 These small-ish outfits — usually running less than $20m — specialize in seeding a bazillion companies, following on in very few, and generally trying to be fast-moving and networked. Now, however, the super-seed crash is coming. We have silly numbers of companies being seeded — I had someone at a well-known, larger venture fund tell me yesterday in San Francisco that they were seeing dozens of Series A-seeking newly angel-funded companies a week.
---