Resources
Free Remote Access and Remote Desktop Sharing over the Internet
Sandbox from Yahoo! Research
Resources | Microsoft Silverlight
Firefox Browser | Free ways to customize your Internet
Firebug
getfirebug.com has Firebug 2.0 alpha 1 Firebug 2.0a1 fixes 172 issuesFirebug 2.0a1 is compatible with Firefox 30-31 Update: an issue with Firefox 30 compatibility fixed This alpha represents the first public release that is based on new Firefox debugging engine (also known as JSD2).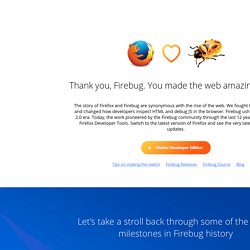 Babel Fish - Text Translation and Web Page Translation
MindTouch
Ceros digital magazines
Yodl
If you want it, Yodl it! Yodl is a desktop notification and content delivery system. Free to install, the Yodl desktop app enables users to receive up-to-the-minute news and information simply by subscribing to any number of the many and varied Yodl Channels Working seamlessly with the Ceros interactive publishing platform, Yodl is compatible with Mac and Windows, is easy to install and easy to use. Try it now!
iGIZMO 50
Creative Suite 5 Web Premium
Glass
Google Search
About Perth
Google Maps
Street View
Google Images
Google Earth
Chart Wizard - Google Chart Tools / Image Charts (aka Chart API) - Google Code
About - App Inventor for Android
App Inventor for Android lets people create apps for Android phones by manipulating programming blocks in a web browser. Since July 2010, Google has run App Inventor as a large-scale public web service as a part of its Google Labs suite. With the wind down of Google Labs, as of December 31, 2011, Google ended support of App Inventor.
Pearltrees Blog in English
Project Tracking - JIRA
Today, I am glad to welcome Latitude Learning CEO – Jeff Walter – for a new LMS review focused on Social Learning… Tools and features Jeff Walter (JW): The Latitude Learning LMS leverages Web 2.0 tools to create an environment where the community can easily create and access social capital. An LMS designed for a global OEM utilizes all of the social media outlets to encourage dialogue and create a robust and current knowledge repository. It is currently using some of these capabilities to conduct dealer polls and surveys, manage a one-way Service Technician blog, manage a two-way Sales blog, and provide position-specific news through RSS feeds. It includes the following web 2.0 capabilities: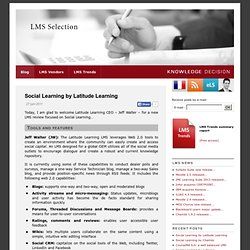 LMS Selection
My Conference Paper