Resources
Free Remote Access and Remote Desktop Sharing over the Internet. Sandbox from Yahoo! Research. Resources | Microsoft Silverlight. Firefox Browser | Free ways to customize your Internet. Firebug. Babel Fish - Text Translation and Web Page Translation. MindTouch. Ceros digital magazines. Yodl. iGIZMO 50. Creative Suite 5 Web Premium.
Glass. Google Search. About Perth. Google Maps. Street View. Google Images. Google Earth. Chart Wizard - Google Chart Tools / Image Charts (aka Chart API) - Google Code. About - App Inventor for Android. Pearltrees Blog in English. Project Tracking - JIRA. LMS Selection. Today, I am glad to welcome Latitude Learning CEO – Jeff Walter – for a new LMS review focused on Social Learning… Tools and features Jeff Walter (JW): The Latitude Learning LMS leverages Web 2.0 tools to create an environment where the community can easily create and access social capital.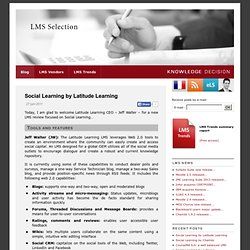 An LMS designed for a global OEM utilizes all of the social media outlets to encourage dialogue and create a robust and current knowledge repository. It is currently using some of these capabilities to conduct dealer polls and surveys, manage a one-way Service Technician blog, manage a two-way Sales blog, and provide position-specific news through RSS feeds.
It includes the following web 2.0 capabilities: My Conference Paper.
---