around TED
Get flash to fully experience Pearltrees
Postado em 21 de March de 2012 por Guilherme Lito
Ever get distracted by a new idea and have trouble seeing the original one through? Illustrator Rilla Alexander shares her idea execution struggle through an all-ages story.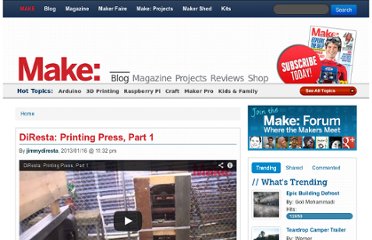 In each bi-monthly episode of DiResta (every other Wednesday at 2pm PT), artist and master builder Jimmy DiResta (Dirty Money, Hammered, Against the Grain, Trash for Cash) lets us into his workshop, to look over his shoulder while he builds whatever strikes his fancy. On this episode of DiResta, Jimmy begins his rescue and restoration of a classic Chandler and Price letterpress that has been rusting away outside of an upstate NY antique shop for decades. For lists of materials, tool, and supplies, notebook sketches, and Jimmy's notes, see the post on MAKE: http://blog.makezine.com/2013/01/16/diresta-printing-press-part-1
O TED todo mundo já conhece e não é necessário que eu fique aqui falando o tanto que o projeto é incrível, maravilhoso, inspirador etc etc etc.