Cutness is cute
O momento em que 100 chimpanzés de laboratórios são libertados e vêem o céu pela primeira vez. African Animals Getting Drunk From Ripe Marula Fruit. IbooNYpbeb4VXm.gif (Imagem GIF, 500x281 pixéis) "Accurate Candy Wrappers" by Chase Mitchell. Deer Avoid Drowning by Boarding Charter Boat - Animal Planet. I just learned about this odd and extraordinary wildlife rescue that happened in October in Alaska.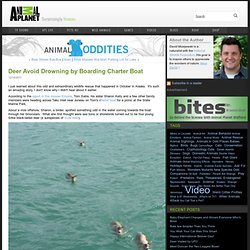 It's such an amazing story, I don't know why I didn't hear about it earlier. According to the report in the Juneau Empire, Tom Satre, his sister Sharon Kelly and a few other family members were heading across Taku Inlet near Juneau on Tom's charter boat for a picnic at the State Marine Park. About a mile offshore, Sharon, a birder, spotted something odd in the water coming towards the boat through her binoculars. What she first thought were sea lions or shorebirds turned out to be four young Sitka black-tailed deer (a subspecies of mule deer).
Four distressed Sitka deer swim desperately towards the Alaska Quest Charter Boat. Oh They're So Surprised! We Want You To Know (15 Facts) 4-elephkandsha1060-.jpg (Imagem JPEG, 370x516 pixéis) 1249647860.jpg (Imagem JPEG, 2000x1445 pixéis) - Dimensão/Escala (40%) Green_seastars_carolinesrogers.jpg (Imagem JPEG, 500x323 pixéis) Black-panther_1576289i.jpg (Imagem JPEG, 620x552 pixéis) A soldier and his squirrel « More OO. Butterfly.jpg (Imagem JPEG, 1024x576 pixéis) - Dimensão/Escala (98%) The Cutest Kitten in the World.
1948200243l.jpg (Imagem JPEG, 1024x731 pixéis) - Dimensão/Escala (80%) We Love Cats!: The Lifetime Costs of Pets. Praying Mantis on a Natural Motorcycle. Aquatic Star Gazing [9 Pictures] April 6, 2012 at 6:00pm | by Hernando Ochre Sea Star An ochre sea star (background) shares a kelp-strewn beach with a bright-red cousin at low tide on Washington's Tongue Point.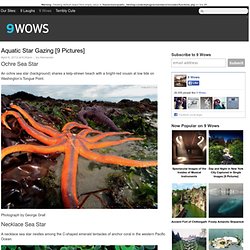 Photograph by George Grall Necklace Sea Star A necklace sea star nestles among the C-shaped emerald tentacles of anchor coral in the western Pacific Ocean. Not cute...it's URGENT to save these animals!! According to the WWF, here are the new threatened species found this year. 1.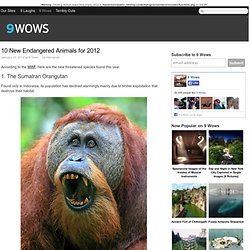 The Sumatran Orangutan Found only in Indonesia, its population has declined alarmingly mainly due to timber exploitation that destroys their habitat. Kingfisher. Baby lion + mom. Baby Turtle. Barely Even a Handful of Bunny.
Jellyfish. Nature photography - pictures of animals, pictures of birds, pictures of butterflies, macro photography of insects, plant photos, pictures of mushrooms.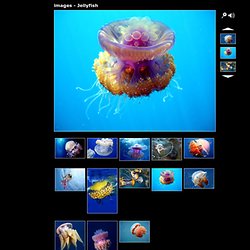 The most beautiful and unique images of nature. Great photographers observe nature by Canon, Nikon cameras, equipped with the best lenses - see all species in our gallery and listen to the birds' and animals' voices. Cute shrimp. White tiger. Banda formada de Hamsters. Baby bear.
---
paty Jun 17 2012

welcome to pearltrees!! thanks for picking my pearl cutness is cute!! i'm not acepting your request to team up because my main goal in pearltrees is to organize my personal favourites=)


have fun!!
---