Drones
Official Remarks on Drones
Drone journalism takes off. Updated Tue 21 Feb 2012, 8:10pm AEDT Drones play an increasing and controversial role in modern warfare.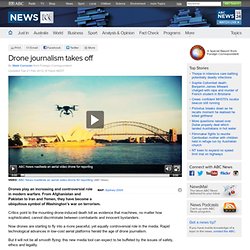 From Afghanistan and Pakistan to Iran and Yemen, they have become a ubiquitous symbol of Washington's war on terrorism. Critics point to the mounting drone-induced death toll as evidence that machines, no matter how sophisticated, cannot discriminate between combatants and innocent bystanders. Now drones are starting to fly into a more peaceful, yet equally controversial role in the media. Rapid technological advances in low-cost aerial platforms herald the age of drone journalism.
Drones used by Foreign Countries
Commercial Use of Drones. Exclusive: PowerPoint Shows Drone Industry's Lobbying Plan To Expand Over Domestic, Law Enforcement Markets : Republic Report. By Lee Fang posted Feb 15th 2012 at 10:15AM Drones are mainly associated with the Predator airships that patrol the Afghanistan sky.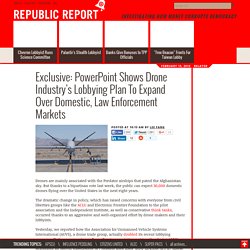 But thanks to a bipartisan vote last week, the public can expect 30,000 domestic drones flying over the United States in the next eight years. The dramatic change in policy, which has raised concerns with everyone from civil liberties groups like the ACLU and Electronic Frontier Foundation to the pilot association and the Independent Institute, as well as conservative think tanks , occurred thanks to an aggressive and well-organized effort by drone makers and their lobbyists.
Yesterday, we reported how the Association for Unmanned Vehicle Systems International (AUVS), a drone trade group, actually doubled its recent lobbying expenses.
Ethical Issues
FAA. Lawfare on Drones. Ten Fun Facts About Drones. Popsci. A sheriff's office outside of Houston is taking a big and potentially controversial step forward with a new piece of law enforcement technology.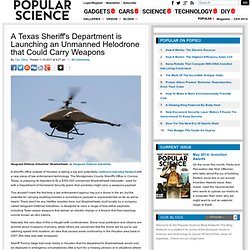 The Montgomery County Sheriff's Office in Conroe, Texas, is prepping its deputies to fly a $300,000 unmanned ShadowHawk helicopter --paid for with a Department of Homeland Security grant--that someday might carry a weapons payload. This wouldn't mark the first time a law enforcement agency has put a drone in the air, but the potential for carrying anything besides a surveillance payload is unprecedented as far as we've heard. There won't be any Hellfire missiles here, but ShadowHawk--built locally by a company called Vanguard Defense Industries--is designed to carry a range of less-lethal payloads, including Taser-esque weapons that deliver an electric charge or a firearm that fires beanbag rounds known as stun batons. Naturally, the very idea of this is fraught with controversies.
Almost One In Three U.S. Warplanes Is a Robot | Danger Room. Remember when the military actually put human beings in the cockpits of its planes?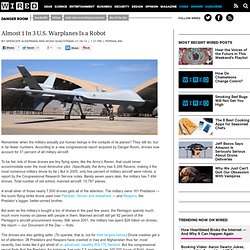 They still do, but in far fewer numbers. According to a new congressional report acquired by Danger Room, drones now account for 31 percent of all military aircraft. Pakistan al-Qaeda chief 'killed' in US drone attack. 9 February 2012Last updated at 10:30 US drone attacks have killed dozens of militants but also civilians One of the most senior al-Qaeda militants in Pakistan, Badar Mansoor, has been killed in a US drone strike, local officials say.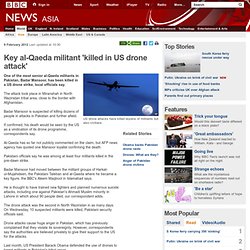 Iraq Is Angered by U.S. Drones Patrolling Its Skies. Congress Welcomes The Drones. Pressure builds for civilian drone flights at home. WASHINGTON (AP) — Heads up: Drones are going mainstream.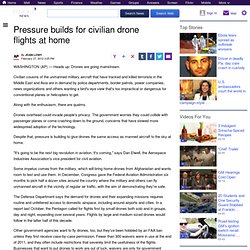 Civilian cousins of the unmanned military aircraft that have tracked and killed terrorists in the Middle East and Asia are in demand by police departments, border patrols, power companies, news organizations and others wanting a bird's-eye view that's too impractical or dangerous for conventional planes or helicopters to get. Along with the enthusiasm, there are qualms. Drones overhead could invade people's privacy. The government worries they could collide with passenger planes or come crashing down to the ground, concerns that have slowed more widespread adoption of the technology.
Despite that, pressure is building to give drones the same access as manned aircraft to the sky at home. Drones With an Eye on the Public Cleared to Fly. Domestic Use of Drones is Well Underway. The use of unmanned aerial systems (UAS) within the United States is certain to increase in the years to come, as a new Army policy has recently made clear.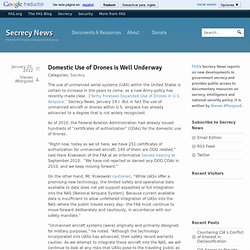 ("Army Foresees Expanded Use of Drones in U.S. Airspace," Secrecy News, January 19.) Drones Will Be Admitted to Standard US Airspace By 2015. The FAA's NextGen update is finally being funded.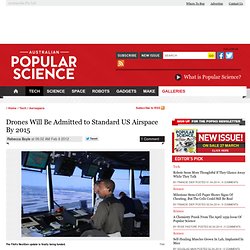 The skies are going to look very different pretty soon, and it's been a long time coming. United States Congress finally passed a spending bill for their Federal Aviation Administration, allocating US$63.4 billion for modernising the country's air traffic control systems and expanding airspace for unmanned planes within three and a half years. Doyle McManus: U.S. targeted killing program needs discussion. When it comes to national security, Michael V.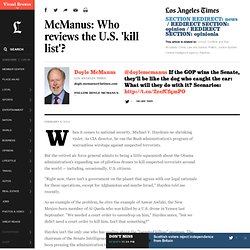 Haydenis no shrinking violet. As CIA director, he ran the Bush administration's program of warrantless wiretaps against suspected terrorists. But the retired air force general admits to being a little squeamish about the Obama administration's expanding use of pilotless drones to kill suspected terrorists around the world — including, occasionally, U.S. citizens. Obama terror drones: CIA tactics in Pakistan include targeting rescuers and funerals. Missiles being loaded onto a military Reaper drone in Afghanistan.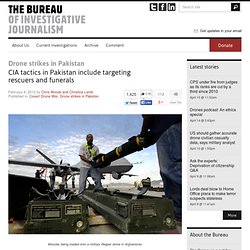 The CIA's drone campaign in Pakistan has killed dozens of civilians who had gone to help rescue victims or were attending funerals, an investigation by the Bureau for the Sunday Times has revealed. The findings are published just days after President Obama claimed that the drone campaign in Pakistan was a 'targeted, focused effort' that 'has not caused a huge number of civilian casualties.' Speaking publicly for the first time on the controversial CIA drone strikes, Obama claimed last week they are used strictly to target terrorists, rejecting what he called 'this perception we're just sending in a whole bunch of strikes willy-nilly'. 'Drones have not caused a huge number of civilian casualties', he told a questioner at an on-line forum. 'This is a targeted, focused effort at people who are on a list of active terrorists trying to go in and harm Americans'.
Surveillance drone industry plans PR effort to counter negative image | UK news. An aerial surveillance drone. Photograph: John Giles/PA Companies seeking to enable the routine use of surveillance drones across Britain are planning a long-term public relations effort to counter the negative image of the controversial aircraft. The Unmanned Aerial Vehicle Systems Association (UAVSA), a trade group that represents the drone industry to the UK government, has recommended drones deployed in Britain should be shown to "benefit mankind in general", be decorated with humanitarian-related advertisements, and be painted bright colours to distance them from those used in warzones, details from a UAVSA presentation show.
Plans are also under way to establish corridors of segregated airspace to fly drones – or UAVs – between restricted "danger zones" (airspace where test flights take place) in isolated parts of England and Wales. A series of presentations given by industry figures in recent months show public opposition is considered a major hurdle. Feinstein tweaks Obama administration for secrecy breaches. Senate Intelligence Committee Chairman Dianne Feinstein is steamed with the Obama administration over its public comments about the ostensibly classified armed drone operation that the Central Intelligence Agency runs in Pakistan. Feinstein didn't call out President Barack Obama by name, but the timing of her complaints at a Senate Intelligence Committee hearing Tuesday morning suggested she was irritated by the president's comments during a Google online chat Monday in which he publicly confirmed the program for the first time.
"Once again this committee has been put in a difficult position of trying to avoid any mention of classified matters when various parts of the executive branch may be doing somewhat the opposite," Feinstein said at the outset of the annual hearing on the most serious threats to U.S. security. Courthouse News Service. Holder expected to explain rationale for targeting U.S. citizens abroad. Civil libertarians and other critics have been demanding a more thorough and public accounting of the administration's logic since the killing of Awlaki in September.
Administration officials have relied on a classified opinion, written by the Justice Department's Office of Legal Counsel, that provides a legal framework for the unusual action, but they have refused repeated requests to release it despite intense internal debate on the subject. Holder plans to argue that the killing of an American terrorist abroad is legal under the 2001 congressional authorization of the use of military force, according to an official briefed on the speech, who spoke on the condition of anonymity to discuss its details ahead of its formal release.
This official also said Holder plans to say that the U.S. right to self-defense is not limited to traditional battlefields as the government pursues terrorists who present an imminent threat. Drones and the new fog of war - Ideas@Innovations. Posted at 10:00 AM ET, 02/02/2012 Feb 02, 2012 03:00 PM EST TheWashingtonPost The most surprising aspect of this week's White House Google+ Hangout with President Obama had nothing to do with YouTube or video chat technology. Instead, it was President Obama's public acknowledgment and defense of the Administration's use of military drone attacks in combatant zones such as Afghanistan and Iraq. Drone strike on car in Somalia kills three Al-Qaeda linked foreign militants. Strike comes a day after David Cameron hosted an international conference on Somalia's future in London By Graham Smith Updated: 13:43 GMT, 24 February 2012 At least three foreign Al-Qaeda-linked militants were killed in a strike on a car in a rebel stronghold in southern Somalia this morning, according to a senior Somali intelligence official.
The explosion could have been caused by an airstrike or a missile attack on a car carrying foreign Al Shabaab rebels, he said. The intelligence official, who declined to be named, told Reuters: 'At least three foreign militants were killed in the explosion, and we are investigating if it was air strikes or a missile and whether there are more casualties.' Explosion: At least three foreign Al-Qaeda-linked militants were killed in a strike on a car in a rebel stronghold in southern Somalia this morning (file picture)
---