Oer
Seminarium om öppna lärresurser
OpenAccess.se
Open Access ger maximal synlighet och tillgänglighet. Öppen tillgänglighet ger också fler citeringar och snabbare spridning av forsknings- resultaten. Open access är på väg att bli normen när man vill sprida vetenskaplig information på nätet. Resultaten av offentligt finansierad forskning ska också vara tillgängliga för alla.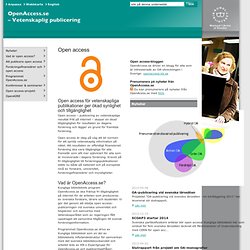 TeachMeet Skolforum2010
Ladda ner del1 , del2 , del3 , del4 (CC 2.5) Att redigera denna sida Klicka på 'EDIT' högst upp, sedan 'Login' Om du har ett PBworks-konto: logga in som vanligt Om du inte har ett PBworks-konto: logga in med tmsverige @gmail.com , lösenord= tillsammans Ifall du hamnar på huvudsidan av TeachMeet wiki, hittar du länken till TeachMeet Skolforum2010 i högerspalten ('Sidebar') Redigera Klicka 'Save' längst ner Klart! Link Building Services SEO Hosting Paid Proxy Gå högst upp TeachMeet är ett informellt och helt kostnadsfritt möte för lärare, av lärare.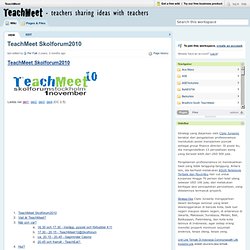 KTH Play - Videos from KTH Learning Lab
Computer Science | Video Courses on Academic Earth
Mobility Podcast 75: Daniel Green on kids and computers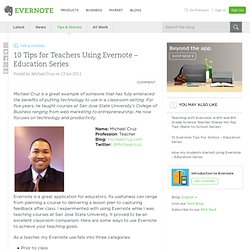 Michael Cruz is a great example of someone that has fully embraced the benefits of putting technology to use in a classroom setting. For five years, he taught courses at San Jose State University's College of Business ranging from web marketing to entrepreneurship. He now focuses on technology and productivity.
Buffy Hamilton is a teacher and librarian at Creekview High School in Canton, Georgia. Buffy is one of Tech and Learning's 30 EdTech Leaders of the Future, Georgia School Library Media Specialist of the Year 2010, and one of the National School Boards Association's "20 to Watch" educators for 2010; her media program at Creekview High School was also named one of two exemplary high school programs for the state of Georgia in 2010. In the spring of 2010, I decided to introduce Evernote as a research tool to a group of 10 th grade Literature/Composition students at my school. I chose Evernote because these students (part of a learning and technology integration program), were preparing to start a research project using multiple sources of information, including database articles, web-based news stories, videos, photos, and interviews.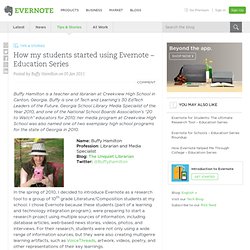 How my students started using Evernote – Education Series « Evernote Blogcast
This is a guest post from Shep McAllister a contributor at Hack College and a student at Trinity University in San Antonio, majoring in Communication and Political Science. Hack College is a student powered website educating students of the world about effective, open source software, putting techno-political arguments in everyday language, and creating a cult of "Students 2.0." Those of you that are already Evernote users can speak to how flexible a tool it is and the variety of situations it can be put to use in. It's no surprise then that although Evernote wasn't necessarily designed specfically for students, it might as well have been.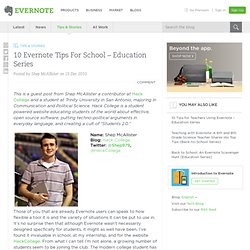 Online Tools 4423 Items , 1444 Members Group for collecting online tools. When one needs a specific tool, one can do a search here and get results showing ONLY DIRECT LINKS to online tools. - Not ABOUT tools!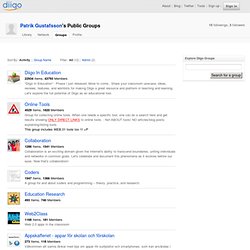 Patrik Gustafsson's Groups
Flexspan
Nationella SLI.SE / Standardsökning