Taxonomie
USDA PLANTS. The International Orchid Register | RHS. The International Orchid Register can be interrogated by entering the name of a genus and/or a grex in the search boxes and clicking the search button.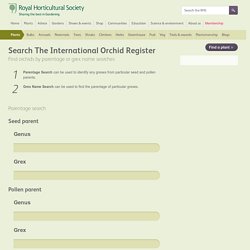 If you know the exact spelling of the name, check exact match. With all such grex names listed the Pollen Parent and the Seed Parent will be given, together with the name of the Registrant and the Originator and the Date on which the grex name was registered. Please note that with many early grex names the parentage is not known and is therefore cited as "na" or "uk" and similarly some early Registrants and many Originators (including some of recent grexes) are unknown - these are indicated as "O/U". All dates of registration prior to 1990 are given to the year only (e.g. 1/1/65). Tropicos. Plant Name search. Index Nominum Genericorum (ING) The contributing collaborator's number is listed in parentheses at the end of each entry.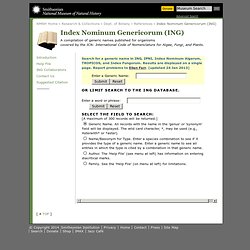 After the publication of the supplement to ING in 1986, we decided to add the number of the collaborator responsible for a major correction to the original entry as well. For an entry contributed by collaborator 8 and updated by collaborator 104, the collaborator would be listed as "(8/104). " ZipcodeZoo. The Taxonomicon. Encyclopedia of Life.
NCBI.
---