Literature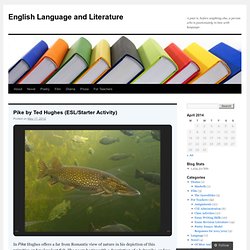 When discussing Gillian Clarke's 'Lament' today, some you sensed the irony in the momentary beauty of words 'veiled' and 'iridescence' which were immediately juxtaposed in the next lines, where we were told about the environmental destruction caused by war. The conversation veered towards sunsets, and quite a few of you were surprised to learn that exquisite sunsets are partly caused by pollution. Below is an article to get you thinking about those spectacular sunsets next time you are lying on beach somewhere, say, in Indonesia or Thailand.
English Language and Literature | A poet is, before anything else, a person who is passionately in love with language.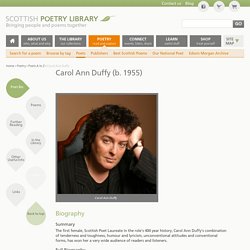 Carol Ann Duffy | Poetry | Scottish Poetry Library
Carol Ann Duffy was born in the Gorbals (Glasgow) on 23 December 1955, the first child of May (née Black) and Frank Duffy; May was Irish and Frank had Irish grandparents. They subsequently had four sons, and moved when Carol Ann was six to Stafford, where her father worked for English Electric and managed Stafford Rangers Football Club in his spare time. Duffy attended Roman Catholic primary and middle schools, and then Stafford Girls' High. Her early passion for reading and writing was encouraged by two of her English teachers, and developed by the poet-artist Adrian Henri (one of a trio of Liverpool poets whose work was famously anthologised as 'The Mersey Sound' in 1967), with whom she lived from the age of 16 until 1982. She went to the University of Liverpool, and obtained a degree in Philosophy in 1977.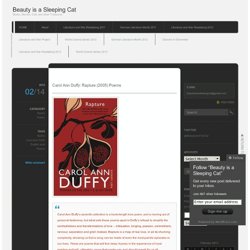 Carol Ann Duffy: Rapture (2005) Poems | Beauty is a Sleeping Cat
Carol Ann Duffy's seventh collection is a book-length love poem, and a moving act of personal testimony; but what sets these poems apart is Duffy's refusal to simplify the contradictions and transformations of love – infatuation, longing, passion, commitment, rancour, separation and grief. Instead, Rapture is a map of real love, in all its churning complexity, showing us that a song can be made of even the most painful episodes in our lives. These are poems that will find deep rhymes in the experience of most readers and will, ultimately, prove that poetry can and should speak for us all. I like poetry and try to read a poem here and there as often as possible but it's relatively rare that I read a whole collection in one go. British poet Carol Ann Duffy's collection Rapture was an exception that's why I decided to write about it.
Carol Ann Duffy has been acclaimed as the first poet laureate for the whole family with her brilliant poems for children. New laureate Carol Ann - who edits our Poetry Corner column - has given us an exclusive preview of her latest work to share with Daily Mirror readers. These eight pieces, which explore schooldays and the mysteries of childhood, will be included in Carol Ann's latest collection of children's poems, to be published this coming autumn by Faber.
Exclusive: poet laureate Carol Ann Duffy's poems for children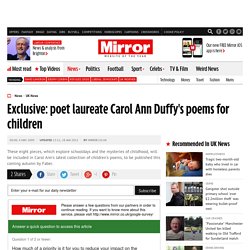 Carol Ann Duffy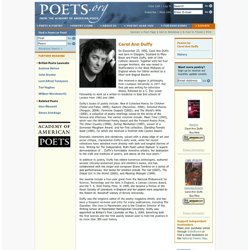 On December 23, 1955, Carol Ann Duffy was born in Glasgow, Scotland to Mary Black and Frank Duffy, both of Irish Catholic descent. Together with her four younger brothers, she was raised in Staffordshire in the West Midlands of England where her father worked as a fitter with English Electric. She received a degree in philosophy from Liverpool University in 1977. Her first job was writing for television shows, followed by a C. Day Lewis Fellowship to work as a writer-in-residence in East End schools of London from 1982 and 1984. Duffy's books of poetry include: New & Collected Poetry for Children (Faber and Faber, 2009); Rapture (Macmillan, 2006); Selected Poems (Penguin, 2004); Feminine Gospels (2002); and The World's Wife (2000), a collection of poetic retellings voiced by the wives of the famous and infamous.
phshigher.wikispaces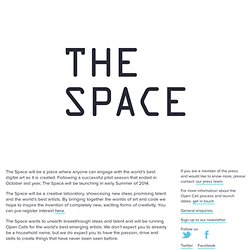 The arts — free and on-demand The Space pilot service came to an end on 31 October 2013. You can watch The Space Journey to see some of the highlights from the last 18 months and hear from those who've contributed to the creation of this new digital service for the arts. The Space, the online partnership between Arts Council England and the BBC is planning to re-launch in Spring/Summer 2014, subject to BBC Trust approval, as a dynamic new space for artists and audiences to invent and explore brilliant digital art, live, free and on-demand. It will be the place for artists to experiment, take risks and think big.
Custody of the Pumpkin (Use of Humour) | English Language and Literature
Themes: obsession, Ambition,prioritysocial class differencehumuiliationprejudicematerialismarrogancesarcasm and humour Ways that creates the humour: Use of similes:(like an elderly leopard, like a fish, like a setter… etc.) It helps to understand the characters better by indirect characterization.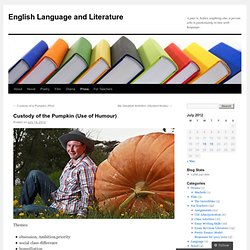 The Importance of Being Ernest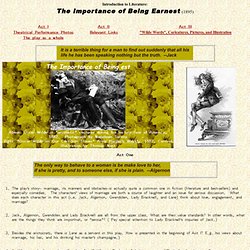 Introduction to Literature:The Importance of Being Earnest (1895) Act One The play's story-- marriage, its manners and obstacles--is actually quite a common one in fiction (literature and best-sellers) and especially comedies. The characters' views of marriage are both a source of laughter and an issue for serious discussion.
Free Study Guide: The Importance of Being Earnest by Oscar Wilde - Free BookNotes Previous Page | Table of Contents | Next Page Downloadable / Printable Version 1.
The Importance of Being Earnest: STUDY QUESTIONS - MULTIPLE CHOICE QUIZ by Oscar Wilde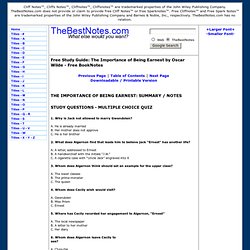 Who's Afraid of Virginia Woolf Study Guide
comparaingtexts.wikispaces
A-Level Synopses, AS English Lit Guides, Exam Literature Studies
The Great Gatsby (1925) by F. Scott Fitzgerald is a short novel which takes place on Long Island during the Jazz Age and is commonly cited as one of the greatest novels of the 20th century. Chapter 1[edit] In my younger and more vulnerable years my father gave me some advice that I've been turning over in my mind ever since.
The Great Gatsby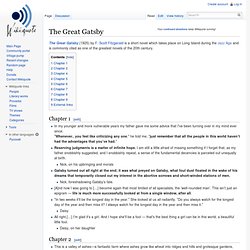 The selection of poetry that you will be studying comes from the 19th and 20th Centuries. Here are the poems that you will look at:Thomas Hardy, 'The Voice'Allen Curnow'Time'Mathew Arnold, 'Dover Beach'Adrienne Rich, 'Amends'Ted Hughes, 'Full Moon and Little Frieda'Gillian Clarke, 'Lament'John Keats, 'The Grasshopper and The Cricket'Vachel Lindsay, 'The Flower-fed Buffaloes'Boey Kim Cheng, 'Report to Wordsworth'John Clare, 'First Love'Dennis Scott, 'Marrysong'George Gordon Lord Byron, 'So, We'll Go No More A-Roving'Elizabeth Barrett Browning, Sonnet 43 ('How do I love thee? Let me count the ways!')Edna St Vincent Millay, Sonnet 29 ('Pity me not because the light of day') The poems are linked by a number of themes: Love, Relationships, Nature, Conflict betweent Man and Nature, Memories. When writing about poetry you need to be able to comment on the following things:SubjectToneImageryFormFeelingSTUDY POWERPOINTS Sample Student Responses
IGCSE Literature at IESE - Songs of Ourselves Poetry
Oxymoron | Literary Devices
Featured artwork 1952, Helen Frankenthaler Initially associated with abstract expressionism, her career was launched in 1952 with the exhibition of Mountains and Sea. This painting (inspired by inspired by a trip to Nova Scotia) is large - measuring seven feet by ten feet - and has the effect of a watercolor, though it is painted in oils.
children's short stories
Thomas Bailey Aldrich (1 Story) Honore de Balzac (1 Story) Ambrose Bierce (4 Stories) Paul Bowles (1 Story) Willa Cather (1 Story) Anton Pavlovich Checkhov (5 Stories) Stuart Cloete (1 Story) Richard Connell (1 Story) Roald Dahl (3 Stories) Richard Harding Davis (1 Story) Fielding Dawson (1 Story) Charles Dickens (2 Stories) Ambrose Flack (1 Story)
Classic Short Stories--Authors
Literature For Kids | Books, Poems, Articles and Stories for Children
WILLIAM SHAKESPEARE SONNETS with text of each sonnet
Stories from Shakespeare - Penguin Readers Level 3 | Learning English Together
An Analysis of Shakespeare's Sonnets and Sonnet Paraphrase in Modern English
Shakespearean Sonnet