Wissenressorts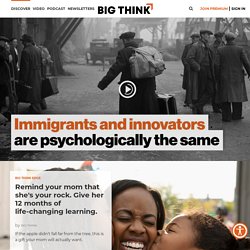 Today's Big Idea What's the secret to good health? It's no longer a secret, and it's actually fairly simple, even as good health is something that is very hard to achieve in our …society today. According to Dr. H. Robert Silverstein, the idea is to "make the individual self-reliant so that don't need medical care."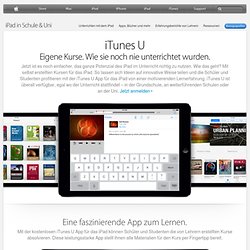 iTunes U
Mit der kostenlosen iTunes U App für das iPad können Schüler und Studenten die von Lehrern erstellten Kurse absolvieren. Diese leistungsstarke App stellt ihnen alle Materialien für den Kurs per Fingertipp bereit. Mit der iTunes U App kann man eine Video- oder Audiovorlesung abspielen und sich Notizen machen, die zusammen mit der Vorlesung synchronisiert werden. Man kann Bücher lesen und Präsentationen abspielen.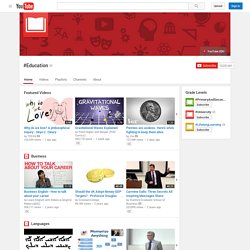 MIT Understanding Lasers and Fiberoptics full course by MIT Lasers are essential to an incredibly large number of applications. Today, they are used in bar code readers, compact discs, medicine, communications, sensors, materials processing, computer printers, data processing, 3D-imaging, spectroscopy, navigation, non-destructive testing, chemical processing, color copiers, laser "shows", and in the military.
Bücher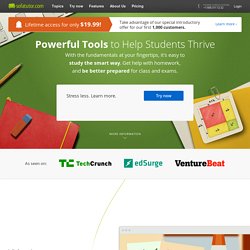 sofatutor
Nachdem unsere Tochter die Noten ihrer Abiturprüfungen erfahren hat, möchten wir Ihnen heute einmal persönlich für ihre qualitativ hochwertigen Lernmöglichkeiten danken. Mareike konnte ihre Noten in Mathe und Biologie stark verbessern. Wir werden auch zukünftig Ihr Angebot an Bekannte, Freunde und Kollegen weiterempfehlen.Charlotte S.MutterHurra, ich verstehs endlich! :D Die Videos hier auf sofatutor versteh ich auch ehrlich gesagt besser, als wenn meine Lehrerin vor mir steht und versucht, mir das zu erklären.
wissen.de
Scolaris
Scolaris wurde von BROCKHAUS in enger Zusammenarbeit mit führenden Pädagogen entwickelt. Kindern und Jugendlichen der ersten bis neunten Klasse werden beispielsweise im internetbasierten Portal von SCOLARIS Inhalte sämtlicher Hauptfächer der Schule vermittelt. Und das auf eine spielerische Art und Weise. Darüber hinaus richtet sich unser Lernsystem immer auf die individuellen Fähigkeiten der Kinder aus. Mit Scolaris stellen Sie sicher, dass Ihr Kind über die gesamte Schullaufbahn hinweg optimal gefördert wird. Innerhalb eines ganzheitlichen Konzepts hat Brockhaus auch ein Lerncenter für Vorschul- und Kindergarten entwickelt.
DGREE
Territory Site Directory Cengage Learning United States Cengage Learning China
Cengage Learning Asia