Music
This 10-disc, 184-song mix is a survey of some of the best and most notable music from 2013. For an even more broad overview of the year's music across many genres, I encourage you to check out the many lists I made in collaboration with Aylin Zafar, Caitlin White, Maria Sherman, Alex Naidus, and several other writers over at BuzzFeed. Ariana Grande "Honeymoon Avenue" / Miley Cyrus "We Can't Stop" / Haim "The Wire" / Kanye West "Bound 2″ / Vampire Weekend "Don't Lie" / King Krule "Neptune Estate" / Neko Case "Night Still Comes" / Sky Ferreira "I Blame Myself" / Laura Mvula "Make Me Lovely" / Beyoncé "Flawless" / Saint Pepsi "Better" / Disclosure featuring Ed Macfarlane "Defeated No More" / Maria Magdalena "CVMC (Cada Vez Mas Cerca)" / Phoenix "S.O.S.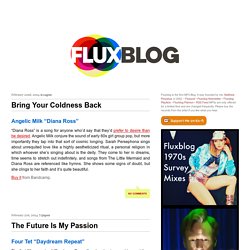 Dear Pandora Visitor, We are deeply, deeply sorry to say that due to licensing constraints, we can no longer allow access to Pandora for listeners located outside of the U.S., Australia and New Zealand. We will continue to work diligently to realize the vision of a truly global Pandora, but for the time being we are required to restrict its use. We are very sad to have to do this, but there is no other alternative.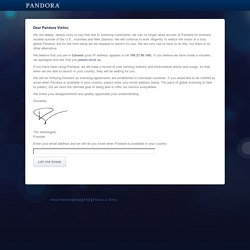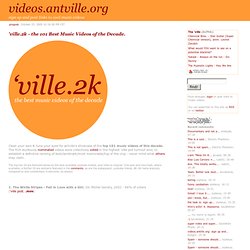 'ville.2k - the 101 Best...
progosk, October 25, 2009 10:16:00 PM CET'ville.2k - the 101 Best Music Videos of the Decade. Clean your ears & tune your eyes for antville's showcase of the top 101 music videos of this decade. The 424 studiously nominated videos were collectively voted in the highest 'ville poll turnout ever, to establish a definitive ranking of best/landmark/most memorable/top of the crop - never mind what others may claim. The top-tier 24 are featured below by the best available youtube embed, plus links to original 'ville post and mov/mp4, where available; a further 29 are similarly featured in the comments, as are the subsequent, youtube-linked, 48. All meta-analysis, comparative and commentary is welcome, as always. 1.