Presse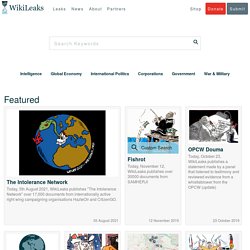 EU External Freedom of Expression Policy Today WikiLeaks released the second Draft of EU Human Rights Guidelines on Freedom of Opinion and Expression Online and Offline, an instrument which sets how the EU is to treat these subjects and their priorities in the foreign policy of the European Union, for example, the EU response to censorship of TV stations in the Ukraine and certain aspects of US mass surveillance. NETmundial Executive Stakeholder Committee (EMC) Outcome Document Today WikiLeaks released the penultimate draft agreement ("Outcome Document") going into NETmundial 2014 - the Global Multistakeholder Meeting on the Future of Internet Governance. NETmundial is an international conference of twelve nations and other internet stakeholders, to be hosted in São Paulo, Brazil, April 23-24, convened to lay down a roadmap for internet governance.
Numéro 9 — Printemps 2009 La cover: Daniele De Baté Les artistes: Paloma Blanco / Sofia Boubolis / Anne-Lyse Chopin / Nicolas Dhervillers / Simon Gush / Justin Morin / Mélodie Mousset / Stéphanie Nava / Ylva Ogland / Riond / Frederik Soenen / David de Tscharner.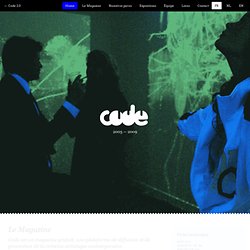 CODE Magazine
Cinq préceptes à connaître avant d'emménager à Paris Voici cinq principes à appliquer pour pouvoir vivre à Paris. "Après l'élection de Mitterrand, j'ai eu de la limonade, c'était la fête" Cécile Duflot, fraîchement nommée ministre de l'Egalité des territoires et du Logement, sera en charge du dossier du Grand Paris. L'occasion de republier cette interview, parue dans le numéro 6 de Megalopolis, où elle évoque son enfance à Montereau-Fault-Yonne, son père cheminot, ses trajets en RER,… Have you met TED? Un succès mondial, des séquences d'une vintgaine de minutes qui tournent en boucle sur le web. TED est en train de s'imposer comme un réel phénomène culturel global Les oubliés du Grand Paris : les quartiers sensibles du centre de Drancy Troisième et dernier volet de notre reportage dans ces quartiers oubliés du Grand Paris. Drancy, cinquième ville du 93, est boudée par les aménagements d'ampleur qui permettrait de désenclaver le centre de la commune.