Data visualization
www.iicm.tugraz.at/iicm_thesis/hmader.pdf
ExtendNY - New York City Extended
Infographics | We love Infographics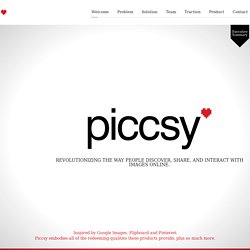 Revolutionizing the way people discover, share, and interact with images online. Inspired by Google Images, Flipboard and Pinterest Piccsy embodies all of the redeeming qualities these products provide, plus so much more. Traffic Visitors / Month Unique Visitors / Month Pageviews / Month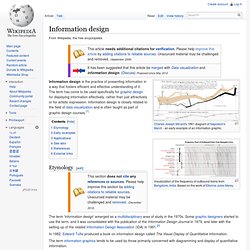 Information design is the practice of presenting information in a way that fosters efficient and effective understanding of it. The term has come to be used specifically for graphic design for displaying information effectively, rather than just attractively or for artistic expression. Today, information design is closely related to the field of data visualization . Information design is often taught as part of graphic design courses. [ 1 ]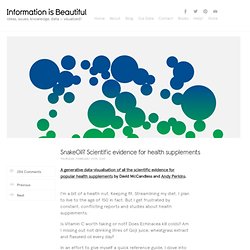 A generative data-visualisation of all the scientific evidence for popular health supplements by David McCandless and Andy Perkins . I'm a bit of a health nut. Keeping fit.
SnakeOil? Scientific evidence for health supplements
5 | Data Driven Architecture | Diverge
One of the largest resources we have today is data. We have information on almost every measurable subject. But what do we do with it?
Wrapping your brain around data online can be challenging, especially when dealing with huge volumes of information. And trying to find related content can also be difficult, depending on what data you're looking for. But data visualizations can make all of that much easier, allowing you to see the concepts that you're learning about in a more interesting, and often more useful manner. Below are 50 of the best data visualizations and tools for creating your own visualizations out there, covering everything from Digg activity to network connectivity to what's currently happening on Twitter. Music, Movies and Other Media Narratives 2.0 visualizes music.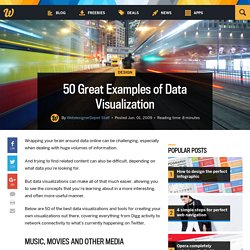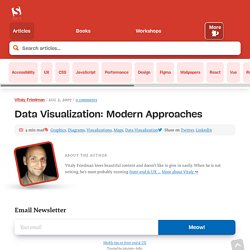 Data presentation can be beautiful, elegant and descriptive. There is a variety of conventional ways to visualize data – tables, histograms, pie charts and bar graphs are being used every day, in every project and on every possible occasion. However, to convey a message to your readers effectively, sometimes you need more than just a simple pie chart of your results. In fact, there are much better, profound, creative and absolutely fascinating ways to visualize data .