Salty and Sweet Brekfast
Decadent Dark Chocolate Cinnamon Butter. We all love Nutella (chocolate hazelnut spread), but why does spreadable chocolate have to involve nut butter?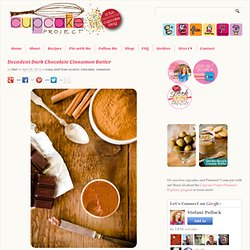 Why not make chocolate butter with decadent, creamy cow's milk butter? Sorry nuts, we don't need you anymore! Haniela's: ~Cupcake Apple Pockets ~ Yesterday I mentioned that I'll be making something for Cupcake Lovers..well I hope this one will not disappoint those who were awaiting a cupcake in a liner topped with a buttercream.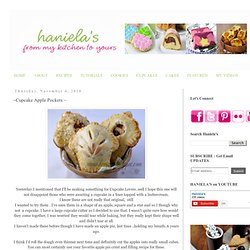 I know these are not really that original, still I wanted to try them . I've seen them in a shape of an apple, square and a star and so I though why not a cupcake. I have a large cupcake cutter so I decided to use that. Caramelized Apple Muffins. Muffin Batter 60grams butter 100 grams granulated sugar 30 grams brown sugar 2eggs.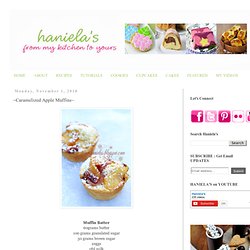 Homemade Whole-Grain Pancake Mix: King Arthur Flour. Nutella-filled Banana Muffins... I toyed with the idea of calling these QPTWB Muffins (Quite Possibly the World's Best Muffins), but it seemed a little braggy...and difficult to say.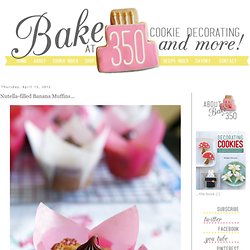 I actually take no credit for these muffins being the best.muffins.ever....it's all due to Nutella. Inspiration? ...I bought bananas. I came home from the store to see that we already HAD bananas. I had two choices: 1. Lavender & Lemon Scones. No judging, ok?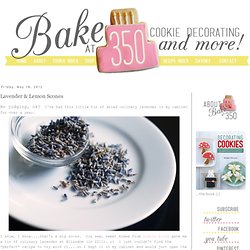 I've had this little tin of dried culinary lavender in my cabinet for over a year. I know, I know....that's a big no-no. You see, sweet Aimee from Simple Bites gave me a tin of culinary lavender at Blissdom (in 2011). ;) I just couldn't find the *perfect* recipe to try with it....so I kept it in my cabinet and would just open the tin and take a whiff occasionally. Monkey Bread Muffins... quite possibly the best thing I've ever eaten! These muffins are quite possibly the best thing I've ever eaten!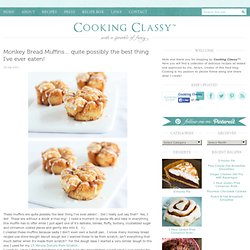 … Did I really just say that? Yes, I did! Banana Bread Pancakes with Cinnamon Cream Cheese Syrup. I admit it I'm pancake crazy =).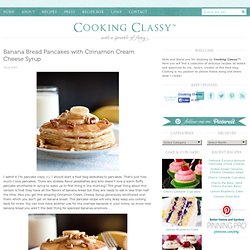 I should start a food blog dedicated to pancakes. That's just how much I love pancakes. There are endless flavor possibilities and who doesn't love a warm fluffy pancake smothered in syrup to wake up to first thing in the morning? Doughnut Pancakes with Doughnut Glaze Syrup. Yes.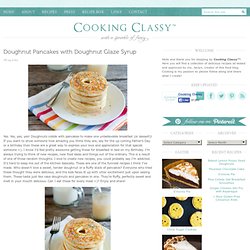 Yes, yes, yes! Doughnuts collide with pancakes to make one unbelievable breakfast (or dessert)! If you want to show someone how amazing you think they are, say for the up coming Father's Day or a birthday then these are a great way to express your love and appreciation for that special someone =). I know I'd feel pretty awesome getting these for breakfast in bed on my Birthday. Cinnamon Bun Breakfast Smoothie. Cinnamon bun in smoothie form?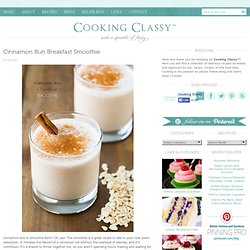 Oh yes! This smoothie is a great recipe to add to your new years resolution. It imitates the flavors of a cinnamon roll without the overload of calories, and it's nutritious! It's a breeze to throw together too, so you aren't spending hours making and waiting for cinnamon rolls. You know me and cinnamon rolls, I'm obsessed, so I just had to try it in breakfast smoothie form. Carrot Cake Pancakes. How I love a stack of hot of the griddle, drenched in syrup, fancy pancakes!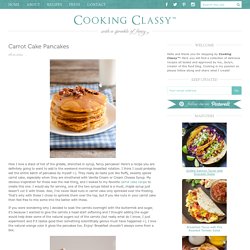 Here's a recipe you are definitely going to want to add to the weekend mornings breakfast rotation. I think I could probably eat the entire batch of pancakes by myself =). They really do taste just like fluffy, sweetly spiced carrot cake, especially when they are smothered with Vanilla Cream or Cream Cheese Syrup. My obvious inspiration for these was the real thing, and I looked to my favorite carrot cake recipe to create this one. I would say for serving, one of the two syrups listed is a must, maple syrup just doesn't cut it with these.
Blueberry Breakfast Cake. If I could eat this cake every morning for the rest of my life I most certainly would die happy. Okay, almost :). I'd highly, highly, highly (yes it deserves three of those) recommend this cake. It's basically a moist, fruit loaded, sugar coated blueberry muffin in a simple cake form. Strawberry Coffee Cake. I tell you no lie when I say this Strawberry Coffee Cake is the best coffee cake I've ever eaten! I love it! It makes sense that I like it so much because I adapted the recipe slightly from my favorite ever blueberry muffins recipe. I had some fresh strawberries in the fridge I needed to use up and I've been wanting to make a coffee cake recipe for some time so I decided why not strawberry? The combination of flavors in this cake is irresistible! You get a melt in your mouth, deliciously flavorful, buttery cake that sandwiches a layer of fresh, sweetened, juicy strawberries then to finish it off it's crowned with a generous amount of an incredible crumb topping (I've said it before, please don't substitute the Turbinado sugar, I think it's a must).
Apple Cinnamon Roll Muffins. Share on Pinterest Apple pie meets cinnamon rolls in this Fall treat that you won't want to miss out on. I mean really, is there anything quite like a fresh out of the oven cinnamon roll drenched with glaze or a slice of perfectly sweetened and spiced homemade apple pie? With that said, they were made to go together. Small Batch Whole Wheat Double Chocolate Banana Muffins. It's Small Batch Saturday! This recipe, like so many others out there in the blogosphere, was inspired by an overly ripe banana (and a chocolate craving). I made this on a whim, dumped a few ingredients I had on hand in my mixer, and ended up with a delicious chocolaty muffin. Double Cream Cheese Cinnamon Rolls. Yay, fall is almost here! Let's bust out the pumpkin recipes and celebrate! Oh wait, it's still 100 degrees. Cherry Vanilla Smoothie. Blueberry Muffins. Beer Batter Waffles. How to Make Focaccia Bread, Rosemary Focaccia Bread.
Easy Brazilian Cheese Bread (Pão de Queijo) New Orleans at Home with Bourbon Street Beignets. Flavorful Blueberry Orange Bread. Japanese Curry Puffs - Curry Bread Recipe. Ginger Scones Recipe. Coffeehouse Scones Recipe. Apple Scone Cake Recipe. Green Chile Cornbread Recipe. Old-Fashioned Pancakes Recipe. Waffles with Fresh Strawberry Syrup Recipe : Emeril Lagasse.
---