Web sémantique & formats standards
Warning: The microdata syntax has changed (e.g. item="foo" is now itemscope itemtype="foo") since this blog post was written. Don't copy the examples. I spent last weekend with my good friend Emil sketching a REST-style interface for his graph database Neo4j.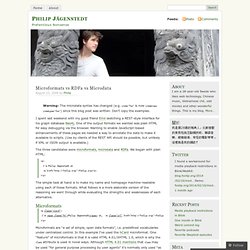 Microformats vs RDFa vs Microdata « Philip Jägenstedt
developerWorks : XML : Exploring Semantic Web Technologies
developerWorks : XML : Technical library view
Cette page vient d'être traduite, mais elle a besoin d'un relecteur différent du traducteur. Pensez également à toujours vérifier le contenu avec sa toute dernière version en anglais. Les microformats permettent aux sites Web de fournir des données sémantiques au navigateur afin que celui-ci puisse présenter un résumé des informations présentes sur une page sans avoir à connaître de manière particulière d'analyser son contenu.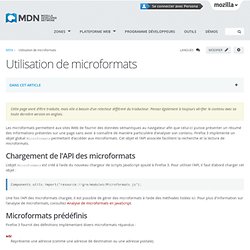 Utilisation de microformats - MDC
Using microformats - MDC
Microformats allow web sites to provide semantic data to the browser in order to make it possible to present summaries of the information on a page without having to know how to parse the document itself.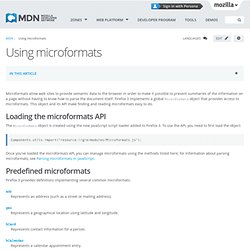 Operator - Modules pour Firefox
Tails Export :: Modules pour Firefox
MozCC :: Modules pour Firefox
poshformats are data formats constructed from the use of semantic class names.
poshformats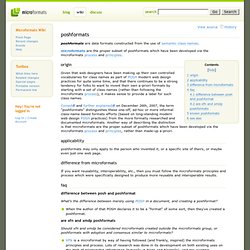 xmdp
XMDP - XHTML Meta Data Profiles
XMDP™ (XHTML Meta Data Profiles) is a simple XHTML-based format for defining HTML meta data profiles easy to read and write by both humans and machines.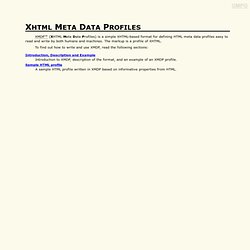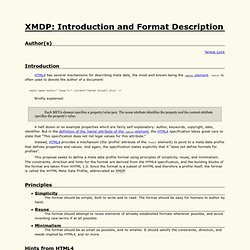 XMDP: Introduction and Format Description
Author(s)
xmdp-fr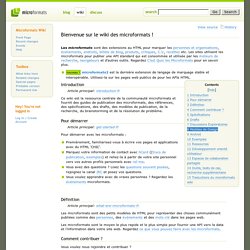 Les microformats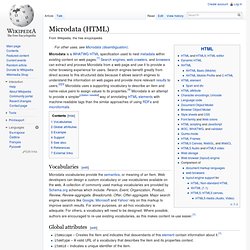 Microdata (HTML5)
Microdata is a WHATWG HTML specification used to nest metadata within existing content on web pages.[1] Search engines, web crawlers, and browsers can extract and process Microdata from a web page and use it to provide a richer browsing experience for users.
Most webmasters are familiar with HTML tags on their pages.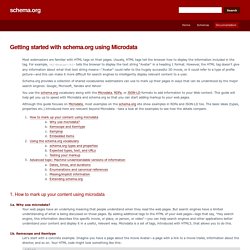 What is the purpose of schema.org? Why are Google, Bing, Yandex and Yahoo!
FAQ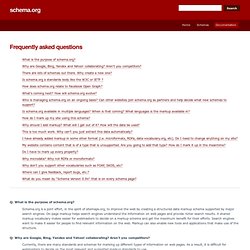 Schema.org Discussions
Data-Vocabulary.org | Official Website
HTML Microdata
Abstract This specification defines the HTML microdata mechanism. This mechanism allows machine-readable data to be embedded in HTML documents in an easy-to-write manner, with an unambiguous parsing model.
5 Microdata — HTML5 (including next generation additions still i
Microdata 5.1 Introduction
HTML Microdata
Microdata rdf
list of microdatas / RDFa
Webmaster Level: All
Microdata support for Rich Snippets
RDFa (or Resource Description Framework in Attributes[1]) is a W3C Recommendation that adds a set of attribute-level extensions to HTML, XHTML and various XML-based document types for embedding rich metadata within Web documents. The RDF data-model mapping enables its use for embedding RDF subject-predicate-object expressions within XHTML documents.
Un article de Wikipédia, l'encyclopédie libre.
RDFa
RDFa
RDFa Primer
About RDFa
Introduction to RDFa
RDFa
Comparisons between semantic web formats