Licences d'utilisation
Get flash to fully experience Pearltrees
We try to list the most commonly encountered free software license on this page, but cannot list them all; we'll try our best to answer questions about free software licenses whether or not they are listed here. The licenses are more or less in alphabetical order within each section. If you believe you have found a violation of one of our licenses, please refer to our license violation page .
The GNU Manifesto (which appears below) was written by Richard Stallman at the beginning of the GNU Project, to ask for participation and support. For the first few years, it was updated in minor ways to account for developments, but now it seems best to leave it unchanged as most people have seen it. Since that time, we have learned about certain common misunderstandings that different wording could help avoid.
Un article de Wikipédia, l'encyclopédie libre. La Free Software Song ( Chanson du logiciel libre [ 1 ] ) est une chanson écrite en anglais par Richard Stallman pour faire la promotion des logiciels libres . La mélodie est empruntée à une chanson bulgare intitulée Sadi Moma . Stallman raconte l'avoir écrite pendant une convention de science-fiction , lors d'une session de filk music , alors qu'il attendait son tour pour chanter [ 2 ] .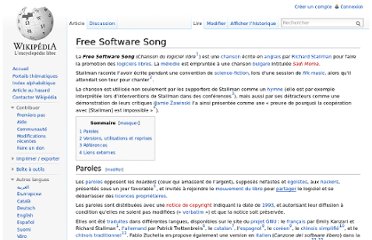 EXCEPTION GENERAL PUBLIC LICENSE Version 2, January 2009 DRAFT 7 - FOR FEEDBACK AND COMMENTS Copyright (C) 2009 Exception License Foundation Everybody is allowed to copy and distribute verbatim copies of this license document, but modifying it in any way is not allowed. Preamble Licenses for most software and projects used to take away your freedom to share and change them, until the "free" licenses were created. That enabled an enormous quantity of free software and open projects to be created, developed, maintained and expanded way beyond what one could have imagined in the beginning. Internet and the contemporary world would not be what it is without the contribution of so many people participating in the "Free, Libre and Open Source" movement (FLOSS) as some have described it.
CeCILL and Free Software Today Free Software is important in the scientific community. It is becoming more and more important in administrations and in the entreprise.
Un article de Wikipédia, l'encyclopédie libre. Beerware est un terme sarcastique utilisé pour désigner un logiciel placé sous une licence très permissive. Description [ modifier ] Si l'utilisateur final rencontre l'auteur et considère que le logiciel de ce dernier est utile, il est encouragé à lui offrir une bière « en retour ». Historique [ modifier ]