Cy-Fi
Untitled. WHY PEOPLE THINK COMPUTERS CAN'T Marvin Minsky, MIT First published in AI Magazine, vol. 3 no. 4, Fall 1982.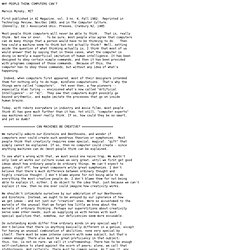 Reprinted in Technology Review, Nov/Dec 1983, and in The Computer Culture, (Donnelly, Ed.) Associated Univ. Presses, Cranbury NJ, 1985 Most people think computers will never be able to think. That is, really think. Laser Crosswalk Saves Pedestrians From a Painful Death. Doctor Who Timeline Infographic | CableTV.com. Check out this complete timeline of Doctor Who from 1963 to present, including episodes, seasons, companions, villains, and more.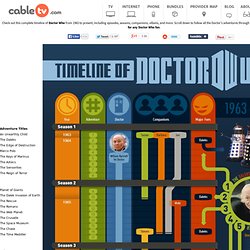 Scroll down to follow all the Doctor's adventures through time. A Fantastic resource for any Doctor Who fan. Adventure Titles An Unearthly Child The Daleks The Edge of Destruction Marco Polo The Keys of Marinus The Aztecs The Sensorites The Reign of Terror Planet of Giants The Dalek Invasion of Earth The Rescue The Romans The Web Planet The Crusade The Space Museum The Chase The Time Meddler Galaxy 4 Mission to the Unknown The Myth Makers The Daleks' Master Plan The Massacre of St.
World's smallest car fuels nanotech advance. A CGI of the electric-powered nano car created by Dutch researchers Dutch scientists create the smallest vehicle in the worldNano car is the first to be powered by electricityCar traveled a distance of six nano meters Scientists hope nanomotors will power nanorobots of the future London (CNN) -- A tiny nano-sized car which can propel itself forward in response to electrical pulses has been created by scientists in the Netherlands.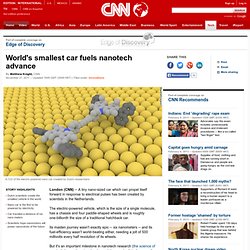 Tanning Printer by Hosung Jung, Junsang Kim, Seungin Lee & Yonggu Do. The Art of Solar Printing It's here in concept and I simply love it!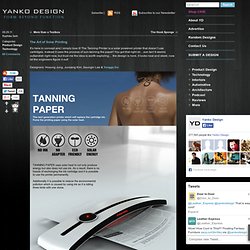 The Tanning Printer is a solar powered printer that doesn't use cartridges. Instead it uses the process of sun-tanning the paper! You got that right sir…sun tan! It seems outlandish right now, but trust me the idea is worth exploring… the design is here, it looks neat and sleek; now let the engineers figure it out! Cold fusion debate heats up after latest demo. 3d nuclear reaction, generic,the nuclear explosion and radiation, Nuclear Power Station, Hydrogen Bomb, Atom, Nuclear Reactor, Space, Radiation, Science, Planet, Sun, Earth istockphoto.com Italian physicist and inventor Andrea Rossi has conducted a public demonstration of his "cold fusion" machine, the E-Cat, at the University of Bologna, showing that a small amount of input energy drives an unexplained reaction between atoms of hydrogen and nickel that leads to a large outpouring of energy, more than 10 times what was put in.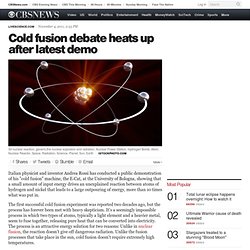 The first successful cold fusion experiment was reported two decades ago, but the process has forever been met with heavy skepticism. It's a seemingly impossible process in which two types of atoms, typically a light element and a heavier metal, seem to fuse together, releasing pure heat that can be converted into electricity. One weird theory could make anti-gravity and faster-than-light travel possible. "Famously, physicist John Reed noted in 2006 that some parts of the theory don't yield the exact quantities that Heim claimed they did, only to reverse his opinion the next year and publicly say he believed that Heim was onto something.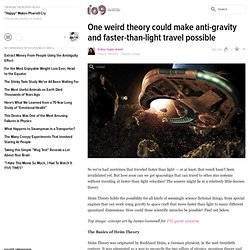 " More recently, Reed came to the conclusion that Heim's theory wasn't deriving the particle masses, but using them as inputs and then regurgitating them. Ultimate FPS Simulator Actually Shoots You. October 18th, 2011 by Shane McGlaun This is the most awesome, intense, realistic (and painful) video game simulator I have ever seen.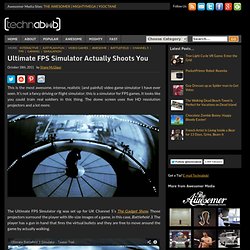 It's not a fancy driving or flight simulator; this is a simulator for FPS games. It looks like you could train real soldiers in this thing. MIT Creates New Energy Source. This is some pretty exciting news.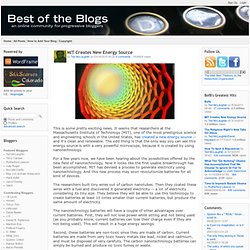 It seems that researchers at the Massachusetts Institute of Technology (MIT), one of the most prestigious science and engineering schools in the United States, has created a new energy source -- and it's clean and renewable. The odd thing is that the only way you can see this energy source is with a very powerful microscope, because it is created by using nanotechnology. For a few years now, we have been hearing about the possibilities offered by the new field of nanotechnology. Now it looks like the first usable breakthrough has been accomplished.
12 bizarre real-life places that are stranger than science fiction. Science fiction is home to some fantastic societies, from Cloud City to Bartertown.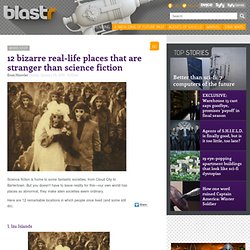 But you doesn't have to leave reality for this—our own world has places so abnormal, they make alien societies seem ordinary. Here are 12 remarkable locations in which people once lived (and some still do). Scientists reconstruct images from our brains, plan to do the same for dreams (video) This is your brain.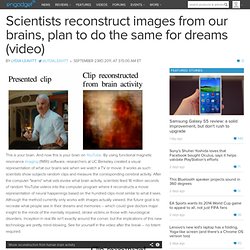 And now this is your brain on YouTube. By using functional magnetic resonance imaging (fMRI) software, researchers at UC Berkeley created a visual representation of what our brains see when we watch a TV or movie. It works as such: scientists show subjects random clips and measure the corresponding cerebral activity. After the computer "learns" what vids evoke what brain activity, scientists feed 18 million seconds of random YouTube videos into the computer program where it reconstructs a movie representation of neural happenings based on the hundred clips most similar to what it sees.
Although the method currently only works with images actually viewed, the future goal is to recreate what people see in their dreams and memories -- which could give doctors major insight to the minds of the mentally impaired, stroke victims or those with neurological disorders. Stumbling, Bumbling LittleDog Can Tiptoe Across Tops of Cylinders. Who says you can't teach robots new tricks? In this new video, Boston Dynamics' LittleDog delicately navigates a mini-forest of cylinders like a Chinese wuxia martial artist, but also shows plenty of clumsy pratfalls in the course of its training.
LittleDog is the little sibling of the much scarier and noisier BigDog. Physicists Observe Neutrino Quick-Change in Japan. There was big news on the neutrino front last week, when the Japanese T2K (Tokai to Kamioka) experiment announced the first evidence (PDF) of a rare form of neutrino oscillation, whereby muon neutrinos turn into electron neutrinos. And this, in turn, gives physicist a potential clue to a critical mystery in cosmology: why there is something in the universe, rather than nothing.
It's a small signal, just shy of of "3-sigma," but statistically strong enough, given the rarity of the event, to be a genuine signal, not just background noise. The probability of this being real, and not simply due to chance, is around 99.3 percent. EDWARD_BSL.jpg (JPEG Image, 919x768 pixels) Boston Dynamics Robots Tiptoe Toward Terminator. A new video of a Boston Dynamics robot has surfaced--possibly the scariest yet. The company's name alone should give you the willies if you've watched the Terminator movies or seen the previous chilling robots BD makes.
We've rounded up the videos for you. Happy Halloween. Boston Dynamics is a small engineering and robotics firm spun off from MIT in 1992. 7 Man-Made Substances that Laugh in the Face of Physics. The universe is full of weird substances like liquid metal and whatever preservative keeps Larry King alive. But mankind isn't happy to accept the weirdness of nature when we can create our own abominations of science that, due to the miracle of technology, spit in nature's face and call it retarded.
That's why we came up with... What do you get when you suspend nanoparticles of iron compounds in a colloidal solution of water, oil and a surfactant? Did you guess Zima? Militants may try bomb implants to attack - US. Who wants to live forever? Scientist sees aging cured. Meet the Matrix, er, Elephant Trunk-Inspired Arm of Your Future Robot Overlord. Astrolabe – Magnificent Computer of the Ancients.
Photo-twitpic-login-future-28theyE28099re.jpg (JPEG Image, 600x4090 pixels) Them Punks: The Reality of Cyber, the Rise of Steam « SciFi4Me.com. Science fiction becomes fact as filmmaker with bionic eye explores the technology of Deus Ex.
---