Cy-Fi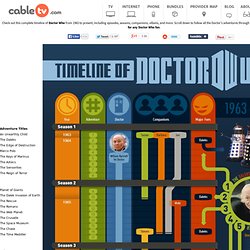 Check out this complete timeline of Doctor Who from 1963 to present, including episodes, seasons, companions, villains, and more. Scroll down to follow all the Doctor's adventures through time. A Fantastic resource for any Doctor Who fan . Adventure Titles An Unearthly Child The Daleks The Edge of Destruction Marco Polo The Keys of Marinus The Aztecs The Sensorites The Reign of Terror Planet of Giants The Dalek Invasion of Earth The Rescue The Romans The Web Planet The Crusade The Space Museum The Chase The Time Meddler Galaxy 4 Mission to the Unknown The Myth Makers The Daleks' Master Plan The Massacre of St.
World's smallest car fuels nanotech advance
The Art of Solar Printing It's here in concept and I simply love it! The Tanning Printer is a solar powered printer that doesn't use cartridges. Instead it uses the process of sun-tanning the paper! You got that right sir…sun tan! It seems outlandish right now, but trust me the idea is worth exploring… the design is here, it looks neat and sleek; now let the engineers figure it out!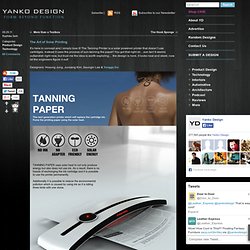 Tanning Printer by Hosung Jung, Junsang Kim, Seungin Lee & Yonggu Do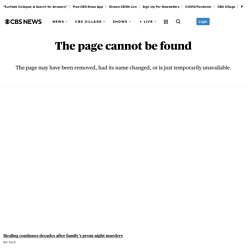 Cold fusion debate heats up after latest demo
Italian physicist and inventor Andrea Rossi has conducted a public demonstration of his "cold fusion" machine, the E-Cat, at the University of Bologna, showing that a small amount of input energy drives an unexplained reaction between atoms of hydrogen and nickel that leads to a large outpouring of energy, more than 10 times what was put in. The first successful cold fusion experiment was reported two decades ago, but the process has forever been met with heavy skepticism. It's a seemingly impossible process in which two types of atoms, typically a light element and a heavier metal, seem to fuse together, releasing pure heat that can be converted into electricity. The process is an attractive energy solution for two reasons: Unlike in nuclear fission , the reaction doesn't give off dangerous radiation. Unlike the fusion processes that take place in the sun, cold fusion doesn't require extremely high temperatures.
One weird theory could make anti-gravity and faster-than-light travel possible
it seems like a long time since humanity has broached a major new paradigm-shifting scientific breakthrough. in the century since Einstein gave us relativity, we've created microwave ovens and cel phones, which seem in line with the path of technological improvement. the overall arc of history feels somewhat like a Dark Ages in terms of progress scientifically though. perhaps it was the perky optimism of the 1950s, Atomic Age, Jetsons cartoons sense of how much science would improve the world. perhaps it is our focus on the 1%'s need to be wealthier than us. and some days, i even wish to point the finger at our ongoing acceptance of fairy-tale gods and religions who need people to not think. but i still crave the answers which seem to be reachable.
October 18th, 2011 by: Shane McGlaun This is the most awesome, intense, realistic (and painful) video game simulator I have ever seen. It's not a fancy driving or flight simulator; this is a simulator for FPS games. It looks like you could train real soldiers in this thing.
Ultimate FPS Simulator Actually Shoots You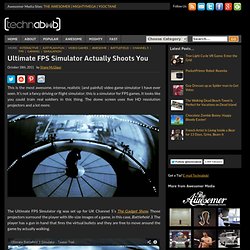 This is some pretty exciting news. It seems that researchers at the Massachusetts Institute of Technology (MIT), one of the most prestigious science and engineering schools in the United States, has created a new energy source -- and it's clean and renewable. The odd thing is that the only way you can see this energy source is with a very powerful microscope, because it is created by using nanotechnology. For a few years now, we have been hearing about the possibilities offered by the new field of nanotechnology. Now it looks like the first usable breakthrough has been accomplished.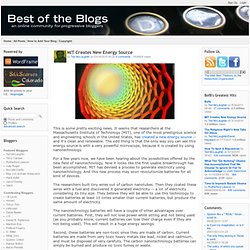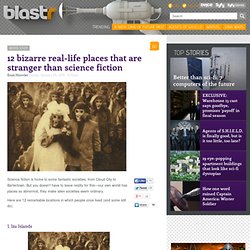 Science fiction is home to some fantastic societies, from Cloud City to Bartertown. But you doesn't have to leave reality for this—our own world has places so abnormal, they make alien societies seem ordinary. Here are 12 remarkable locations in which people once lived (and some still do).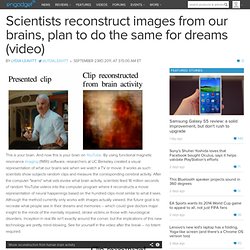 Scientists reconstruct images from our brains, plan to do the same for dreams (video)
This is your brain. And now this is your brain on YouTube . By using functional magnetic resonance imaging (fMRI) software, researchers at UC Berkeley created a visual representation of what our brains see when we watch a TV or movie. It works as such: scientists show subjects random clips and measure the corresponding cerebral activity. After the computer "learns" what vids evoke what brain activity, scientists feed 18 million seconds of random YouTube videos into the computer program where it reconstructs a movie representation of neural happenings based on the hundred clips most similar to what it sees. Although the method currently only works with images actually viewed, the future goal is to recreate what people see in their dreams and memories -- which could give doctors major insight to the minds of the mentally impaired, stroke victims or those with neurological disorders.
Harvard researchers showcase new dynamic motions for the LittleDog robot Who says you can't teach robots new tricks? In this new video, Boston Dynamics' LittleDog delicately navigates a mini-forest of cylinders like a Chinese wuxia martial artist, but also shows plenty of clumsy pratfalls in the course of its training.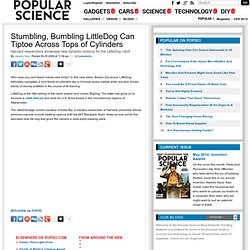 Stumbling, Bumbling LittleDog Can Tiptoe Across Tops of Cylinders
Physicists Observe Neutrino Quick-Change in Japan
EDWARD_BSL.jpg (JPEG Image, 919x768 pixels)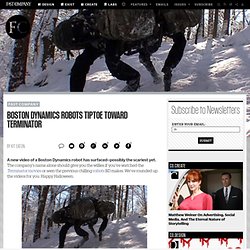 Boston Dynamics Robots Tiptoe Toward Terminator
A new video of a Boston Dynamics robot has surfaced--possibly the scariest yet. The company's name alone should give you the willies if you've watched the Terminator movies or seen the previous chilling robots BD makes. We've rounded up the videos for you. Happy Halloween. Boston Dynamics is a small engineering and robotics firm spun off from MIT in 1992.
The universe is full of weird substances like liquid metal and whatever preservative keeps Larry King alive. But mankind isn't happy to accept the weirdness of nature when we can create our own abominations of science that, due to the miracle of technology, spit in nature's face and call it retarded. That's why we came up with... What do you get when you suspend nanoparticles of iron compounds in a colloidal solution of water, oil and a surfactant? Did you guess Zima?
Militants may try bomb implants to attack - US
Who wants to live forever? Scientist sees aging cured
Please try the following: Click the Refresh button, or try again later. If you typed the page address in the Address bar, make sure that it is spelled correctly. To check your connection settings, click the menu, and then click . On the tab, click .
Meet Festo , a prototype robotic arm that takes its design inspiration from the way an elephant's trunk moves every which way thanks to its series of highly flexible muscle segments. Clever? Yes. On the way to real robots? Probably. Scary?...
Meet the Matrix, er, Elephant Trunk-Inspired Arm of Your Future Robot Overlord
I work right next to Boston Dynamics and had a first-hand run in with Big Dog about 4 years ago. A bunch of us were in the cafeteria when the damn thing walked right past the window. We all just kind of sat there, mouths agape. The funny thing was we couldn't see the people operating it from the angle of the window so all we saw was this big ass robot horse walking past the side of the building. Of course we all thought is was the end of days and the robots were our new masters.
7 bizarre robots in the Pentagon's defense budget
Astrolabe – Magnificent Computer of the Ancients
Them Punks: The Reality of Cyber, the Rise of Steam « SciFi4Me.com
Science fiction becomes fact as filmmaker with bionic eye explores the technology of Deus Ex