The Green Dome
Get flash to fully experience Pearltrees
Despite rising popularity, sticker shock is still a frequent reaction upon seeing the cost of geothermal installation. Geothermal heat pumps are usually somewhere between $11,000 and $30,000. Most of that stems from the installation cost. Prices can range wildly.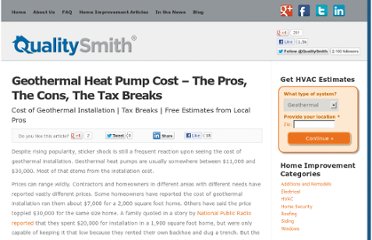 By Lana Birbrair Posted 02.24.2012 at 3:45 pm New Toilet Lana Birbrair About 2.6 billion people worldwide do not have access to a sanitary toilet. To fix this, the Bill and Melinda Gates Foundation awarded eight grants last year to scientists and engineers to invent a toilet that could function without piped water, a sewer system or outside electricity—and would cost less than 5 cents a day to operate. With the funding, scientists are working on using processes such as evaporation, combustion, pyrolysis and anaerobic digestion to break down waste in toilets into three essential resources: water, fertilizer and fuel.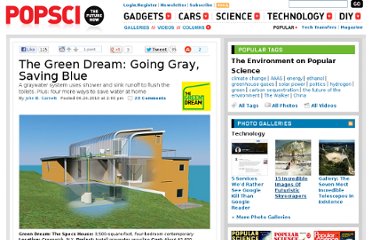 A graywater system uses shower and sink runoff to flush the toilets. Plus: four more ways to save water at home Green Dream: The Specs House: 3,500-square-foot, four-bedroom contemporary Location: Greenwich, N.Y. Project: Install graywater recycling Cost: About $2,600 ($1,400 for the system; $1,200 for plumbing) Time to install: 2 hours Eco-advantage: Uses household runoff for toilets, saving water and work for the septic system Peter Bollinger Just because residential water is cheap and plentiful here in upstate New York is no reason to waste it, and the average household does plenty of wasting: A single flush consumes three to seven gallons of water. Inefficient toilets and long showers are two of the biggest water wasters, together accounting for more than 40 percent of the 350 gallons of water used daily in a typical American home.
We can't think of many tools that cut wood, drywall, acoustic and ceramic tile, plastic laminate, light-gauge sheet steel and aluminum. Add in the capability to sand and shape those surfaces, and we can't think of another one at all. But as Dremel reps at NHS demonstrated, using elaborate boxes fitted with each of the materials mentioned above, their new Trio has the versatility to do it all. The tool uses specially designed rotary bits that cut and bore at the same time. Switch those out and you can also chuck a sanding drum or a small 3/16-inch router bit (only Dremel-branded, Trio-specific accessories will work, though).
DIYers with sweat equity to invest can successfully undertake an impressive range of projects. But sometimes it makes sense to call in the experts. Put away your tools and pick up the phone if: You Need A License