Blogs
Mining the Genre Asteroid is Paul Weimer's look at the history of the science fiction and fantasy field, bringing to light important, interesting and entertaining books from science fiction and fantasy's past to you.
Mining the Genre Asteroid: Time Out of Joint by Philip K Dick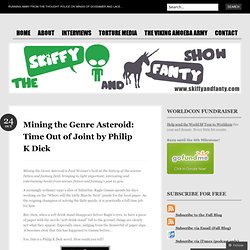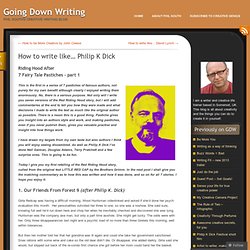 Riding Hood After7 Fairy Tale Pastiches - part 1 This is the first in a series of 7 pastiches of famous authors, not purely for my own benefit although clearly I enjoyed writing them enormously. No, there is a serious purpose. Not only will I write you seven versions of the Red Riding Hood story, but I will add commentaries at the end to tell you how they were made and what decisions I made to write the text as much like the original author as possible. There is a reson this is a good thing. Pastiche gives you insight into an authors style and work, and making pastiches, even if you never publish them, gives you valuable practise and insight into how things work.
How to write like… Philip K Dick | Going Down Writing
It's London fashion week next week. To celebrate here are all the descriptions of fashions in my favourite Philip K Dick book Ubik. Let's see what we'll be wearing come year of the future 1992:
Toffee Milkshake - Fashion!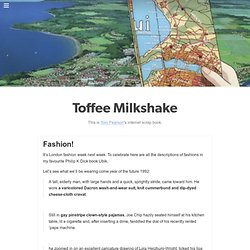 Philip K. Dick was many things: drug fiend, holy fool, seeker, genius, and visionary. Literally.
philip k. dick | Shakespeare's Tremor and Orwell's Cough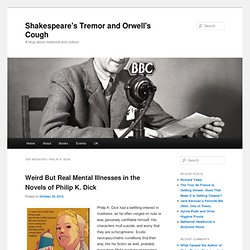 The key to understanding the universe in Ubik is in the repeated references to the Tibetan Book of the Dead, which acts as the primary text to understand the concept of half-life in the story. The book is based mainly on the idea of intermediate stages in existence, all central to the Buddhist concept of life, death, and transcendence. These beliefs become valuable to the people in the future Dick envisions, who have engineered a very literal intermediate stage between life and death. But the ideas found in the Tibetan Book of the Dead, and related beliefs, extend far beyond this one concept in Ubik , but are present in almost every facet of it. The world is presented as a series of intermediate stages in existence, where life and physicality, death and the mind, intermingle and change state constantly.
Philip K. Dick, "Ubik" (1969, 2012) | The New Paragraphy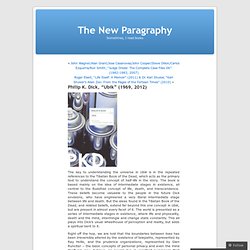 Commentary: Philip K. Dick's PUBLIC DOMAIN short stories, novelettes, and novellas : SFFaudio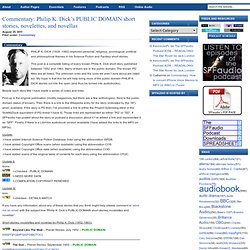 PHILIP K. DICK (1928 -1982) explored personal, religious, sociological, political and philosophical themes in his Science Fiction and Fantasy short stories. This post is a complete listing of every known Philip K. Dick short story published between 1952 and 1963. Many of them are in the public domain.
I Understand Philip K. Dick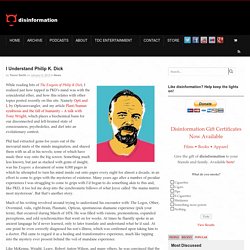 Posted by Trevor Smith on January 6, 2013 While reading bits of The Exegesis of Philip K Dick , I realized just how tapped in PKD's mind was with the coincidental ether, and how this relates with other topics posted recently on this site. Namely Opti and I , by Opticuswrangler, and my article Plant/human symbiosis and the fall of humanity – A talk with Tony Wright , which places a biochemical basis for our disconnected and left-brained state of consciousness, psychedelics, and diet into an evolutionary context.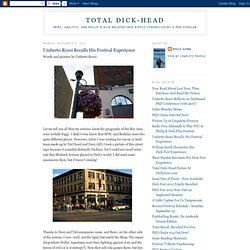 Total Dick-Head: Umberto Rossi Recalls His Festival Experience
Words and pictures by Umberto Rossi: Let me tell you all that my notions about the geography of the Bay Area were awfully foggy. I didn't even know that SFSU and Berkeley were two quite different places. However, while I was waiting for rescue (a bold team made up by Ted Hand and Dave Gill) I took a picture of this street sign because it sounded distinctly Dickian.
March 2013 Added a copy of the letter Sara Campbell sent to CINEFANTASTIQUE magazine, Volume 9, Number 1 -- 1979, to the CITYSPEAK Revisited website, HERE . Created a Facebook page for KippleZone! -> https://www.facebook.com/KippleZone Created a video to accompany a poem read by Rutger Hauer for the Facebook page. Video HERE .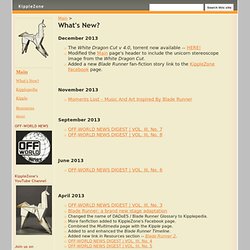 What's New? - KippleZone
homo defektus, Letter I left on Philip K. Dick's grave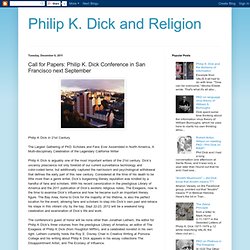 Philip K Dick in 21st Century The Largest Gathering of PKD Scholars and Fans Ever Assembled in North America, A Multi-disciplinary Celebration of the Legendary California Writer Philip K Dick is arguably one of the most important writers of the 21st century. Dick's uncanny prescience not only foretold of our current surveillance technology and color-coded terror, but additionally captured the narcissism and psychological withdrawal that defines the early part of this new century. Considered at the time of his death to be little more than a genre writer, Dick's burgeoning literary reputation was kindled by a handful of fans and scholars. With his recent canonization in the prestigious Library of America and the 2011 publication of Dick's esoteric religious notes, The Exegesis, now is the time to examine Dick's influence and how he became such an important literary figure.
Call for Papers: Philip K. Dick Conference in San Francisco next September
Video Round Up
Just starting to see my schedule clear up now that summer school is over. Time to finish the band's second album, review Umberto's book, write some fiction, and score a film. Wait, what was I saying about having a clear schedule? Regardless, here are two pieces of Dick-head video, grist for the mill. The first is the long-lost and much storied French TV special with PKD spinning in the teacups with Norman Spinrad and others.
The Case for a Phildickian Religious Movement – Part III « The Palm Tree Garden
In Part I of our series , we began discussing a Philip K. Dick approach to modern spirituality, concluding at the very least a thematic relevance. In Part II , we looked at a few of the core ideas behind PKD's own spiritual investigations and examined the Tractates Cryptica Scriptura, an insightful primary text that could work as a starting point for some of these core ideas. In this installation, we'll consider some possible methodologies, whereby modern practitioners might participate in a Dickian spiritual life. Right off the bat, based on what we know about Dick and his approaches to philosophy and spirituality, we can conclude that there are no easy answers to the question of just what a practice of Phildickian philosophy (which I'm going to refer to as "Valism", after VALIS) would look like. As far as we know, PKD had no interest in starting a religion, or a religious movement.
The Philip K. Dick / Punk Rock Connection
The Philip K. Dick / Punk Rock Connection Philip K. Dick, Germs-manager Nicole Panter, author KW Jeter, and artist Gary Panter, at Philip K. Dick's Santa Ana condo.
An Online Nexus for Mystics, Heretics, Saints, and Sinners Browse: Home / Exegesis , Featured Articles , Opinion and Essay , Philip K Dick , Practice and Living / The Case for a Phildickian Religious Movement – Part I The Case for a Phildickian Religious Movement – Part I
The Case for a Phildickian Religious Movement – Part I « The Palm Tree Garden
It's a Philip K. Dick World!: Epilogue to My Life on the Edge of Reality
` If you bought the first edition of my memoir Tessa B. Dick: My Life on the Edge of Reality , then you need to see the Epilogue that I added to the second edition. Here it is: "You will remember." Phil insisted. "And you will write about it."
Toasters, Bladerunner and Schizophrenia: PKD & Gnostic Agnosticism
In Defense of a "Crap Artist" « theclockworm
SF Gospel: Philip K. Dick adaptations ranked
SXSW 2011: The internet is over | Technology
Philip K. Dick | Come On, Let's Go.
Dark Haired Girls
5th Anniversary of Little Hokum Rag: contest to win a piece of art by Amy Crehore
Robot Morphs Its Face, Can Look Like You | Think Artificial
Philip K. Dick, Massenmedien und die Konstruktion von Wirklichkeit - Interview mit David Gill
Philip K. Dick at UC Irvine
i am blog.
SF Gospel: Event report: Jonathan Lethem on Philip K. Dick
Information Farm
Philip K. Dick: Remembering Firebright
Wired 11.12: The Second Coming of Philip K. Dick
Total Dick-Head
Boing Boing post on Frolix_8
Philip K. Dick
Philip K. Dick Bookcovers : Antonello Silverini
Frolix-8
philip k. dick link explosion
PULP Prophets: Philip K. Dick, Battlestar Galactica & Sci-Fi « PULPable
Philip K. Dick Biography
Inteview with Philip K. Dick Scholar David Gill
Philip K. Dick (1928-1982)