Educational Games
PowerPoint Game Template Links at Internet 4 Classrooms. POWER POINT GAMES. PowerPoint Games. FREE TEMPLATES - Games, Ready Made, Abstract - for Presentations in PowerPoint format. Arcademic Skill Builders: Online Educational Games.
Educational Games. NEURO SCIENCES Find out more about our nervous system in 18 animated stops.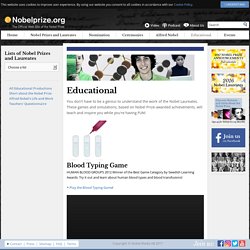 Have a look! Or watch the documentary The Mystery of Memory which provides a unique insight into the secrets of the brain's astounding ability to record and recall information, and includes interviews with some of today's most prominent scientists, such as Eric Kandel, 2000 Nobel Laureate in Physiology or Medicine. Watch "The Mystery of Memory" 29 min. In order to see the video you need Adobe Flash PlayerCopyright © Nobel Media AB 2009Credits: Kikim Media (production) Fun and Educational Games and Activities for Kids. FunBrain.com - The Internet's #1 Education Site for K-8 Kids and Teachers.
---