Sewing
DIY - Make your own Halter Top from a Scarf | Retro Chick. The other day I found this gorgeous scarf in a Charity Shop for 50p.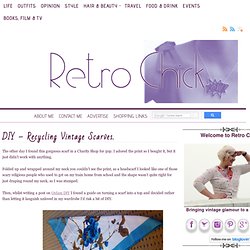 I adored the print so I bought it, but it just didn't work with anything. Folded up and wrapped around my neck you couldn't see the print, as a headscarf I looked like one of those scary religious people who used to get on my train home from school and the shape wasn't quite right for just draping round my neck, so I was stumped. Then, whilst writing a post on Oxfam DIY I found a guide on turning a scarf into a top and decided rather than letting it languish unloved in my wardrobe I'd risk a bit of DIY. First I folded it in half diagonally, then cut down the fold. Simply Vintagegirl Blog » Blog Archive » Tutorial: How to Make Lovely Fabric Flowers. 29 May 2010 These elegant fabric flowers are very simple to make . . . and only take a few basic supplies.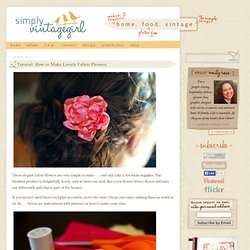 The finished product is delightfully lovely, and at times can look like a real flower! Every flower will turn out differently and that is part of the beauty! If you haven't used those tea lights in a while, now's the time! I hope you enjoy making these as much as we do . . . below are instructions with pictures on how to make your own. Upcycled Sweater Boots. T-Shirt Refashion: Jersey Necklace | IS•LY | I Still Love you. Sometimes I feel like I ride on the coattails of creative people.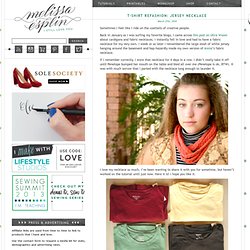 Back in January as I was surfing my favorite blogs, I came across this post on Ultra Vroom about cardigans and fabric necklaces. I instantly fell in love and had to have a fabric necklace for my very own. I week or so later I remembered the large stash of white jersey hanging around the basement and hap-hazardly made my own version of Annie's fabric necklace. Ruffled Top From A Men's Shirt. Turn under 1/2" of an inch, and stitch about 3/8" from the edge to finish, notching as you go.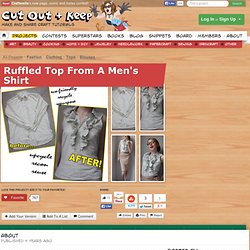 (If you want a more finished look, cut the armscye 3/4" outside of your markings, turn once and topstitch; turn again and topstitch to create a bound seam. I find this very difficult along a curve, as often the armscye becomes tighter and smaller the more times you turn the edge, and notching the inside on such a small seam allowance is quite difficult. Make a Dress from a Button-Down Shirt. If you don't already have an old shirt you can recycle for this purpose, you should be able to find one easily at a thrift store.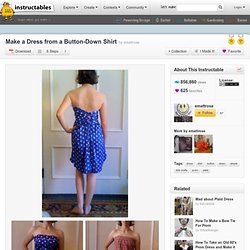 Hold the collar under your arms, and make sure it's long enough that you'll be comfortable wearing it as a dress. Short sleeves are ok, but make sure they're long to reach around your chest and overlap in the back. Also, try and find a shirt that has darts in the middle of the back. If the darts are at the shoulders, it won't fit as well.
Woven Square Slippers: A Tutorial « Knitting Interrupted. So weaving is great for making flat fabric, and with my loom I can whip up a 12″ square in a couple of hours.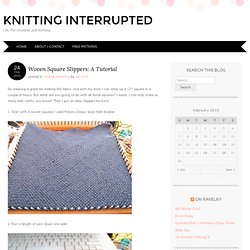 But what are you going to do with all those squares? I mean, I can only make so many dish cloths, you know? Then I got an idea. Slippers for Ezra! 1. T Shirt Shrug. How romantic.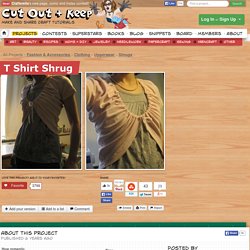 My friend and I went to the arthall in Rotterdam and saw an exhibition called ICON DRESSED designed by Annette Meyer, each garment was made of paper and represented a decade of women clothing from the 1800's till now. I was amazed by a garment which looked exactly like the dress Keira Knightley wore in Pride & Prejudice, I went home got into a romantic state of mind, converted that into creativity and made this. New Dress A Day | 365 Days. 365 New Outfits. 365 Dollars.
A Bath Pouf. That, Um, Looks Like a Rose.... Have you ever had an idea, and you thought "That's awesome!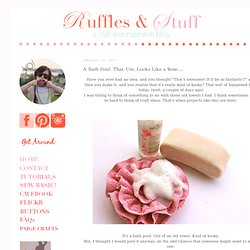 It'll be so fantastic!! " and then you make it, and you realize that it's really kind of kooky? That sort of happened here today. (well, a couple of days ago)
---