Cool Stuff
Dokus Online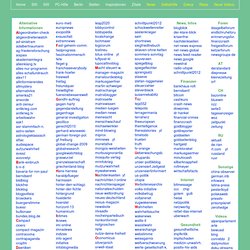 Kriege und Hintergründe ⇑ War made easy - Wie Amerikas Präsidenten lügen (WDR)War Sells - Die Kriegsgeschäfte der USA (ARTE)Präsident Eisenhower über den militärisch industriellen KomplexJohn F. Kennedy warnte vor einer globalen VerschwörungKriegsversprechen (NuoViso)Kriegsversprechen II - Terrormanagement im 21. JahrhundertUSA 911 Folgekriege (Vier-Sterne-General Wesley Clark)Der Kategorische Imperativ (NuoViso)Terrormanagement im 21. Jahrhundert (Christoph Hörstel)Die wahre Geschichte des Golfkrieges (ARTE)Operation Saddam 1/5 (WDR)Fair Game - USA-Lügen wurden verfilmt (3sat)Planspiel Iran - Amerikas nächster Krieg (WDR)Wie gefährlich ist die USA für den Weltfrieden?Wolfgang Eggert am Rande der Irakkonferenz 2008Terrorstorm (Alex Jones)Die Obama Täuschung (Alex Jones)Hintergrund KriegDeadly Dust - Todesstaub: Uran-Munition und die FolgenKriegsverbrechen Uranmunition - Frieder Wagner (NuoViso)Biochemiker Prof.
Free video converter | Konvertieren und Download kostenlose Youtube Videos online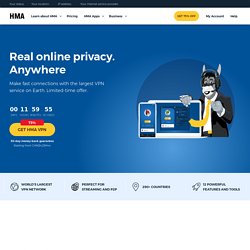 In this day and age of hackers, censorship, online identity theft, people spying and monitoring your online activities, your online privacy has never been so important. Our aim is to provide easy to use services that help protect your online identity and privacy. Our free web proxy is a secure service that allows you to surf anonymously online in complete privacy. For more advanced features our Pro VPN service adds increased security and anonymity on to your existing internet connection.
Hide My Ass! Free Proxy and Privacy Tools - Surf The Web Anonymously
YouTube-mp3.org is the easiest online service for converting videos to mp3. You do not need an account, the only thing you need is a YouTube URL. We will start to convert the audiotrack of your videofile to mp3 as soon as you have submitted it and you will be able to download it. Different from other services the whole conversion process will be perfomed by our infrastructure and you only have to download the audio file from our servers.
YouTube to mp3 Converter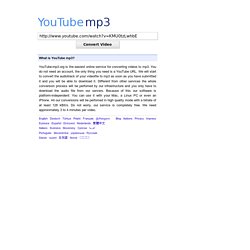 How To Create the Perfect Facebook Fan Page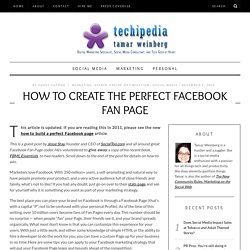 This article is updated. If you are reading this in 2011, please see the new how to build a perfect Facebook page article. This is a guest post by Jesse Stay, founder and CEO of SocialToo.com and all around great Facebook Fan Page coder.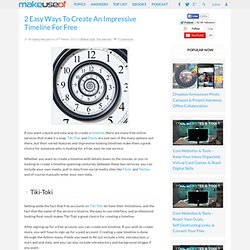 2 Easy Ways To Create An Impressive Timeline For Free
If you want a quick and easy way to create a timeline, there are many free online services that make it a snap. Tiki-Toki and Dipity are just two of the many options out there, but their varied features and impressive looking timelines make them a great choice for someone who is looking for a free, easy-to-use service. Whether you want to create a timeline with details down to the minute, or you're looking to create a timeline spanning centuries, between these two services, you can include your own media, pull in data from social media sites like Flickr and Twitter, and of course manually enter your own data. Tiki-Toki Setting aside the fact that free accounts on Tiki-Toki do have their limitations, and the fact that the name of the service is bizarre, the easy to use interface, and professional looking final result makes Tiki-Toki a great choice for creating a timeline.
how to easily delete your online accounts | accountkiller.com
Textozor :: Cool text generator
Ransom note generator
FutureMe.org: Write a Letter to the Future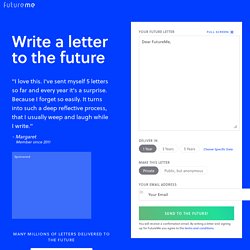 Amanda Car Dear FutureMe, Our daughter Amanda, today March 30 2006 has told us, after asking what kind of car she wanted for her 16th birthday that "I DO... sent 8 years into the future, to Today A LETTER FROM THE PAST Dear FutureMe, Hey, how are you?
Virtual Piano : The original app | Virtual Keyboard | Online Music | Piano Game | CMAGICS
cyrkam airtös online game
Crash and Burn :: AutoTopsy
Globe Genie - Joe McMichael
CANABALT
Ana Somnia - lights out!
Line Rider
We Feel Fine / by Jonathan Harris and Sep Kamvar
The Wilderness Downtown
DOOR
We Choose the Moon: Launch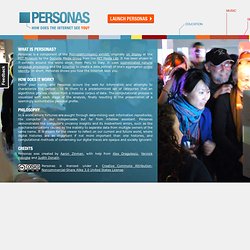 Personas is a component of the Metropath(ologies) exhibit, originally on display at the MIT Museum by the Sociable Media Group from the MIT Media Lab. It has been shown in 7 exhibits around the world since, from Peru to Italy. It uses sophisticated natural language processing and the Internet to create a data portrait of one's aggregated online identity. In short, Personas shows you how the Internet sees you. Enter your name, and Personas scours the web for information and attempts to characterize the person - to fit them to a predetermined set of categories that an algorithmic process created from a massive corpus of data.
Personas | Metropath(ologies) | An installation by Aaron Zinman
Here at Maximum PC, we've always done our fair share of website recommendation articles--including a couple of doozies from the past few years. And of course we're not the only ones who do this sort of article either; it's a proven popular format. But this year, we thought we'd mix things up a little bit. Rather than just focusing on what's services are popular, or which web apps will make you the most productive, we wanted to take a look at what's fun on the Internet. In that spirit, our February cover feature is going to be 100 Websites You Need to Visit Before You Die.
100 Websites To See Before You Die (Part 1)