Reading on IT
Techland | News and reviews from the world of gadgets, gear, apps and the web | TIME.com.
Red Herring — THE BUSINESS OF TECHNOLOGY. Europe 2012 Top 100. Health IT Managers Say Tablets Can Cause Problems - Healthcare - Policy & Regulation. IT managers at healthcare organizations say tablets pose challenges for entering data into enterprise healthcare applications and can raise IT support costs. 9 Tablets For Doctors (click image for larger view and for slideshow) As the popularity of tablet use among physicians continues to grow so too has the challenges that come with integrating these devices into the health IT enterprise.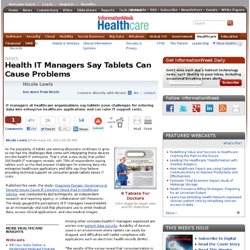 That's what a new study that polled 100 health IT managers reveals, with 74% of respondents saying tablets such as the iPad present challenges for entering data into enterprise healthcare applications and 66% say they believe providing technical support on consumer-grade tablets raises IT costs. Published this week, the study--Diagnosis Danger: Governance & Security Issues Cause IT Concerns About iPad in Healthcare Setting--was conducted by BizTechReports, an independent research and reporting agency, in collaboration with Panasonic. Silicon Hutong. Enterprise - IT Happens. Business technology, IT news, product reviews and enterprise IT strategies.
Cloud & Servers. Mobility. Business Technology. TechWeekEurope España. Computerworld - IT news, features, blogs, tech reviews, career advice. Business Technology. SAI. Information Technology News for the IT Professional. TechCrunch.
Technology Review: The Authority on the Future of Technology. The Verge.
---