Reading on IT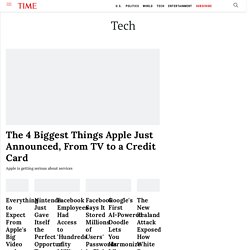 So much for your right to resell MP3 music files: a U.S. District court just decided that the resale of MP3 files — where those files are transferred by copying — officially violates the Copyright Act. The Wall Street Journal reports "people familiar with the device's production" as saying the next iPhone is on its way for "a possible summer launch." To see what Facebook has become, look no further than the Hutzler 571 Banana Slicer.
Europe 2012 Top 100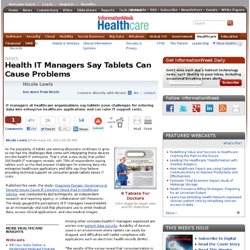 IT managers at healthcare organizations say tablets pose challenges for entering data into enterprise healthcare applications and can raise IT support costs. 9 Tablets For Doctors (click image for larger view and for slideshow) As the popularity of tablet use among physicians continues to grow so too has the challenges that come with integrating these devices into the health IT enterprise. That's what a new study that polled 100 health IT managers reveals, with 74% of respondents saying tablets such as the iPad present challenges for entering data into enterprise healthcare applications and 66% say they believe providing technical support on consumer-grade tablets raises IT costs. Published this week, the study--Diagnosis Danger: Governance & Security Issues Cause IT Concerns About iPad in Healthcare Setting--was conducted by BizTechReports, an independent research and reporting agency, in collaboration with Panasonic.
Health IT Managers Say Tablets Can Cause Problems - Healthcare - Policy & Regulation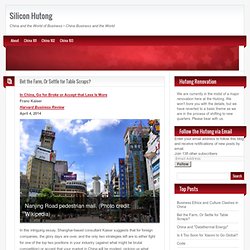 Near People's Square, Shanghai Skyline in Silhouette 0700 hrs. Walking the floor at both CES in Las Vegas and Electronica China in Shanghai within a ten-week space provides one with a clear view of how far Chinese enterprise has come, and, equally important, the degree to which international technology businesses have lost their former dominance in China. One could conclude from these impressions that multinational tech companies are in a state of permanent decline in China: Beijing's unstated but ongoing policy of import substitution has succeeded, and foreign companies are fighting a losing battle. You don't need to go to trade shows for anecdotal evidence. Just look in purses and backpacks: ZTE, Huawei, TCL, Lenovo, and Yulong are five of the top ten mobile device brands, and they're gaining on the global giants.
Silicon Hutong
Enterprise - IT Happens
TechWeekEurope España
Information Technology News for the IT Professional