UX
Tablet Usability: Findings from User Research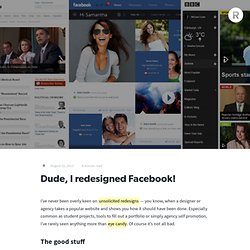 I've never been overly keen on — you know, when a designer or agency takes a popular website and shows you how it should have been done. Especially common as student projects, tools to fill out a portfolio or simply agency self promotion, I've rarely seen anything more than . Of course it's not all bad. The good stuff Radical change (or in this case of unsolicited redesigns, a proposal for a radical change) has it's place. Presenting a new vision for a product we all know and use provides us with a healthy dose of inspiration and debate.
Dude, I redesigned Facebook! — The ideas of Will Grounds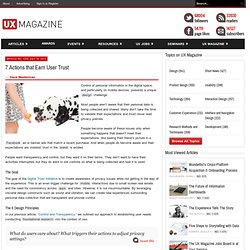 Control of personal information in the digital space, and particularly on mobile devices, presents a unique design challenge. Most people aren't aware that their personal data is being collected and shared. Many don't take the time to validate their expectations and most never read privacy policies. People become aware of these issues only when something happens that doesn't meet their expectations, like seeing their friend's picture in a Facebook ad or banner ads that match a recent purchase. And when people do become aware and their expectations are violated, trust in the brand is eroded.
7 Actions that Earn User Trust
by anthony on 10/17/13 at 2:08 pm
How Companies Can Prevent User Backlash After a Redesign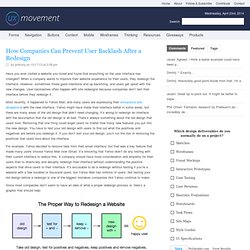 Understand what is UX design