Hacks
Get flash to fully experience Pearltrees
{*style:<i>Note that this was my very first attempt at homemade air conditioning, preserved for posterity - if you're planning on building your own, take a look at my main page or my final design, the Black Beauty . </i>*} Materials: Salvage from around the house a: large fan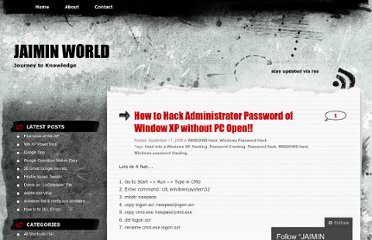 Lets do it fast…. 1. Go to Start –> Run –> Type in CMD 2.
Home » Tips and Tricks » HowTo: Rip DVDs with VLC Media Player HowTo: Rip DVDs with VLC Media Player Have you tried or used VideoLAN's VLC Media Player ?
How to: Make Your USB Drive into a Digital Swiss Army Knife Monday, June 18, 2007 at 1:27pm by The Free Geek As any geek can tell you, the smaller and more portable a gadget is, the better that gadget becomes. You can't get much more portable than USB drives, which can be carried in a pocket, around the neck, or even on a key chain. This, in and of itself, is already a pretty cool and a relatively inexpensive way to carry around a few extra gigs of whatever it is you need to carry around. But there are ways to make your USB drive even more useful, and these processes allow you to take many of the functions of your desktop with you to any computer you might want to use.
If you're looking to hide files on your PC hard drive , you may have read about ways to encrypt folders or change the attributes on a file so that they cannot be accessed by prying eyes. However, a lot of times hiding files or folders in that way requires that you install some sort of software on your computer, which could then be spotted by someone else. I've actually written quite a few articles on how you can hide files and folders in Windows XP and Vista before, but here I'm going to show you a new way to hide files that is very counter-intuitive and therefore pretty safe! Using a simple trick in Windows, you can actually hide a file inside of the JPG picture file ! You can actually hide any type of file inside of an image file, including txt, exe, mp3, avi, or whatever else.
If you have been on the internet and not living under a rock the last decade you should know what a keylogger is. It is a small application that runs in the background of a computer invisibly and records all keystrokes made on a computer. Some are as advanced enough to capture screenshots, IM logs, video, audio, webcam, etc. but these usually cost alot of money upwards of $100! In this instructable i will explain how to put a freeware keylogger on a flash drive and easily record the keystrokes of the victims computer. NOTE: I am not responsible for what you do with this information. This is intended for learning purposes and use on YOUR OWN computer.
Yeah, you read that right. Lame, huh? I mean, lame that you'd even have to. See, a while back, the air freshener companies made these neat little pressurized cartridge things that you could press to release a puff of something flowery to cover the unholy reek every time you poop: But in their infinite wisdom, they seem to have discontinued these. I imagine the board-room discussion went something like this:
Visit any forum or website to find something useful and they will ask you to register. Every time a forum asks me to register, I simply close the site. You would probably do the same. But this time, lets face it. Before I begin, you should know how things work.
Keyless Entry Hack Something to keep in mind: Weak security in our daily lives . So, you know those cars with that keyless entry pad? The one under the driver's side handle? Well, if you look closely you will see that there are really only 5 buttons, labeled "1/2", "3/4", "5/6", "7/8", "9/0"