ART
Inbox (2,503) - thepirateofyourdreams. Color Scheme Designer 3 - StumbleUpon. Oyoko on deviantART. Steve Smith. Aqueous II - The Sequel on the Behance Network. The real meaning of words...no explanation required!!!
Ken Robinson says schools kill creativity | Video on TED.com - StumbleUpon. 14 Great Banksy Street Art Photos and Quotes! | Street Art Utopia. "There are four basic human needs; food, sleep, sex and revenge." - Banksy "Nothing in the world is more common than unsuccessful people with talent, leave the house before you find something worth staying in for. " - Banksy "Think outside the box, collapse the box, and take a fucking sharp knife to it." - Banksy "You're mind is working at its best when you're being paranoid.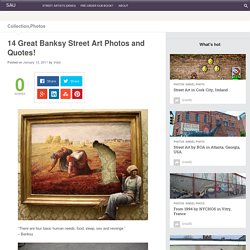 You explore every avenue and possibility of your situation at high speed with total clarity." - Banksy (Banging Your Head Against a Brick Wall) Street Art - Liqen. Bad-artists-great-artists.jpg from sadanduseless.com. Unraveling Wire Sculptures. 15 awesome illustrators you should know. Is really impressive to see how many talented illustrators there are out there, sharing their work on the Internet.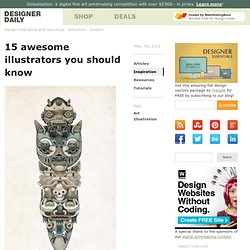 For your inspiration, I have compiled a list of 15 illustrators that rock. 1. Tang Yau Hoong 2. Fish - Fablewood. 464_large.jpg from cghub.com. 6067-c5f66564.jpg (JPEG Image, 450x608 pixels) SUPAKITCH &KORALIE Art - StumbleUpon.
ABC3D. Where Children Sleep: A Diverse World of Homes. When photographer James Mollison was asked to do a project on children's rights, he found himself thinking back to his childhood bedroom and the deep importance it played in his upbringing.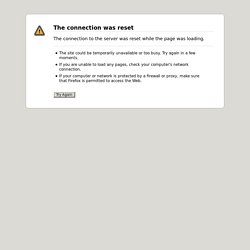 Taking that idea with him around the world, he photographed a diverse cross section of children and the bedrooms they call home. His moving images remove the children from their home environment, showing them before a neutral background that mostly hides their economic status as if to say "kids are just kids." Only when their bedroom is observed, however, does the full scope of their living situation become poiniently clear. Map Collages by Matthew Cusick :: koikoikoi.com - Visual Arts Magazine, g... Brilliant short. [VIDEO] DIY: Wine Bottle Light & Wit & Whistle.
November 3rd, 2009 This past spring Daniel and I went on a road trip from San Francisco to the Grand Canyon.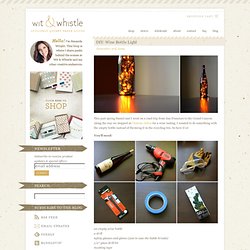 Along the way we stopped at Chateau Julien for a wine tasting. Online & Coffee Kiss ceramics. Speakers That Think Outside The Box. Your computer has a paint job similar to a Ferrari.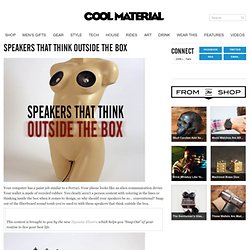 Your phone looks like an alien communication device. Your wallet is made of recycled rubber. You clearly aren't a person content with coloring in the lines or thinking inside the box when it comes to design, so why should your speakers be so… conventional? Glennz Tees Designs 2010-11 on the Behance Network. Incredibly Creative High Heels. T-shirt latch hook rug tutorial. I really love flokati rugs.
I have two that are safely tucked away in my parents basement awaiting our reunion. When I learned that I would be having a child and building a nursery for him, I wanted a flokati. A gray one. Thread Heads Quickie - How to Stencil a T-Shirt. Draw a Stickman - StumbleUpon.
---