HRY
How Playing as Elizabeth Changes BioShock Infinite. Big changes are coming to BioShock Infinite.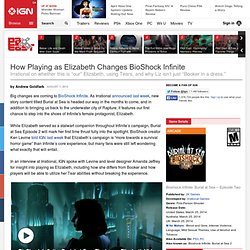 As Irrational announced last week, new story content titled Burial at Sea is headed our way in the months to come, and in addition to bringing us back to the underwater city of Rapture, it features our first chance to step into the shoes of Infinite's female protagonist, Elizabeth. While Elizabeth served as a stalwart companion throughout Infinite's campaign, Burial at Sea Episode 2 will mark her first time thrust fully into the spotlight. BioShock creator Ken Levine told IGN last week that Elizabeth's campaign is "more towards a survival horror game" than Infinite's core experience, but many fans were still left wondering what exactly that will entail.
In an interview at Irrational, IGN spoke with Levine and level designer Amanda Jeffrey for insight into playing as Elizabeth, including how she differs from Booker and how players will be able to utilize her Tear abilities without breaking the experience. News - Path of Exile - A Free Online Action RPG.
OverlordCZE -Battlelog / Battlefield 3. Battlefield 3: Sniper Tricks and Tips [1080p] 0x10 ͨ Notch's twitter account. EVE Online.
---