Typographie
Adso Club - The creation of Adso - une vidéo Art et Création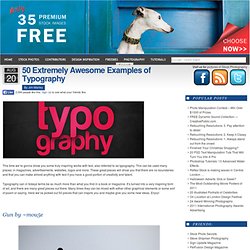 This time we're gonna show you some truly inspiring works with text, also referred to as typography. This can be used many places; in magazines, advertisements, websites, logos and more. These great pieces will show you that there are no boundaries and that you can make almost anything with text if you have a good portion of creativity and talent. Typography can in todays terms be so much more than what you find in a book or magazine. It's turned into a very inspiring form of art, and there are many great pieces out there.
Advertisement Every now and then we look around, select fresh high-quality free fonts and present them to you in a brief overview. The choice is enormous, so the time you need to find them is usually time you should be investing in your current projects. We search for them and find them so that you don't have to. In this selection, we're pleased to present Piron, Nobile, St Marie, Code, Arcus, Crimson Text, Quadranta, Juice, Prociono, Mr Jones, Ibarra Real and various useful symbol fonts. Please note that some fonts are for personal use only and are clearly marked as such.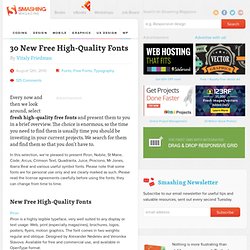 Learn the Basics: 25+ Sites And Resources To Learn Typography | Hassan C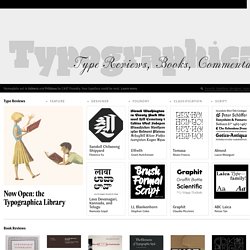 Colophon Typographica is a review of typefaces and type books, with occasional commentary on fonts and typographic design. Edited by Stephen Coles and designed by Chris Hamamoto. Founded in 2002 by Joshua Lurie-Terrell.
Bureau des affaires typographiques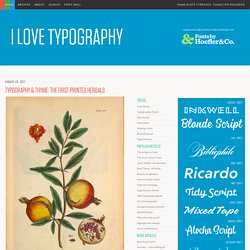 This Week in Fonts A monumental family from Hoefler & Co, a casual sans by Type Supply, a seaworthy display from Kyle Wayne Benson, a ferry inspired face by Letters from Sweden, an extensive script family from Martina Flor, a strong grotesk by The Northern Block, a functional slab from ReType, and a bright iconset by Symbolset. Continue reading this article The Sign Painter
Soirée débat autour du thèmede la Création Digitale à l'heure des Réseaux Sociaux. Le 4 avril 2013 à 18h30 au Cinéma Mac Mahon,5 avenue Mac Mahon, 75017 Paris > Inscrivez-vous dès maintenant t Les sphères de la Communication ont connu une succession de 3 révolutions majeures ces 10 dernières années.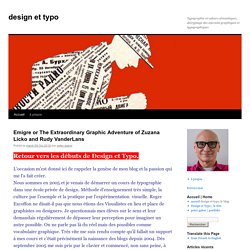 soyouneedatypeface.jpg (Image JPEG, 1983x1402 pixels)
55 Surprisingly Beautiful Typography Posters and Desings | webex