Javascript
Disclaimer: This is an experimental, just-for-fun sort of project and hasn't been thoroughly tested. Design and build your site, dividing your content into blocks. Embed scrollorama.js after jQuery and initialize the plugin, passing the blocks class selector as a parameter.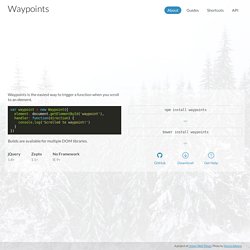 .waypoint([callback], [options])
Lo-Dash
Rivets.js — A declarative data binding facility
24.07.2013 - Update to version 1.2.5 Hotspot links are added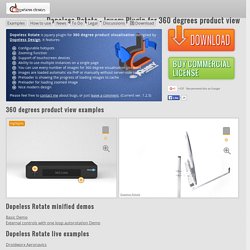 Dopeless Rotate - Jquery Plugin for 360 degrees product view
Meteor is an open-source platform for building top-quality web apps in a fraction of the time, whether you're an expert developer or just getting started. Get started now! $ curl https://install.meteor.com/ | sh
Documentation - Meteor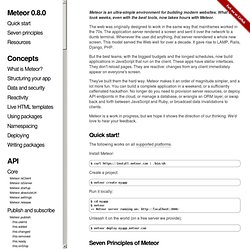 Meteor is an ultra-simple environment for building modern websites.
Version 1.3 now compatible with jQuery 1.7 and jQuery UI 1.8. – release post .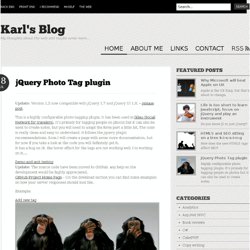 jQuery Photo Tag plugin | Karl's Blog
Fast Multidimensional Filtering for Coordinated Views Crossfilter is a JavaScript library for exploring large multivariate datasets in the browser. Crossfilter supports extremely fast (<30ms) interaction with coordinated views, even with datasets containing a million or more records; we built it to power analytics for Square Register, allowing merchants to slice and dice their payment history fluidly.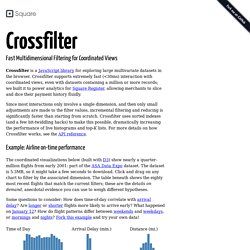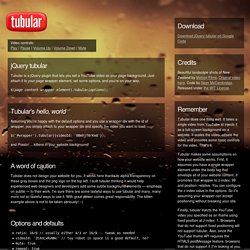 Video controls:Play | Pause | Volume Up | Volume Down | Mute
General Interface
JS API info: jQuery, Dojo, Mootools & more...