Press
Obama to introduce first lady at Clinton Global Initiative meeting - The Hill's Blog Briefing Room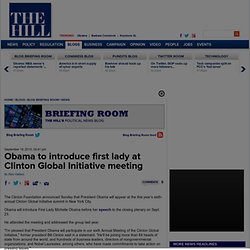 The Clinton Foundation announced Sunday that President Obama will appear at the this year's sixth-annual Clinton Global Initiative summit in New York City. Obama will introduce First Lady Michelle Obama before her speech to the closing plenary on Sept. 23. He attended the meeting and addressed the group last year.
From Clinton Global Initiative to the U.N. Summit, philanthropy goes into overdrive this week -
Clinton Global Initiative
Online Marketing Cheat Sheet for Social Entrepreneurs and Nonprofits The global social change movement - whence, where and whither? Design your virtual visit to the Skoll World Forum! Specific Questions from Social Edge members to Skoll World Forum Speakers Activating Academic Networks to Shape Research Agenda
Global Leaders Meet, Plan Action At Clinton Global Initiative - WNYC
World leaders, CEOs, non-governmental organizations and philanthropists will gather in midtown Manhattan this week to develop programs to improve the lives of people around the world. Timed to coincide with the beginning of the United Nations General Assembly, the Clinton Global Initiative requires each participant to create their own plan that is "new, specific and measureable." "The 'Commitment to Action' is what distinguishes this from several other gatherings like this around the world," said Craig Minassian director of communications for the CGI.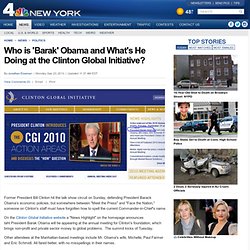 Who is 'Barak' Obama and What's He Doing at the Clinton Global Initiative?
advertisement <a href="http://iv.doubleclick.net/jump/nbcu.lim.ny/news-politics-article;!category=ny;!category=news;!