Press
Obama to introduce first lady at Clinton Global Initiative meeting. The Clinton Foundation announced Sunday that President Obama will appear at the this year's sixth-annual Clinton Global Initiative summit in New York City.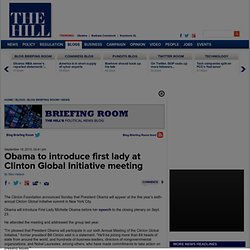 Obama will introduce First Lady Michelle Obama before her speech to the closing plenary on Sept. 23. He attended the meeting and addressed the group last year. From Clinton Global Initiative to the U.N. Summit, philanthropy goes into overdrive this week - Clinton Global Initiative. Global Leaders Meet, Plan Action At Clinton Global Initiative - WNYC.
World leaders, CEOs, non-governmental organizations and philanthropists will gather in midtown Manhattan this week to develop programs to improve the lives of people around the world.
Timed to coincide with the beginning of the United Nations General Assembly, the Clinton Global Initiative requires each participant to create their own plan that is "new, specific and measureable." "The 'Commitment to Action' is what distinguishes this from several other gatherings like this around the world," said Craig Minassian director of communications for the CGI. Who is 'Barak' Obama and What's He Doing at the Clinton Global Initiative?
Former President Bill Clinton hit the talk show circuit on Sunday, defending President Barack Obama's economic policies, but somewhere between "Meet the Press" and "Face the Nation," someone on Clinton's staff must have forgotten how to spell the current Commander-in-Chief's name.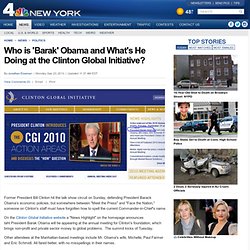 On the Clinton Global Initiative website a "News Highlight" on the homepage announces taht President Barak Obama will be appearing at the annual meeting for Clinton's foundation, which brings non-profit and private sector money to global problems. The summit kicks of Tuesday. Other attendees at the Manhattan-based meetings include Mr.
---