Green Diesel
Canola refers to a cultivar of either Rapeseed ( Brassica napus L. ) or field mustard ( Brassica campestris L. or Brassica Rapa var. ). Its seeds are used to produce edible oil suitable for consumption by humans [ 1 ] [ 2 ] and livestock. [ 3 ] The oil is also suitable for use as biodiesel . Originally, Canola was bred naturally from rapeseed at the University of Manitoba , Canada by Keith Downey and Baldur R.
Canola - Wikipedia, the free encyclopedia - (Build 2010040106463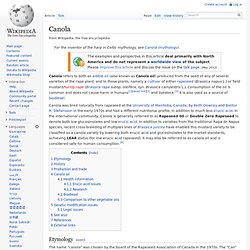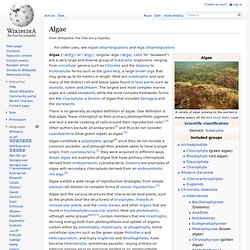 Algae - Wikipedia, the free encyclopedia - (Build 20100401064631
The lineage of algae according to Thomas Cavalier-Smith . The exact number and placement of endosymbiotic events is currently unknown, so this diagram can be taken only as a general guide [ 1 ] [ 2 ] It represents the most parsimonious way of explaining the three types of endosymbiotic origins of plastids. These types include the endosymbiotic events of cyanobacteria , red algae and green algae , leading to the hypothesis of the supergroups Archaeplastida , Chromalveolata and Cabozoa respectively. However, the monophyly of Cabozoa has been refuted and the monophylies of Archaeplastida and Chromalveolata are currently strongly challenged.
Jatropha is a genus of flowering plants in the spurge family, Euphorbiaceae . The name is derived from the Greek words ἰατρός ( iatros ), meaning "physician," and τροφή ( trophe ), meaning "nutrition," hence the common name physic nut . It contains approximately 170 species of succulent plants , shrubs and trees (some are deciduous , like Jatropha curcas ). Most of these are native to the Americas , with 66 species found in the Old World . [ 2 ] Mature plants produce separate male and female flowers . As with many members of the family Euphorbiaceae , Jatropha contains compounds that are highly toxic.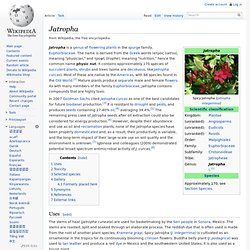 Jatropha - Wikipedia, the free encyclopedia - (Build 20100401064
Salicornia - Wikipedia, the free encyclopedia - (Build 201004010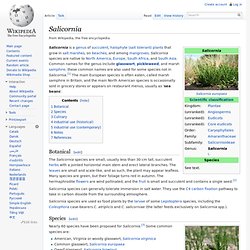 Salicornia is a genus of succulent , halophyte (salt tolerant) plants that grow in salt marshes , on beaches , and among mangroves . Salicornia species are native to North America , Europe , South Africa , and South Asia . Common names for the genus include glasswort , pickleweed , and marsh samphire ; these common names are also used for some species not in Salicornia . [ 1 ] These are occasionally sold in grocery stores or appear on restaurant menus as 'sea beans'. [ edit ] Botanical The Salicornia species are small, usually less than 30 cm tall, succulent herbs with a jointed horizontal main stem and erect lateral branches. The leaves are small and scale-like, and as such, the plant may appear leafless.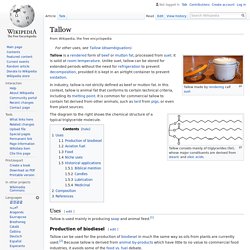 Tallow made by rendering calf suet Tallow is a rendered form of beef or mutton fat , processed from suet . It is solid at room temperature . Unlike suet, tallow can be stored for extended periods without the need for refrigeration to prevent decomposition , provided it is kept in an airtight container to prevent oxidation .
Tallow - Wikipedia, the free encyclopedia - (Build 2010040106463