History
¿Es el mundo tal y como sale en los mapas? El espejismo de Mercator. Todos hemos tenido un mapa en nuestra casa en algún momento de nuestra vida.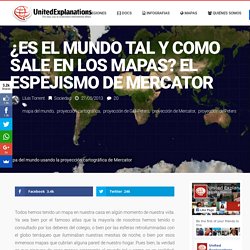 Ya sea bien por el famoso atlas que la mayoría de nosotros hemos tenido o consultado por los deberes del colegio, o bien por las esferas retroiluminadas con el globo terráqueo que iluminaban nuestras mesitas de noche, o bien por esos inmensos mapas que cubrían alguna pared de nuestro hogar. Pues bien, la verdad es que ninguno de esos mapas representa el mundo tal y como es en realidad. ¿Por qué? Básicamente por una cuestión de dimensiones espaciales. Www.uis.unesco.org/Education/Documents/gender-atlas-2012-web2-en.pdf. Primaries 2012. Antique Maps, Old maps, Vintage Maps, Antique Atlases, Old Atlases - StumbleUpon.
- StumbleUpon.
Quotes & spechees
Wars. World Clock. The Story of Mankind - StumbleUpon.
---