Facts
Drugs
Thou shalt not commit logical fallacies. Random funny pictures - StumbleUpon. 10 Common Misconceptions Dispelled - StumbleUpon. Scientists discover most relaxing tune ever - Music - ShortList Magazine - StumbleUpon. A British band and a group of scientists have made the most relaxing tune in the history of man, an Mp3 of which is at the bottom of this article.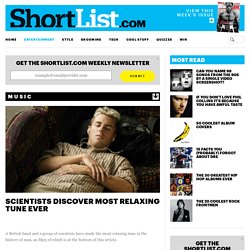 Sound therapists and Manchester band Marconi Union compiled the song. Scientists played it to 40 women and found it to be more effective at helping them relax than songs by Enya, Mozart and Coldplay. Weightless works by using specific rhythms, tones, frequencies and intervals to relax the listener. A continuous rhythm of 60 BPM causes the brainwaves and heart rate to synchronise with the rhythm: a process known as 'entrainment'.
Low underlying bass tones relax the listener and a low whooshing sound with a trance-like quality takes the listener into an even deeper state of calm. - StumbleUpon. World's Strangest | The Easter Island "Heads" Have Bodies. Maybe this isn't a newsflash to anyone but me, but, um, the Moai "heads" on Easter Island have bodies.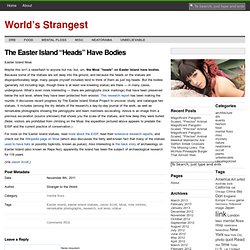 Because some of the statues are set deep into the ground, and because the heads on the statues are disproportionately large, many people (myself included) tend to think of them as just big heads. But the bodies (generally not including legs, though there is at least one kneeling statue) are there — in many cases, underground. What's even more interesting — there are petroglyphs (rock markings) that have been preserved below the soil level, where they have been protected from erosion. This research report has been making the rounds; it discusses recent progress by The Easter Island Statue Project to uncover, study, and catalogue two statues. It includes (among the dry details of the research) a day-by-day journal of the work, as well as remarkable photographs showing the petroglyphs and team members excavating.
Random
How To&#8230; - StumbleUpon. Embed This Infographic <a href= ‎"><img src=" title="10 How Tos" alt="How To Infographic" border="0" class="nopin" /></a><br />Source: <a href=' title='Interesting Facts'><a href=' title='Interesting Facts'>Today I Found Out</a></a>
---