Liens one shot
En matière de moteur de recherche, l'offre est plutôt limitée. Peu de firmes parviennent à tenir tête à Google et l'histoire de Cuil en est un bon exemple. Cela dit, Qwiki pourrait bien changer la donne. Tout droit inspiré des films de science-fiction, il se présente même comme l'un des moteurs de recherche les plus originaux que l'on puisse trouver.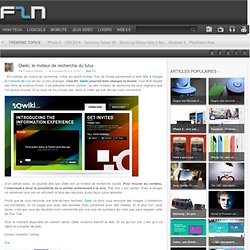 Qwiki, le moteur de recherche du futur
DARWIN AWARD: Newcastle Icicle (31 March 2013, Newcastle, England) Investigative journalism reaches a new "low" when a reporter freezes to death in an effort to get inside the lives of those who sleep rough... DARWIN AWARD: Smokin' Hot Sauce! Thinking he was drinking alcohol, Gary picked up a salsa jar and took a swig of gasoline. After spitting it up onto his clothing, he recovered from the shock by lighting a cigarette... HONORABLE MENTION: Alligator River The East Alligator River in the Northern Territory is crossed at Cahill's Crossing. Recently a Euro tourist drove into the parking lot of the an upstream boat launch area in her hired 4WD vehicle and, seeing a concrete ramp disappearing into the water, assumed that she had reached Cahill's Crossing...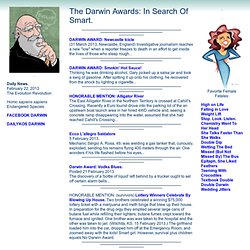 Bienvenue sur PEBKAC, qui recense les meilleures quotes d'erreurs informatiques dues à l'utilisateur. L'acronyme PEBKAC signifie "Problem Exists Between Keyboard And Chair". N'avez-vous jamais fait l'expérience d'un "problème d'ordinateur" causé non pas par le PC ou le système, mais par celui qui l'utilise ? Le problème se situe entre la chaise et le clavier : soumettez vos histoires, donnez votre avis !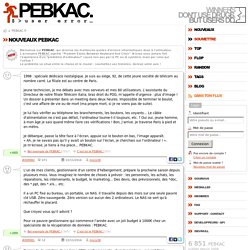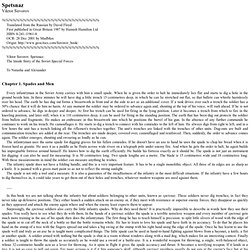 Spetsnaz Viktor Suvorov Translated from the Russian by David Floyd First published in Great Britain 1987 by Hamish Hamilton Ltd
Spetsnaz