Ornicar
Louis
Center for History and New Media. Research Blog Masters of New Media. Introducing the rNews metadata standard at Hacks/Hackers London. Last night I was at the Hacks/Hackers meet-up to hear Andreas Gebhart, Stuart Myles and Evan Sandhaus talk about the proposed new IPTC semantic metadata standard rNews.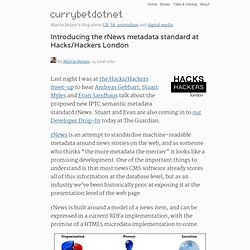 Stuart and Evan are also coming in to our Developer Drop-In today at The Guardian. rNews is an attempt to standardise machine-readable metadata around news stories on the web, and as someone who thinks "the more metadata the merrier" it looks like a promising development. One of the important things to understand is that most news CMS software already stores all of this information at the database level, but as an industry we've been historically poor at exposing it at the presentation level of the web page. rNews is built around a model of a news item, and can be expressed in a current RDFa implementation, with the promise of a HTML5 microdata implementation to come.
Trésor Des Chartes De L'internet.
Music Nerd
WebGL. ClickRings. DATA. Exercices séries. Video Games. Autisme. DUMP. //HACKS//
---