Zbrush
▶ Comicon 2014 | Eren | 02 | Cloth
The Art of Soufiane
ZBrush sketchbook of Zhelong Xu - Page 7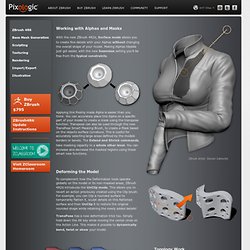 Working with Alphas and Masks With the new ZBrush 4R2b, Surface mode allows you to create fine details with your Alphas without changing the overall shape of your model. Making Alphas tileable just got easier, with the new Seamless setting you'll be free from the typical constraints. Applying this freshly made Alpha is easier than you think. You can accurately place this Alpha on a specific part of your model to create a mask using the transpose function.
Features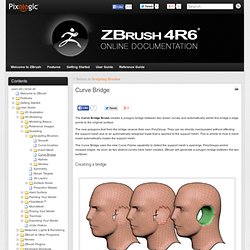 The Curve Bridge Brush creates a polygon bridge between two drawn curves and automatically welds this bridge's edge points to the original surface. The new polygons that form the bridge receive their own PolyGroup. They can be directly manipulated without affecting the support mesh due to an automatically assigned mask that is applied to the support mesh. This is similar to how a mesh insert automati­cally masks the support mesh. The Curve Bridge uses the new Curve Frame capability to detect the support mesh's openings, PolyGroups and/or creased edges. As soon as two distinct curves have been created, ZBrush will generate a polygon bridge between the two surfaces.
Curve Bridge » ZBrush Docs
ZBRUSH Intermedio III - NUEVAS BROCHAS ESPECIALES I - ZBrush 4R6 on Vimeo
▶ Режим кривых Curve Mode в ZBrush 4R2: SliceCurve, CurveLathe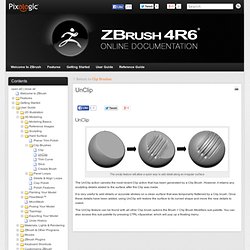 The unclip feature will allow a quick way to add detail along an irregular surface The UnClip action cancels the most recent Clip action that has been generated by a Clip Brush. However, it retains any sculpting details added to the surface after the Clip was made.
UnClip » ZBrush Docs
Features
MatchMaker Have you ever wanted to get two parts of a model to fit perfectly together and found yourself struggling to make it happen? The amazing MatchMaker brush deforms the shape of a surface so that it fits perfectly against other objects.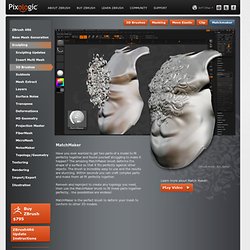 ▶ Marvelous Designer 2 to quads using ZBrush 4 R4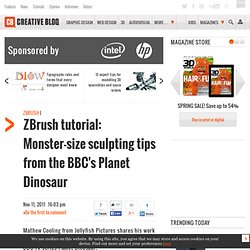 Mathew Cooling from Jellyfish Pictures shares his work flow for modelling the creatures from the stunning BBC TV series Planet Dinosaur. Creating dinosaurs for a TV series can be a tricky process. In my experience, deadlines are tight and most of the time you only have one shot at getting the creatures right. But with some basic planning and forethought, you can focus on creating the creatures - knowing that they will fulfil all the necessary requirements - and facilitating any changes that may be required.
ZBrush tutorial: Monster-size sculpting tips from the BBC's Planet Dinosaur | ZBrush
Hello all,I happened to be looking at the alpha pallet yesterday and I noticed for the first time the Make 3D option. I tried it out and I was surprised at how totally awesome this feature is. With it you can make great bevels which is something I have tried to do in the past with displacement. The problem I had with doing this with displacement was that I could not get a clean cut along the edge of the letters.To make the image above I created a 16 bit gray scale displacement map in Photoshop. I brought that image into the Zbrush alpha pallet and used the Make 3D feature to create the shape.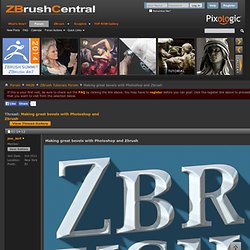 Making great bevels with Photoshop and Zbrush
1782519_10153784123315162_890456559_o.jpg (Image JPEG, 450 × 2458 pixels)
Musketeer (breakdown Pg 3) - Page 3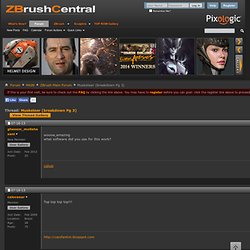 Thanks for the comments guys. I'm glad you enjoyed. This model has many things to share, is free to ask your questions I will try explicalas.darktimax - Render in Vray!ArtBot - I'm sharing the modeling process, later I will post the shaderIntervain - I'm following your Athena, I can't wait to see how it will be in the final image.Bruno Camara - This is the matcap - http://we.tl/gwkm9iP92Rrooflyer - The sss I leave default and only use Displeciment Map The most important is to let the model at scale.Hope you like it! Cheers!
▶ Broken Concrete For Cryengine 3 Tutorial - Highpoly modeling Part 2/4
Products | BadKing
How To Design Appealing Characters - Part 1 | ZBrushWorkshops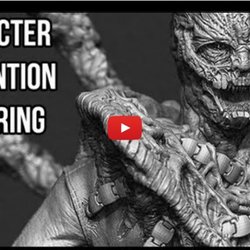 Dieses Video ist derzeit nicht verfügbar. Das Video ist auf diesem Gerät nicht verfügbar. Der Videoplayer ist zu klein. Später ansehen als __user_name__ als __user_name__
Depth on Alpha
Wear&Tear Brushes.rar
▶ ZBrush Tileable Textures 01 - 2.5D Workflow
Vigil Nights
ZBrush 4 - Lasso and Curve Masking Brushes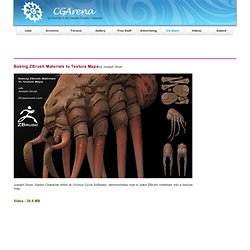 Baking ZBrush Materials to Texture Maps
Joseph Drust, Senior Character Artist at Vicious Cycle Software, demonstrates how to bake ZBrush materials into a texture map. Video - 39.9 MB If you are on slow connection or want to keep these tutorials for future viewing then you can download these video tutorials from CGArena forum. You need to register (free) to download these and many other video tutorials. Don't forget to leave your comments and critiques which help us in improving the videos. Download Video -36.5 MB
image plan_transparency
I got the Low-Poly for the outer rim in now. Seems to be working out pretty well. There is a bit of stretching on the UV's near the very top sections, but I am willing to take it and work with it. Took a bit to figure out exactly how I was going to do a few sections. What it ended up being was the low-poly is broken up into 4 sections that I baked it to. The main circle, support beam low, support beam top, and then the side pipes transitioning to the top support.
[WIP] Sci-Fi Cave Environment - Page 3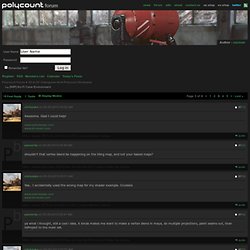 This video is currently unavailable. Sorry, this video is not available on this device. Video player is too small. Play Pause
Cave Scene Cliff Rock Sculpt
Holdeen's Max - Real Time - Page 4
This video is currently unavailable. Sorry, this video is not available on this device. Video player is too small. Watch Later as __user_name__
Zbrush - QuickTips # 1 - BulletHoles/Custom Decal Brushes
zbrush Quick Rock technique
Zbrush Sculpting - Black Sorceress
ligament technique
Hec's 2012 early 2013 works dump - Page 2
Hi Jake,The master for the minis get printed at places that have high definition printers, one of the ones I know of is moddler.com in California I think and the other place I know of is somewhere in Munich. The previous two characters were character skins for League of Legends, skin is just a term for models wearing alternate outfits, these used to be just texture variations, but these days they're more full blown new sculpts and low poly meshes with new textures.Here's a couple more minis, the ninja girl might get re-posed before printing, my client and I are still deciding some of that: Many of the Kingdom Death minis I make are based on concept art by the amazing lokman lam: http://lokmanlam.deviantart.com/gallery/
ZBrush Projects - ZBrushInfo
ZBrush Custom Menu
Lord Pendleton (Dishonored) Timelapse
Get Insert MeshMaster and MatCap Baker for ZBrush
HD: Generating game geometry with simple photographs (Part 1) Joseph Drust
mask n inflat
Pixologic Release - Hotkey Editor
xnormal Zbrush Polypaint
ZBrush Tutorials - MatCap to Texture Map - part 1
ZBrushFR
Chaîne de cannedmushrooms
My Zbrush Plugin! - Page 2
ZBrush 4R2b ZClassroom Movies. - Page 4
Creating Tileable Textures in ZBrush
Image Heavy-Textures, props, and Personal - First Post (sorta)
How To Create Tiled Textures With Nonuniform Stones Using Zbrush
Some Terrain stuff.
Eof's Sketchbook (base mesh to share Page 9/movie page 12) - Page 45
danial_rashidi_grid_walktrough.gif (GIF Image, 1344 × 728 pixels)
Ryan Kingslien
Mesh Insert Grotesque Tutorial
ZBrush 4R2 Tip # 1: DynaMesh / Remesh
ctrl+Z
Sportlight/polypaint tutorial
ZBrush 4 - a hyperlink list of the YouTube video tutorials (updated)
Dynamesh 6 Adding subtools to sculpt.mp4
Dynamesh 7 Slice and Dice.mp4
Zbrush plane constraint
0107 Zbrush4 DVD (SubMenus).mov
ZBRUSH 3D modeling software Tuts
Zbrush 4 - all features
Zbrush Hard Surface Sculpting - Mike Jensen
Some Zbrush and Max Work - Page 23
Darksiders demon
polypaint To Xnormal
ZBrush 4R2 Betatesting By: Geert Melis
ZBrush_Noisemaker_Chainmail.mp4
ZBrush :: ZClassroom Digital Sculpting :: NoiseMaker
Zbrush 4r2: Using Noise Maker
Understanding ZBrush and NoiseMaker