Japanese
Japanese Language and Usage Beta - Stack Exchange
Download lessons | Japanese Lessons at NHK WORLD
Welcome! Denshi Jisho is an easy-to-use and powerful online Japanese dictionary. It lets you find words, kanji and example sentences by searching in many ways. The dictionaries are also interlinked so that you can check what the kanji in a word mean individually or what context a word can be used in. You can also look up kanji by the parts they contain.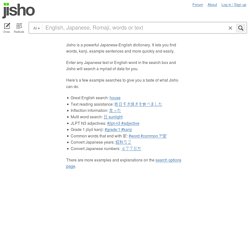 Genki Hiragana Resources
Best Learning Study Japanese iPhone Apps
[box type="tick"]Check out Tofugu's new Japanese Resources Guide! It has the best Japanese resources and reviews for each! It's also more updated (though has fewer resources) than this article.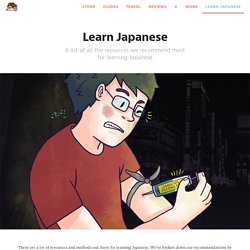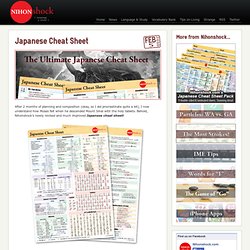 After 2 months of planning and composition (okay, so I did procrastinate quite a bit), I now understand how Moses felt when he descended Mount Sinai with the holy tablets. Behold, Nihonshock's newly revised and much improved Japanese cheat sheet! This is a "cheat sheet" for the Japanese language. It is an attempt to condense and organize as many of the basic elements of the language onto one sheet of paper as possible. How do I use it?
Unique features of these tables: Switch between hiragana and katakana -- ideal for testing youself; Includes the maru-moji font popular among young people; Has notes on vowel and consonant doubling; Lists katakana combinations used for the pronunciation of foreign words. Hiragana and katakana are syllabaries used to write Japanese.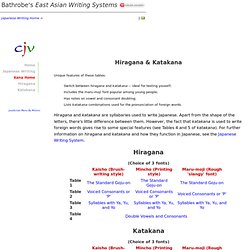 Hiragana & Katakana
NihongoPeraPera | How to Become Fluent in Japanese
Interested in mastering Japanese? You've come to the right place. About this Site I started this site in February of 2008 to share study tips for the Japanese Language Proficiency Test. Three years later, I now work as a professional translator in Tokyo. I focus on self study, since I think that is the most effective way to learn for determined individuals.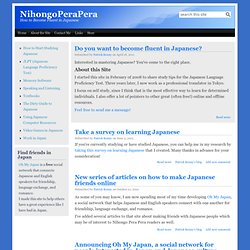 Speedanki: Kanji Flash Cards with JLPT Vocabulary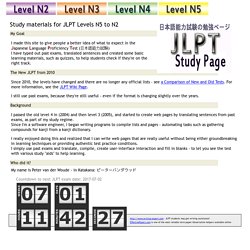 JLPT is the Japanese Language Proficiency Test. With this site and the JLPT Study Forum I hope to give people some idea of what to expect in the exam. I have typed out past exams, translated sentences and created some basic learning materials, such as quizzes, to help students check if they're on the right track. I set out to take my first JLPT exam in 2004 and while some information was available on the internet, I was never clear. Importantly, I was never quite sure what was in the official list - or even whether an official list existed.
[SilverSpoon] Do You Qualify for the Neutrino Program? Thank you for your interest in the SilverSpoon/Neutrino program. Unfortunately, it is currently closed to the public. SilverSpoon is a highly exclusive program and is rarely open for entry. Applications for entry into the few new spots in the SilverSpoon-Neutrino program are periodically opened...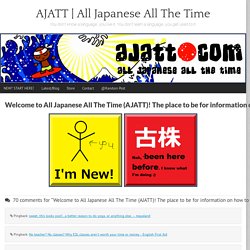 Where do the kana come from The simple answer to this question is: "from kanji". While kanji are used as semantic symbols in modern Japanese, this hasn't always been the case, as kanji were quite often used purely for phonetic purpose, using whatever kanji was available to get the sound of the what was written down across without paying attention to the meaning of the actual kanji used. Through this use a "standard" set of kanji became used to mimic Japanese phonetics, and it is from this set that hiragana and katana were derived. Hiragana was derived from the cursive forms of kanji, and was used predominantly by women, while katakana was derived from lifing kanji compounds out of their kanji and using them as phonetic characters instead. This script was deemed unsuited for women and was used by men, as well as in the clergy (which at the time of course constisted only of men anyway)
日本語資源 - Nihongoresources.com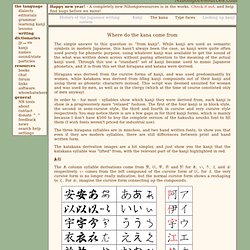 Japanese studying made for you!
Hello, everyone! I apologize for the lack of posts. The past 5 months have been really busy, and April and May won't be any better XD. But I am on break right now and have decided to get back into the blogging business! I've gone through a lot of my old posts and decided that some desperately need revisions. I've decided to start with which textbooks I've found are the best for beginners!
V10 Japan