Nuclear Free
Email & Welcome Center | Contact Us Explore, enjoy and protect the planet Earth Day: Enter for a chance to win a trip to the Grand Canyon NPS photo by Michael Quinn. NPS photo by Michael Quinn.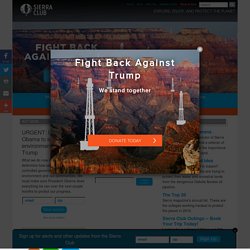 Sierra Club Home Page: Explore, Enjoy and Protect the Planet
Greenpeace USA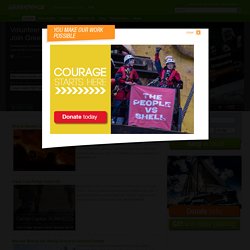 Green Twitter Bird Hatches Greenpeace activists unveiled a new logo for Twitter outside the company's San Francisco headquarters: a person-sized, green version of Twitter's famous icon. Read more 9 victories for a greener Internet! We're happy to report that many technology companies are using their trademark innovation to power their corners of the internet in increasingly green ways. Six internet leaders have committed to powering their operations with 100% clean energy. In the process, they are not only shifting the attitudes of their competitors, but the entire power sector as well.
Thank you to everyone who participated in MEDA Lobby Day 2014! MCE is a statewide environmental advocacy organization, working on a variety of issues that affect human and environmental health. You can learn more about our campaigns under Our Work and check out opportunities to get involved under Events. If you drink the water and breathe the air in Missouri, I invite you to join us as we seek to protect these precious resources. We consider anyone who cares about healthy children, enjoys wholesome food, or loves being outdoors an environmentalist, so join us by becoming a member today!
Home | Missouri Coalition for the Environment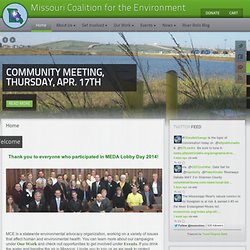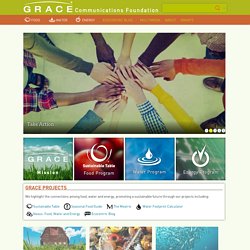 G R A C E
This Week in Eco News - April 18, 2014 Did you know that NFL linebacker Will Witherspoon is also an organic beef producer? Or that it's possible to extract water from the air? Or fuel from seawater? See these stories, along with climate news and fun multimedia, in this week's Eco News. Our Heroes: Gordian Raacke of Renewable Energy Long Island
PetitionOnline.com - Free Online Petition Hosting
Home | Friends of the Earth
Physicians for Social Responsibility
Grist | Environmental News, Commentary, Advice
Hot News and Actions March 10, 2014. R.I.P. Dr. Judith Johnsrud. 1931-2014. A tireless and dedicated activist for a nuclear-free world.
Nuclear Information and Resource Service - NIRS