Actualités Acteurs Web
Multiple Usernames & Passwords No More: OneID Unveils Its Next-Gen Identity Service. Today, our online identities are fragmented across an array of usernames, email addresses, screen names, social media accounts, passwords, and on and on.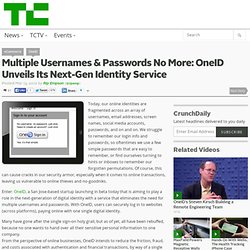 We struggle to remember our login info and passwords, so oftentimes we use a few simple passwords that are easy to remember, or find ourselves turning to hints or inboxes to remember our forgotten permutations. Of course, this can cause cracks in our security armor, especially when it comes to online transactions, leaving us vulnerable to online thieves and no-goodniks.
Enter: OneID, a San Jose-based startup launching in beta today that is aiming to play a role in the next-generation of digital identity with a service that eliminates the need for multiple usernames and passwords. With OneID, users can securely log in to websites (across platforms), paying online with one single digital identity. La future version de Chrome mémorisera vos mots de passe, et les modifiera en cas de piratage. Mardi 21 février Navigateurs - 21 février 2012 :: 07:20 :: Par Camille D'après le site du projet Chromium, Google travaille en ce moment même sur une fonctionnalité de gestion des mots de passe directement intégrée à Chrome.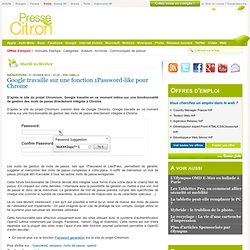 How Salman Rushdie Used Twitter to Defeat Facebook. Google+ is now allowing nicknames, pseudonyms & more. Google+ is now allowing users to bring their nicknames, pseudonyms, and other identities onto the social service.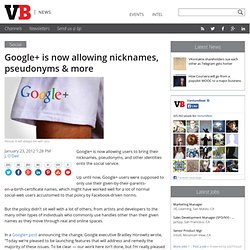 Up until now, Google+ users were supposed to only use their given-by-their-parents-on-a-birth-certificate names, which might have worked well for a lot of normal social-web users accustomed to that policy by Facebook-driven norms. But the policy didn't sit well with a lot of others, from artists and developers to the many other types of individuals who commonly use handles other than their given names as they move through real and online spaces.
In a Google+ post announcing the change, Google executive Bradley Horowitz wrote, "Today we're pleased to be launching features that will address and remedy the majority of these issues. To be clear — our work here isn't done, but I'm really pleased to be shipping a milestone on our journey." Horowitz said that over the next week, the company will start supporting "alternate names" to be listed alongside a user's given name. The Verified Twitter Account for Rupert Murdoch's Wife Was Fake. Rupert Murdoch joined Twitter last week.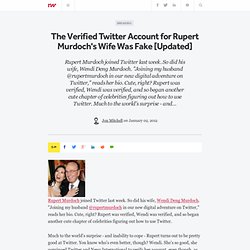 So did his wife, Wendi Deng Murdoch. "Joining my husband @rupertmurdoch in our new digital adventure on Twitter," reads her bio. Cute, right? Rupert was verified, Wendi was verified, and so began another cute chapter of celebrities figuring out how to use Twitter. Much to the world's surprise - and inability to cope - Rupert turns out to be pretty good at Twitter. Activité de votre réseau : « Gmail Api  just unfriend « Facebook  ! Ces derniers jours ont été marqués par un certain nombre d'annonces des grands acteurs du Web, et en premier lieu le dévoilement par Mark Zuckerberg de la stratégie mobile de Facebook.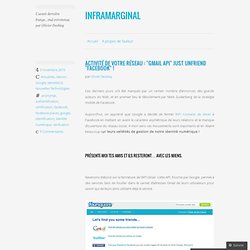 Aujourd'hui, on apprend que Google a décidé de fermer l'API Contacts de Gmail à Facebook en mettant en avant le caractère asymétrique de leurs relations et le manque d'ouverture du réseau social. A mon sens ces mouvements sont importants et en disent beaucoup sur leurs velléités de gestion de notre identité numérique ! Présente-moi tes amis et ils resteront… avec les miens. Revenons d'abord sur la fermeture de l'API Gmail. Cette API, fournie par Google, permet à des services tiers de fouiller dans le carnet d'adresses Gmail de leurs utilisateurs pour savoir qui de leurs amis utilisent déjà le service. Facebook propose des « Trusted friends » en cas de piratage. La plateforme aux 800M d'utilisateurs a dévoilé hier une nouvelle fonctionnalité afin de renforcer la sécurité et la confidentialité des données des adeptes du réseau.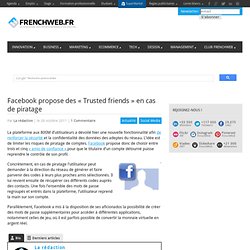 L'idée est de limiter les risques de piratage de comptes. Facebook propose donc de choisir entre trois et cinq « amis de confiance » pour que le titulaire d'un compte détourné puisse reprendre le contrôle de son profil. Concrètement, en cas de piratage l'utilisateur peut demander à la direction du réseau de générer et faire parvenir des codes à leurs plus proches amis sélectionnés. Il lui revient ensuite de récupérer ces différents codes auprès des contacts. Activité de votre réseau : « Gmail Api  just unfriend « Facebook  ! Facebook's Randi Zuckerberg: Anonymity Online 'Has To Go Away' Randi Zuckerberg, Facebook's marketing director, has a fix for cyberbullying: stop people from doing anything online without their names attached.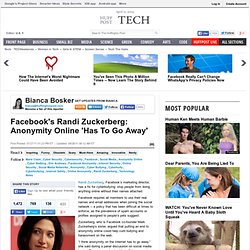 Facebook requires all members to use their real names and email addresses when joining the social network -- a policy that has been difficult at times to enforce, as the prevalence of spam accounts or profiles assigned to people's pets suggest. Zuckerberg, who is Facebook co-founder Mark Zuckerberg's sister, argued that putting an end to anonymity online could help curb bullying and harassment on the web. "I think anonymity on the Internet has to go away," she said during a panel discussion on social media hosted Tuesday evening by Marie Claire magazine. "People behave a lot better when they have their real names down. … I think people hide behind anonymity and they feel like they can say whatever they want behind closed doors."
Another Reason Facebook Wants a Web of Real Identities: Commerce. Last week, Facebook's marketing head, Randi Zuckerberg, caused a stir when she asserted that online anonymity has to go away.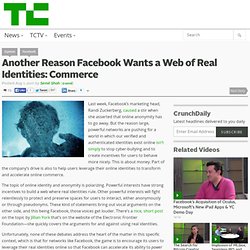 But the reason large, powerful networks are pushing for a world in which our verified and authenticated identities exist online isn't simply to stop cyber-bullying and to create incentives for users to behave more nicely. This is about money. Part of the company's drive is also to help users leverage their online identities to transform and accelerate online commerce. The topic of online identity and anonymity is polarizing. Google veut recruter des célébrités pour développer Google+ Google: créez un lien entre vous et votre contenu [Wordpress] | Descary. Si vous bloguez, vous savez qu'il y a des dizaines de sites qui pompent votre contenu et le publient sur leur espace.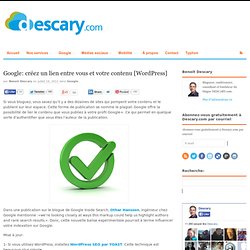 Cette forme de publication se nomme le plagiat. Google offre la possibilité de lier le contenu que vous publiez à votre profil Google+. Google reveals what it would do running the Postal Service. The postal sector asked the question yesterday, "What Would Google Do?"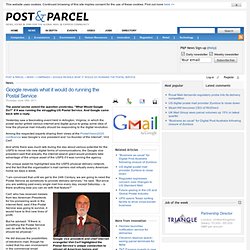 If it was running the struggling US Postal Service. And Google came back with a reply. Yesterday saw a fascinating event held in Arlington, Virginia, in which the postal sector grilled various internet and digital gurus to grasp some idea of how the physical mail industry should be responding to the digital revolution. INVITATION PRESSE - Eric BESSON lance la mise en place de l'identité numérique IDENUM, le mardi 31 mai 2011 à 11h00. Vous êtes ici : Accueil > Finance > Actualités > INVITATION PRESSE - Eric BESSON lance la[...] Eric BESSON, Ministre chargé de l'Industrie, de l'Energie et de l'Economie numérique, lance la mise en place de l'identité numérique IDENUM, le : Mardi 31 mai 2011 à 11h00 Ministère de l'industrie, salon Michel Debré, Hôtel des Ministres, 7ème étage - 139, rue de Bercy, 75012 Paris Avec le développement des nouveaux usages d'Internet, comme le commerce électronique, les services bancaires, les démarches administratives en ligne, ou les réseaux sociaux, les Français confient une quantité sans cesse croissante de données personnelles à des plateformes de services, et recourent à un nombre grandissant de mots de passe et d'identifiants à mémoriser.
Opens to Third-Party Authentication with Facebook/Google IDs. Today we're excited to announce that on Thursday, January 20, Yahoo! Opens to third-party user authentication with Facebook and Google logins (via OpenID) across the Yahoo! Network. Hundreds of millions of Facebook and Google users will be able to easily sign in and interact on Yahoo! Official Google Blog: Advanced sign-in security for your Google account | Identity2.0.
---