Actualités Acteurs Web
Today, our online identities are fragmented across an array of usernames, email addresses, screen names, social media accounts, passwords, and on and on.
Multiple Usernames & Passwords No More: OneID Unveils Its Next-Gen Identity Service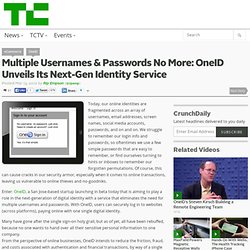 La future version de Chrome mémorisera vos mots de passe, et les modifiera en cas de piratage
Mardi 21 février Navigateurs - 21 février 2012 :: 07:20 :: Par Camille D'après le site du projet Chromium, Google travaille en ce moment même sur une fonctionnalité de gestion des mots de passe directement intégrée à Chrome.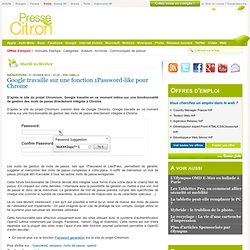 How Salman Rushdie Used Twitter to Defeat Facebook
Google+ is now allowing nicknames, pseudonyms & more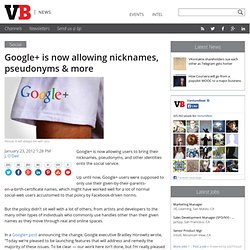 Google+ is now allowing users to bring their nicknames, pseudonyms, and other identities onto the social service. Up until now, Google+ users were supposed to only use their given-by-their-parents-on-a-birth-certificate names, which might have worked well for a lot of normal social-web users accustomed to that policy by Facebook-driven norms.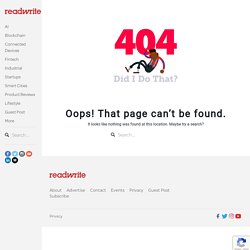 The Verified Twitter Account for Rupert Murdoch's Wife Was Fake
Rupert Murdoch joined Twitter last week. So did his wife, Wendi Deng Murdoch. "Joining my husband @rupertmurdoch in our new digital adventure on Twitter," reads her bio. Cute, right? Rupert was verified, Wendi was verified, and so began another cute chapter of celebrities figuring out how to use Twitter.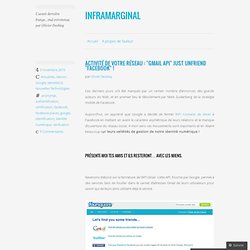 Activité de votre réseau : « Gmail Api  just unfriend « Facebook  !
Ces derniers jours ont été marqués par un certain nombre d'annonces des grands acteurs du Web, et en premier lieu le dévoilement par Mark Zuckerberg de la stratégie mobile de Facebook. Aujourd'hui, on apprend que Google a décidé de fermer l'API Contacts de Gmail à Facebook en mettant en avant le caractère asymétrique de leurs relations et le manque d'ouverture du réseau social.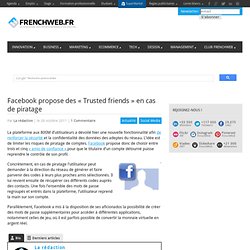 La plateforme aux 800M d'utilisateurs a dévoilé hier une nouvelle fonctionnalité afin de renforcer la sécurité et la confidentialité des données des adeptes du réseau. L'idée est de limiter les risques de piratage de comptes. Facebook propose donc de choisir entre trois et cinq « amis de confiance » pour que le titulaire d'un compte détourné puisse reprendre le contrôle de son profil. Concrètement, en cas de piratage l'utilisateur peut demander à la direction du réseau de générer et faire parvenir des codes à leurs plus proches amis sélectionnés. Il lui revient ensuite de récupérer ces différents codes auprès des contacts.
Facebook propose des « Trusted friends » en cas de piratage
Activité de votre réseau : « Gmail Api  just unfriend « Facebook  !
Facebook's Randi Zuckerberg: Anonymity Online 'Has To Go Away'
Randi Zuckerberg, Facebook's marketing director, has a fix for cyberbullying: stop people from doing anything online without their names attached. Facebook requires all members to use their real names and email addresses when joining the social network -- a policy that has been difficult at times to enforce, as the prevalence of spam accounts or profiles assigned to people's pets suggest.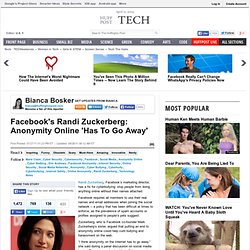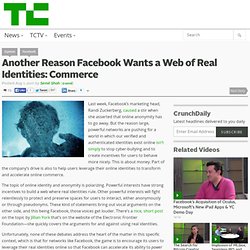 Another Reason Facebook Wants a Web of Real Identities: Commerce
Last week, Facebook's marketing head, Randi Zuckerberg, caused a stir when she asserted that online anonymity has to go away.
Google veut recruter des célébrités pour développer Google+
Google: créez un lien entre vous et votre contenu [Wordpress] | Descary
Si vous bloguez, vous savez qu'il y a des dizaines de sites qui pompent votre contenu et le publient sur leur espace. Cette forme de publication se nomme le plagiat. Google offre la possibilité de lier le contenu que vous publiez à votre profil Google+.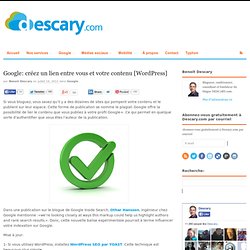 Google reveals what it would do running the Postal Service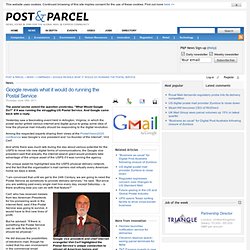 The postal sector asked the question yesterday, "What Would Google Do?"
INVITATION PRESSE - Eric BESSON lance la mise en place de l'identité numérique IDENUM, le mardi 31 mai 2011 à 11h00
Vous êtes ici : Accueil > Finance > Actualités > INVITATION PRESSE - Eric BESSON lance la[...]
Today we're excited to announce that on Thursday, January 20, Yahoo! opens to third-party user authentication with Facebook and Google logins (via OpenID) across the Yahoo! Network. Hundreds of millions of Facebook and Google users will be able to easily sign in and interact on Yahoo! using their Facebook or Google IDs. This eliminates the proverbial necessity of registering for yet another new ID and remembering yet another password.
Opens to Third-Party Authentication with Facebook/Google IDs
Official Google Blog: Advanced sign-in security for your Google account | Identity2.0