CC info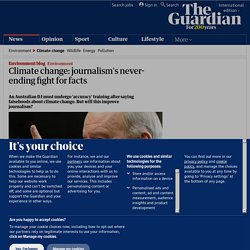 Climate change: journalism's never-ending fight for facts | Leo Hickman | Environment
Sydney broadcaster Alan Jones speaks during an anti-carbon tax rally in Sydney in 2011.
Poor UK summers may arise from global warming and Arctic ice loss - News releases - News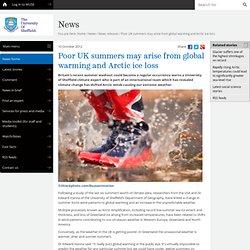 Britain's recent summer washout could become a regular occurrence warns a University of Sheffield climate expert who is part of an international team which has revealed climate change has shifted Arctic winds causing our extreme weather. ©iStockphoto.com/buzzanimation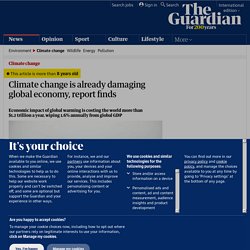 Climate change is already damaging global economy, report finds | Environment
Bangladeshi villagers rebuild an embankment after cyclone Aila hit in 2009. Bangladesh faces total losses of about 3-4% of GDP due to climate change.
Businesses must take climate risk bull by the horns - 09 May 2012
archive.defra.gov.uk/environment/climate/documents/cdp-adaptation-report.pdf
The National Academy of Sciences charter commits the Academy to provide scientific advice to the government "whenever called upon" by any government department. The Academy receives no compensation from the government for its services. The National Academy of Sciences (NAS) is a private, non-profit society of distinguished scholars. Established by an Act of Congress, signed by President Abraham Lincoln in 1863, the NAS is charged with providing independent, objective advice to the nation on matters related to science and technology.
Overview: NAS Mission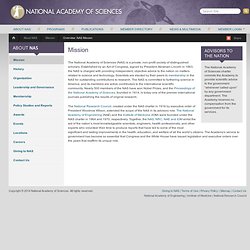 www.undp.org.tr/publicationsDocuments/CEO Climate Policy Recommendations to G8 Leaders July 2008- WBCSD.pdf
United States Climate Action Partnership
www.climate.org/PDF/clim_change_scenario.pdf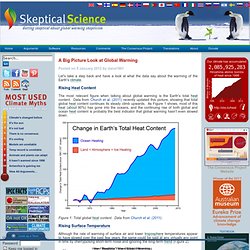 Posted on 5 January 2012 by dana1981 Let's take a step back and have a look at what the data say about the warming of the Earth's climate . Rising Heat Content The most relevant figure when talking about global warming is the Earth's total heat content. Data from Church et al. (2011) recently updated this picture, showing that total global heat content continues its steady climb upwards. As Figure 1 shows, most of this heat (about 90%) has gone into the oceans, and the continuing rise of both global and ocean heat content is probably the best indicator that global warming hasn't even slowed down.
A Big Picture Look at Global Warming
The Physical Basis of Climate Change | Tyndall°Centre for Climate Change Research ®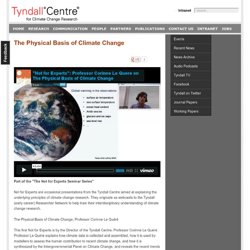 Not for Experts are occasional presentations from the Tyndall Centre aimed at explaining the underlying principles of climate change research. They originate as webcasts to the Tyndall (early career) Researcher Network to help train their interdisciplinary understanding of climate change research. The Physical Basis of Climate Change, Professor Corinne Le Quéré This first Not for Experts is by the Director of the Tyndall Centre, Professor Corinne Le Quéré. Professor Le Quéré explains how climate data is collected and assembled, how it is used by modellers to assess the human contribution to recent climate change, and how it is synthesized by the Intergovernmental Panel on Climate Change, and reveals the recent trends to 2011 where data is available. <div class="disqus-noscript"><a href="http://tyndallcentre.disqus.com/?
How It All Ends
Climatic Research Unit
The most important indicator of global warming, by far, is the land and sea surface temperature record. This has been criticized in several ways, including the choice of stations and the methods for correcting systematic errors. The Berkeley Earth Surface Temperature study sets out to do a new analysis of the surface temperature record in a rigorous manner that addresses this criticism. We are using over 39,000 unique stations, which is more than five times the 7,280 stations found in the Global Historical Climatology Network Monthly data set (GHCN-M) that has served as the focus of many climate studies.
Berkeley Earth Surface Temperature (© 2011)