art
Get flash to fully experience Pearltrees
Heads up… •January 21, 2013 • 1 Comment A couple of non-photorealistic render tests in Mental Ray and V-Ray with an unhealthy dose of poly crunching to that oul fella's head. Reminds me a bit of that talking sculpture from Art Attack back in the day! After the Storm…
Amy Shackleton, who is only 25-years-old, is a unique artist. While her paintings use tons and tons of paint, she doesn't use paintbrushes to create them! Rather, she squeezes paint onto canvases and then allows the paint to naturally drip.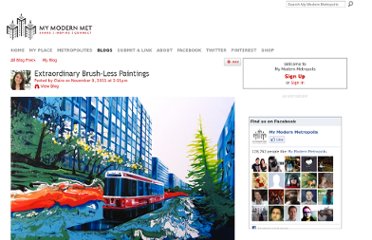 Many of these tools may not be considered traditional "art supplies", but they will make life as an artist easier, no matter what type of artist the person may be. Lighting Good lighting is a must for any artist.
I am finally ready to write the second part of my Personal Project story, well its more of a visual story so lots of photos. I talked about how I was interested in creating a "decayed" surface to work on and how my experiments with image transfer I had discovered a quite exciting way to produce the look of old billboards and peeling advertisements. I wanted to use this as a metaphor for the tricks that memory can play on us. What we think we remember has changed and the details have been lost over time, also how we can misinterpret an event and weave this faulty myth into our psyche or personal story.
Most painters will agree that there's nothing like painting on canvas . But pre-stretched and primed canvases can be expensive, which means that all too often we keep our canvases for 'good' paintings. By stretching your own canvas, you can not only save money, but get something you're willing to experiment on.
How to do a transfer: 1. Take your surface and make sure it is relatively clean. Then figure out what image you are using and where you want it to go. You can apply the medium either to the surface or directly onto the image. From here on, I will refer to the vehicle as "medium" although that can include gel medium, gesso, acrylic paint or any combination of anything acrylic. 2.
Art Journaling Art Journal Prompt January Day 22 milliande art journals online , a record of art journal pages and up to date art journals created Art Journal Prompt for Day 22 ~ " Layered Transfers " FPlay with layered Gel Medium Transfers on your art journaling pages ~~~~~~~~~~~~~~~~~~~~~~~~~~~~~~~~~ Art Journaling Art Journal Prompt January Day 22