Blogs
粋
Q U E C K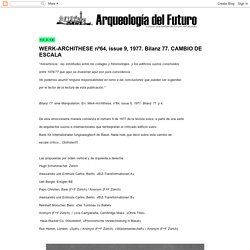 "Because of local hostility to modernism, the architects, half-ironically, incorporated casts of the caryatid removed from the Erechtheum. The classical reference was perhaps fitting to their ordered, classical geometries, but at this stage in time it is the presence of the human figure and the representational boldness, where it is appropriate –at the door- which are noteworthy." Jencks, Charles: TheLanguage of Post-Modern Architecture, , 1977, p.81.
ioNoi il Blog di Fabio Novembre
co-zine
"Copied from Perry Kulper's facebook"Fast Twitch: Desert DwellingAssisted by: Sen LiuThe impetus for this 'fast twitch' project is an interest in working quickly with a limited framework of ideas and intentions. Partially a form of self-reflection, the approach is meant to augment other methods and techniques for the spatial production, specifically the 'content to form' approach evident in some of my earlier work. Linked to pedagogical and practiced interests in broadening the architect's versatility (both the methods and results), this work is meant to open analogic and intuitive means for producing architecture in short periods of time.The architecture, garden and landscape proposal lie somewhere between a camp-site, a survival kit and a 'house'. My interests developed and found bearing through speculations on ground, horizon and sky relations. As a result of beginning simply, a number of things occurred.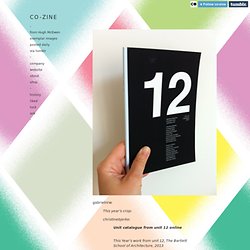 Vaumm arkitekturak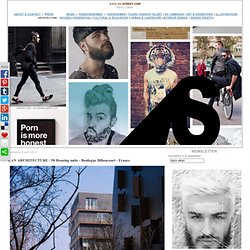 Dimanche 8 avril 2012 7 08 /04 /Avr /2012 17:47 LAN ARCHITECTURE 58 Housing units boulogne billancourt - France PROGRAM: 58 housing units PROJECT OWNERSHIP ASSISTANCE: SAEM Val de Seine
LAN ARCHITECTURE / 58 Housing units - Boulogne Billancourt - France - /////////// ArcStreet ////////// ARCHITECTURE ART DESIGN FASHION MUSIC & CO ///////////////////////////////////////////
performative poche fabrication
East Hampton Beach House Renovation by Utopus Studio A full restoration and renovation of an existing summer vacation home in East Hampton, the main requirements called for the restoration of the existing shell throughout the façade. As well as new mezzanine railing, millwork, carpeting, lighting, hardware and finishes in the interior. The main concept aesthetically was to create an environment mixing large white/neutral painted walls with unfinished painted wood siding and blue-gray accent walls, niches or rooms. Cécile Van Hanja's Alluring Paintings Of Modernist Icons Capture Anonymity In Architecture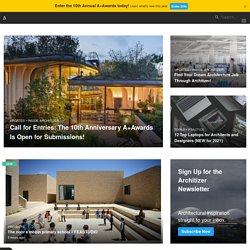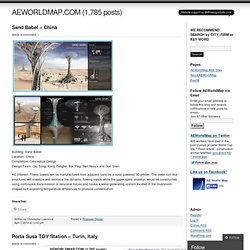 AEWORLDMAP.COM (1,647 posts)
ICD / ITKE Research Pavilion 2011 Structure: ICD / ITKE Resarch Pavilion 2011 Location: Stuttgart, Germany Project Year: August 2011 (Temporary) Architects: ICD / ITKE University of Stuttgart Project Team: Prof. Achim Menges (Institute for Computational Design), Prof.
Manolitió. Proyecto de navidad de INDOORS y Otrascosas Nuestra editora de mobiliario INDOORS y Otrascosas se han unido en esta ocasión para diseñar un mueble de navidad. El MANOLITIÓ parte del clásico taburete Manolito, diseñado por Marc Morro en 2012, y se inspira en el Tió.
ARQUITECTURA-G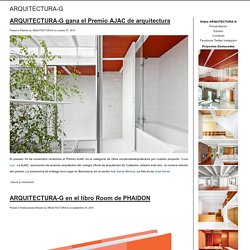 INTO THE LOOP
Via Wired By Kyle Vanhemert The future we see in Her is one where technology has dissolved into everyday life.
fabric | rblg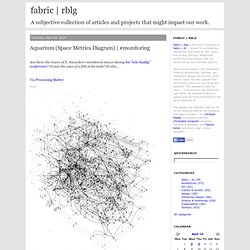 - Eliinbar's sketches 2011 - Spiral Architecture Today post presents for the seventh time, my New "Conscious Inspiration" project…. 100 Conscious projects in 200 days 100projects in 200 days that we can easily Identify their Inspiration sources These projects are published in ARCHDAILY the world's most visited architecture website
Atlas Mnémosyne Aby Warburg La création constante d'une distance entre soi et le monde extérieur, tel est sans doute ce qui constitue l'acte fondamental de la civilisation humaine. Si l'intervalle ainsi crée forme le substrat d'une création artistique, alors les conditions sont réunies pour que la conscience de cette distance revête une fonction sociale durable, dont l'oscillation rythmique entre immersion dans la matière et retour à la sophrosyne donne à voir le mouvement cyclique entre une cosmologie de l'image et une cosmologie du signe. Il s'agit là d'un instrument d'orientation spirituelle dont le bon fonctionnement ou la défaillance ne déterminent rien de moins que le destin de la culture humaine. Um gato deitado ao sol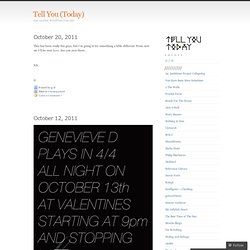 Tell You (Today)
This has been really fun guys, but I'm going to try something a little different. From now on, I'll be over here. See you over there… Train. Berlin >>> Amsterdam. We were paired in our compartment with the two grumpiest old men on the planet, so we spent most of our time in the world's sexiest dining car.
the_berg
denisandernach
Ausgehend von Landschaften Caspar David Friedrichs wurden Häuser zeichnerisch in Bildausschnitte des Malers positioniert. ("Caspars Häuser")Das Erfinden von Häusern und Landschaften aus einer Hand folgte im nächsten Schritt. So sind die die Häuser als formale Studien im Versuchsfeld idealisierter Landschaft zu verstehen. (Landschaftshäuser / Landschaftshäuser Querformat) Onkeltomshaus 38 x 58 Hanghaus 38 x 58
S'arrêter, stopper, achever, aucun de ces termes ne parvient vraiment à designer la fin de l'aventure que représente la tenue d'un blog durant trois ans. Plusieurs années à tenir ce journal numérique dédié à l'architecture et aux productions urbaines contemporaines, comme un programme de recherche constamment actualisé. Faire de l'architecture un sujet plutôt qu'un objet d'information et développer le projet éditorial initial du site : parler de tout ce qui fait l'architecture et de tout ce qui lui fait défaut. Plusieurs années de partage, de découvertes, d'intuitions et d'informations stimulantes qui forment la chronique des années 2010, une décennie que l'acronyme GAFA résume bien. Les années Google, Apple, Facebook et Amazon…
ARCHIZINES
RNDRD is a frequently updated feed of images from published architectural projects of the 20th century. We do not publish photographs of completed work, only renderings: hand-drawing, collage, models and graphics of all sorts. Our source materials are (mostly) out-of-print academic and trade journals.
⌘c⌘v
décembre 2011
lablog
ICON MAGAZINE ONLINE | News
//La Ville à travers les Images
featured | Allhitecture
urbA // Actu
MAX GERTHEL - architecture under siege